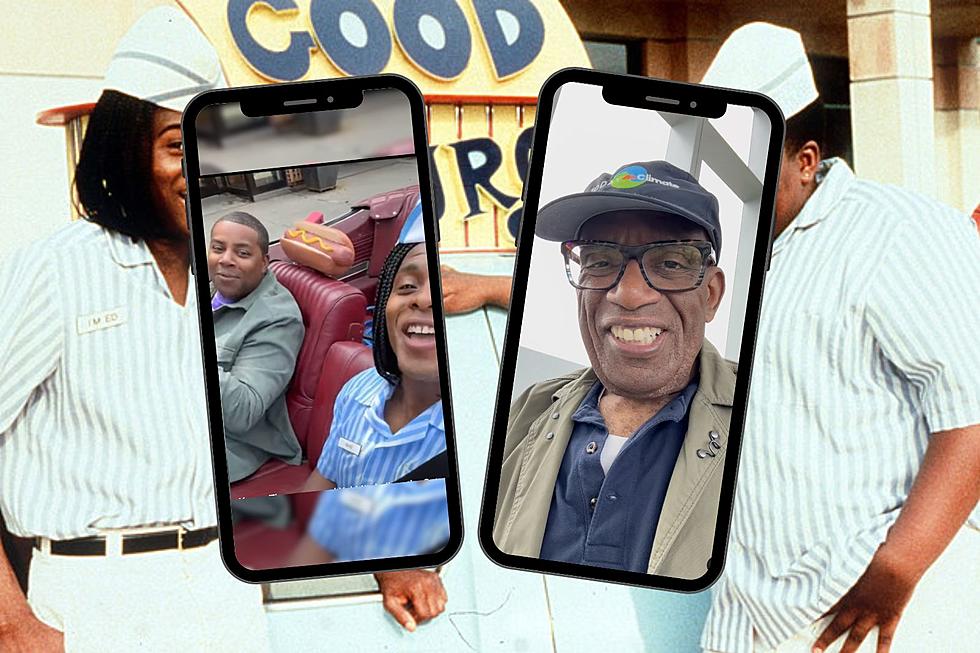 Meteorologist Al Roker Visits Rhode Island to Join the Cast of Good Burger 2
alroker/Instagram, JSimone Media/Youtube, & Paramount
Looks like Al Roker is leaving Rockefeller Center for the day to see what Good Burger 2 is all about.
The legendary meteorologist shared a video to his Instagram on Wednesday, teasing his followers about an upcoming segment he would be doing in Providence, Rhode Island. I think it's safe to say it involves Kenan Thompson, Kel Mitchell, and a highly anticipated sequel that has taken over the Ocean State.
"Here at Laguardia Airport…heading off to Providence, Rhode Island to do a shoot of a childhood favorite that I know you used to watch on Nickelodeon," said Roker as he walked to his appropriate gate donning a "Today Climate" cap. "I'm going to be interviewing the two stars and I might be even making a cameo. We will reveal all on the third hour of Today."
While Roker played coy, many people online were able to connect the dots that he would be covering the ongoing production of Good Burger 2.
"Hoping it's Kenan and Kel!" wrote one user.
The production of Good Burger 2 has been taking over popular spots in Providence, and both Kenan Thompson and Kel Mitchell have been busy enjoying food and entertainment in the Ocean State.
Thompson checked out a local boxing show to root for a New Bedford boxer, and it seems Kel Mitchell has a sweet tooth as he "volunteered" to try out some treats from The Donut Shop.
When they aren't busy enjoying Rhode Island, they are busy on set with celebrities like Mark Cuban, who seemingly has either a cameo or substantial role in the film.
And according to Al Roker, Mark Cuban won't be the only celebrity to make a cameo in the film.
Keep your eyes peeled for Roker this week. If he's working in Providence, chances are he will check out some of Rhode Island's delicious restaurants.
SouthCoast Restaurants Celebrities Have Visited
Stars live in and visit the SouthCoast frequently, which means many of them end up at local restaurants. Here are appearances from some favorites.
21 Famous People You Didn't Know Were From the SouthCoast
Move over Hollywood, you're not the only town that breeds stars. We've compiled a list of some famous people that either are native to the SouthCoast, or eventually called it home.
More From WFHN-FM/FUN 107