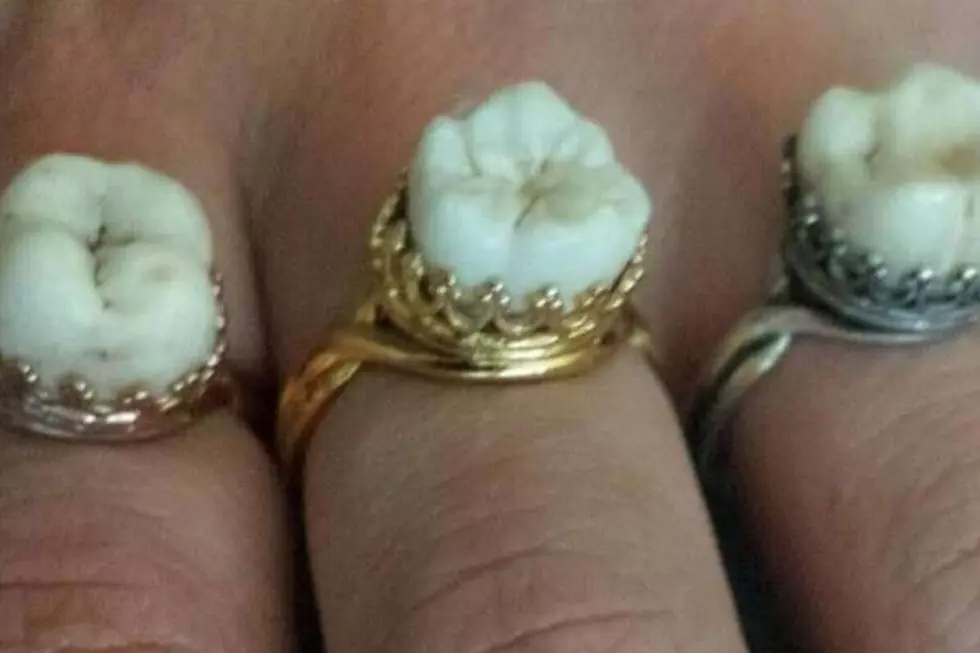 I Guess Teeth Rings Are a Thing Now
Glad Tidings Portglenone via Facebook
Fashion and jewelry certainly change with the times, but if this one becomes a new trend, I'm not so sure I'm going to be able to get on board.
Introducing teeth jewelry. Apparently, it's a thing now. It's a chance for you to wear the teeth of your loved ones. As they go through their days, moms and dads can carry around a piece of their children (in the form of their baby teeth) at all times.
Alternatively, fans of the teeth jewelry can have jewelry made out of teeth from loved ones that have passed away.
Take a look at these beautiful teeth adorned in gold. Shoppers can customize their teeth jewelry to become rings or necklaces.
The unique jewelry is being offered by a gift store in the United Kingdom. If you're thinking that the teeth rings are a joke, the store seems to be dead serious about the product. In addition to the jewelry, the store has a wide selection of other perfectly normal offerings.
It's hard to believe that there are people who are into this look, but I guess everyone is different. Still, I'd be lying if I told you that we couldn't believe our eyes when we saw these teeth rings this morning.
I have to tell you, I absolutely adored each of my grandparents and I miss them every day, but there is no way that I'd wear their teeth as jewelry.
I'm not alone, Maddie was literally gagging looking at the pictures.
No word on how much it costs to have your loved one's teeth set into a band of gold.
See New Words Added to Dictionary.com in 2020
Enter your number to get our free mobile app
More From WFHN-FM/FUN 107