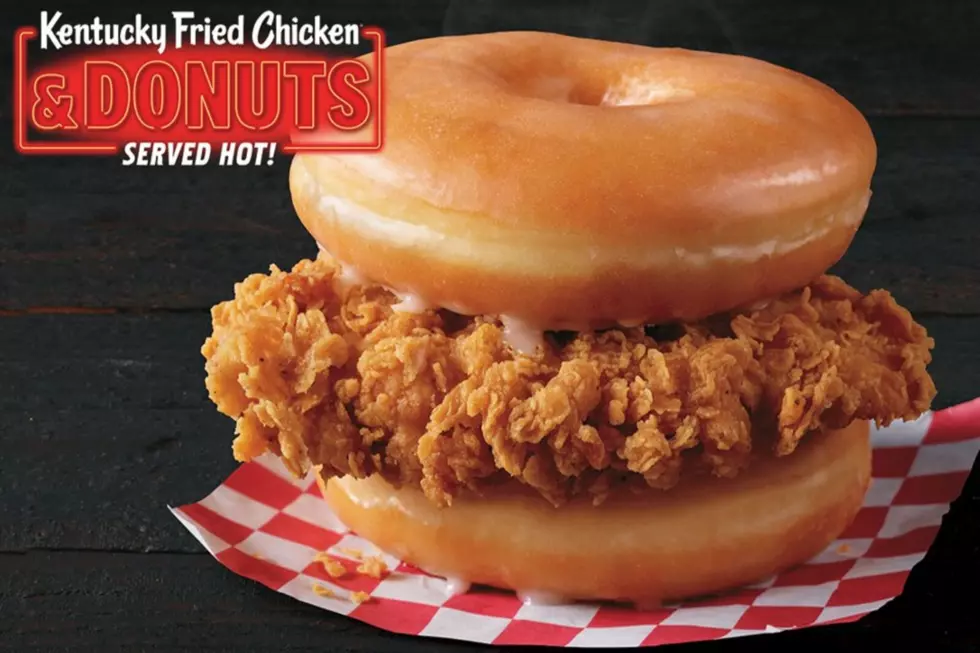 Glazed Donut Fried Chicken Sandwiches Are Taking Over KFC
Photo Courtesy of KFC
Somebody please grab me a respirator, a defibrillator and a pair of sweatpants for this one.
Believe it or not- Kentucky Fried Chicken is currently testing out a new meal of two glazed donuts with one boneless piece of fried chicken in between.
*Cue the heavy breathing and watering mouth*
It seems to me that the fast food chicken conglomerates have been battling each other in search for the best chicken sandwich in the world. This one however is most certainly a gamer changer, but does it meet up with the standards of a tasty sandwich? That's the real question.
Sadly, It hasn't been confirmed for the SouthCoast area, but the new Glazed Donut Fried Chicken Sandwich can soon be found at your local KFC at the following 5 locations:
525 Grand Army of the Republic Hwy, Somerset, MA
484 Pleasant St, Fall River, MA
506 County St, New Bedford, MA
2135 Acushnet Ave, New Bedford, MA
3015 Cranberry Hwy, East Wareham, MA
This sandwich goes for $5.99 a piece, and you can also get a combo meal bowl that includes one donut and multiple pieces of boneless chicken. The bowl goes for $5.49, and if you feel like doubling up to make it 2 Krispy Kreme donuts, the price will raise to $7.49. KFC will also be selling just the donuts as a side for only $1.00 per item.
Due to it only being a trial run, so far you can only find these products in the Norfolk/Richmond, Virginia, and Pittsburgh areas. Kind of a bummer if you ask me, but if this test run is successful, KFC's across america could be found selling these crazy new meals. Hopefully right here in our SouthCoast backyard.
More From WFHN-FM/FUN 107