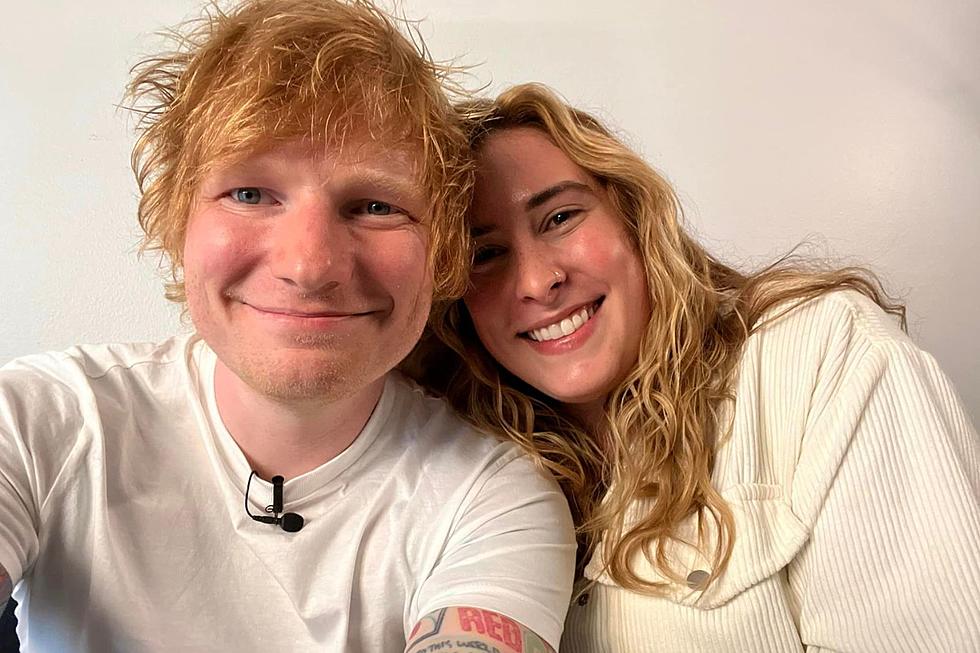 Rhode Island Fan Gets a Surprise Show from Ed Sheeran in Her Living Room
Danielle Rouleau
Danielle Rouleau of Foster, Rhode Island has been a die-hard Ed Sheeran fan since the Englishman exploded onto the scene in 2012.
She has listened to every song, every project, and every album.
And On September 7th, she got the best Ed Sheeran experience any fan could ask for.
A private concert from the comfort of her own living room in Los Angeles.
Sheeran has been busy promoting his latest project, an acoustic version of his new album "Autumn Variations". Each song was recorded from a fan's living room, and Rouleau was one of those lucky fans.
"I've been a fan since his first album came out in 2012," said Rouleau. "I definitely used to post him nonstop on my Instagram."
When she got a DM from Sheeran's team, she was stunned.
"They told me that Ed was planning a surprise for LA fans and they asked if I was available September 6th and 7th. Whatever I had planned that day was canceled. I was going to be available," she said.
They told her a filming crew would be coming by and she would be given a package filled with limited edition merch, but she had a feeling this "package" was much more than merch.
"It was very suspicious about the way they were wording everything, and how the box needed to be delivered in a certain way," she said. "I thought, 'Am I getting a car or something? Something large was happening."
When the crew arrived with 5 cameras, spotlights, and tons of equipment, she knew something amazing was about to happen.
Then, the knock at the door.
She opened her door to find four-time Grammy award winner Ed Sheeran on the other side.
"When I opened the door, it was just him standing there, it was like a fan fiction dream," she said. "It was just so crazy."
After he performed "The Day I Was Born" from Rouleau's couch, they spoke about music, life, and Rhode Island.
"We chatted about Rhode Island and he said to me, 'Are you familiar with Watch Hill? That's the only place I've been.' I said, 'Of course I am, Ed,'" laughed Rouleau.
Sheeran is referring to his pal Taylor Swift's humble abode in Westerly, Rhode Island, where he also won an ice cream eating contest a few years back.
"He totally lived up to the hype," said Rouleau. "He made me feel so comfortable and we just chatted about music and my favorite album 'X'."
At midnight Monday morning, Rouleau's episode was released to Sheeran's YouTube channel, and the single was dropped on Spotify.
This die-hard fan from Rhode Island will never forget this once-in-a-lifetime moment where her idol not only performed in her home but lovingly named his acoustic single, "The Day I Was Born – Live From Danielle's Living Room."
Check out the unreal moment as it unfolded in Rouleau's LA apartment.
See the Stars Who Own Homes in Rhode Island
There are plenty of celebrities who once called Rhode Island home, but how many still do? Here's the list of stars who own homes across the Ocean State.
Gallery Credit: Nancy Hall
SouthCoast's Most Memorable Celebrity Encounters
The SouthCoast has seen its share of celebrities over the years. Here are some of your most memorable encounters.
Gallery Credit: Jackson Scott
More From WFHN-FM/FUN 107