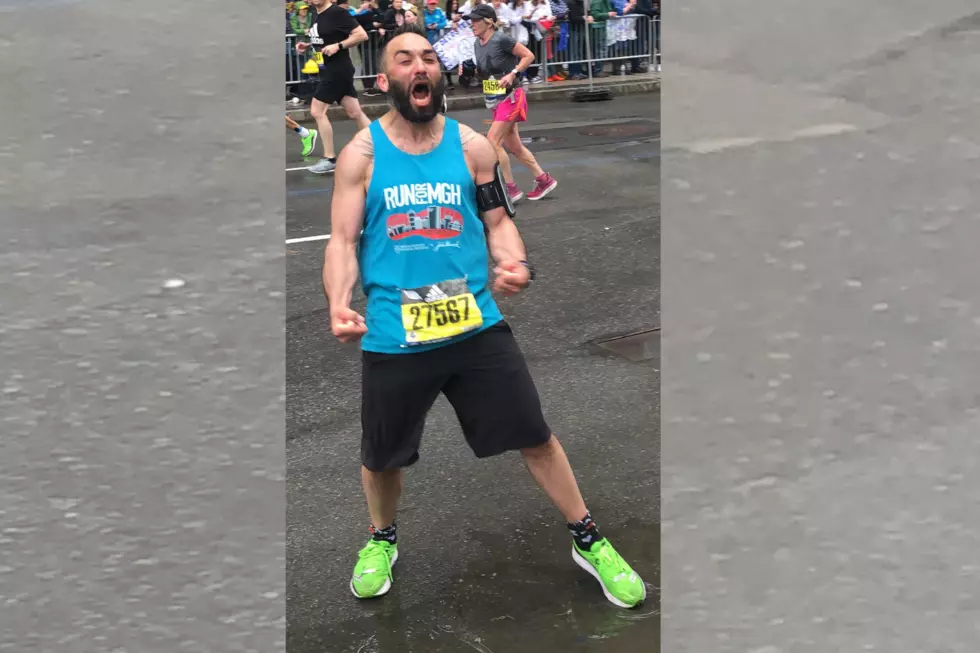 Westport Marathon Runner Crosses Finish Line for His Daughter
Photo Courtesy of Leah Mello
Jared Mello had one thing on his mind throughout his 26-mile race: his daughter.
Mello, a Westport Native, is not your average runner. Is he in shape? Absolutely. Has he ever ran before? Not exactly.
"Last year was my first year (running the Boston Marathon)," Mello tells Fun 107. "I'm not a big runner at all."
Besides the two marathons he has run, Mello does not consider himself an avid runner other than while playing baseball (although 26 miles is quite the leap from 90 feet).
What made Mello decide to run the marathon? To him, it was a lot more than just a competitive foot race.
"So, my sister ran it two years ago in honor of my daughter London, and she asked me to apply to run it with her which was a great idea," Mello explains. "It all started a few years ago with my sister Stephanie, who was running and raising money for the awareness towards pediatric cancer."
Mello's main drive that pushed him to run derived from this daughter.
"My daughter London, she's doing really well, but four years ago she was diagnosed with a brain tumor (medulloblastoma)," he said. "It's been a long process with some real highs and real lows, but trying our best to keep it positive."
One of the toughest feats that will break down a runner is Heartbreak Hill. It's clearly no walk in the park.
"Heartbreak was a mental grind, you get to the top of the hill and you know the finish line isn't far," Mello recalls. "It's a satisfying feeling, absolute pure joy."
I spoke with Mello's wife, Leah, who is not only his biggest fan and supporter but also painted the perfect picture of her husband's amazing accomplishment.
"We are all about being able to raise money to help other families so they don't know the pain we went through with London," she explained. "Knowing that he is doing it for a cause makes crossing the finish line so much sweeter to him. All the hard work that he had put in for the last 20 weeks paid off, and it's a great feeling."
On a lighter note, there was something waiting for Mello at the finish line—something tasty, to say the least.
Usually before a big race, athletes and runners of all skills consume pasta and carbs the night before to prep for the run. It's what they eat afterward that's quite interesting (especially in Mello's case).
"To be honest with you, I actually had a Jr. Bacon (Cheeseburger), because Wendy's was right across the street," Mello said. "You fuel up with gels and bananas and oranges throughout the whole course, so I wasn't too hungry, but you never know how your stomach is going to react, so I tried to keep it simple with just a Jr. Bacon."
As for next year's Marathon, Mello says he does plan on running.
The following day of the marathon, London went for an MRI check-up at Mass General Hospital and her results came back clean.
A perfect ending to an inspiring story.
More From WFHN-FM/FUN 107