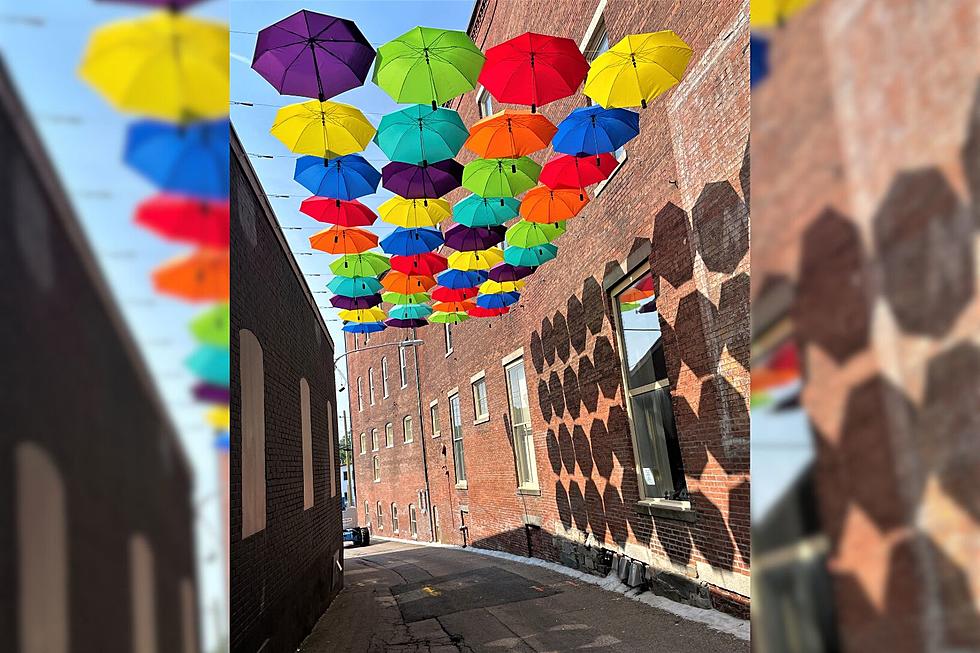 Umbrella Sky Project Pops Up in Taunton Thanks to Local Flower Shop
Studio 27 Flowers
Recently, an eye-catching umbrella art installation was added to Newport's Brick Market Place, and after a Taunton florist saw it with her own eyes, she was inspired to bring it to the SouthCoast.
Greta Ferreira is the owner of Studio 27 Flowers in Taunton and is a member of the Downtown Taunton Foundation. In anticipation of the town's art festival this weekend and with her love for art in mind, she decided to bring the Umbrella Sky Project to her own backyard.
The Umbrella Sky Project
The Umbrella Sky Project was started in 2011 in the Portuguese city of Águeda as a way to drum up more business on store-filled streets in the city. Patrícia Cunha, the creative director behind the project, told the Washington Post, "We started developing something that was a bit out of reach," and she drew inspiration from Mary Poppins while "embracing the symbolism of protection."
Since 2011, the project that brings life to public spaces has found its way to other countries like Japan, Spain, and the United States.
And most recently, Taunton, Massachusetts.
Greta Ferreira Brings Umbrella Sky Project to Taunton
Ferreira's flower shop has been on Main Street in Taunton since 2020 and she has been in business for around five years. Her love for flowers and art has inspired her for her entire life.
"I call flowers nature's fireworks," she said. "What we do is sculpting with nature. I don't make the flowers, I just get to have people notice them and it's been an honor to create. We love bringing joy to the community."
As a member of the Downtown Taunton Federation, Ferreira aids in improving the city and bringing culture to Downtown. After a trip to Newport, she found her next project.
"We were down in Newport and we saw (the umbrella installation) and I thought it was just so cool and beautiful," she said. "Everyone was looking up and smiling and I wanted to bring that to Taunton."
With the help of her business partner, Steve Rogers, they installed a canopy of brightly colored umbrellas that hangs in the Merchants Lane alley next to their store at 43 Main Street.
Taunton Downtown Art Jam
The installation will hang for the remainder of summer and it will be one of the many focal points at this year's art festival in Taunton, The Downtown Art Jam, taking place Saturday, July 22nd from 1 pm to 5 pm.
Those in attendance are encouraged to drop by Merchants Lane Alley, take a few selfies with friends, and enjoy the simple beauty that art and community can bring.
15 SouthCoast Landmarks That Will Make You Say "I'm Home"
After a long trip away, there are a few landmarks on the SouthCoast that may perk you up with anticipation of almost being home. It's that excited feeling of, "I'm almost there." Here are a few SouthCoast places that act as beacons for local travelers.
Your Complete Guide to Outdoor Dining on the SouthCoast
We compiled a list of all of the restaurants on the SouthCoast that offer outdoor dining. That's right. We did all the legwork for you. Now all you have to do is pick one and call to make that reservation so you can dine al fresco tonight.
*UPDATE: This post was revised in April of 2023.
More From WFHN-FM/FUN 107