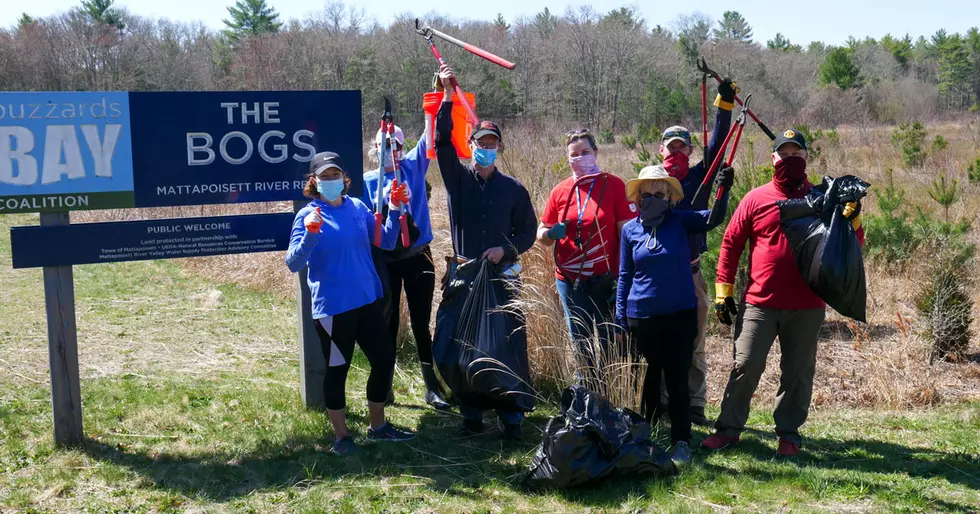 SouthCoast Volunteers Remove Trash, Plant Trees at Area Reserves
Photo Courtesy of Buzzards Bay Coalition
Mother Nature doesn't get just one day of celebration; She gets seven! In honor of Earth Week, dozens of volunteers got active with the Buzzards Bay Coalition on Saturday, helping clean up the SouthCoast and make it a better place to live.
40 volunteers showed up on what turned out to be a beautiful spring day. The group split up to cover The Bogs and the New Boston Trail on the Mattapoisett River Reserve, The Sawmill on the Acushnet River Reserve and Horseshoe Mill in Wareham. Once at their cleanup locations, volunteers removed a total of more than 30 bags of garbage, including four TVs and five tires.
Volunteers also went the extra mile to beautify the reserves, planting apple and oak trees, removing invasive species and spreading fresh wood chips throughout the areas.
Although Earth Week is over, it's never a bad time to green up our gal Mother Earth and clean up the SouthCoast. The Buzzards Bay Coalition will be hosting another stewardship volunteer workday on May 12 from 2 to 4 p.m. at Horseshoe Mill in Wareham. Volunteers can expect to help maintain and improve trails, remove invasive species, spread wood chips and get the site ready for an opening event later this spring. All volunteers should wear comfy clothes and closed-toed shoes, and should bring work gloves, water and a mask.
If you have any additional questions about how you can help the coalition and its mission on the SouthCoast, you can call 508-999-6363 or email info@savebuzzardsbay.org.
Hummingbirds Are Returning to the SouthCoast So Here's What You Need to Know
As hummingbirds make their highly-anticipated return to the SouthCoast, there are things you need to know to keep them happy and healthy. Mass Audubon released
the perfect guide
on how to care for and feed your visiting birds.
Meet the Animals at Pine Meadow Alpacas in Mattapoisett
At any given time, Pine Meadow is home to right around 100 animals, from alpacas and goats to yaks and sheep. The animals have personalities that range anywhere from spunky to shy, but we can assure you they're all just as cute as the next. Take a trip to Pine Meadow and meet just a few of their fuzzy friends through the following photos.
SouthCoast's Little Free Libraries
Across the SouthCoast, stewards of Little Free Libraries are sharing their love of reading with their neighbors and keep these great little resources stocked with books for everyone to enjoy.
More From WFHN-FM/FUN 107