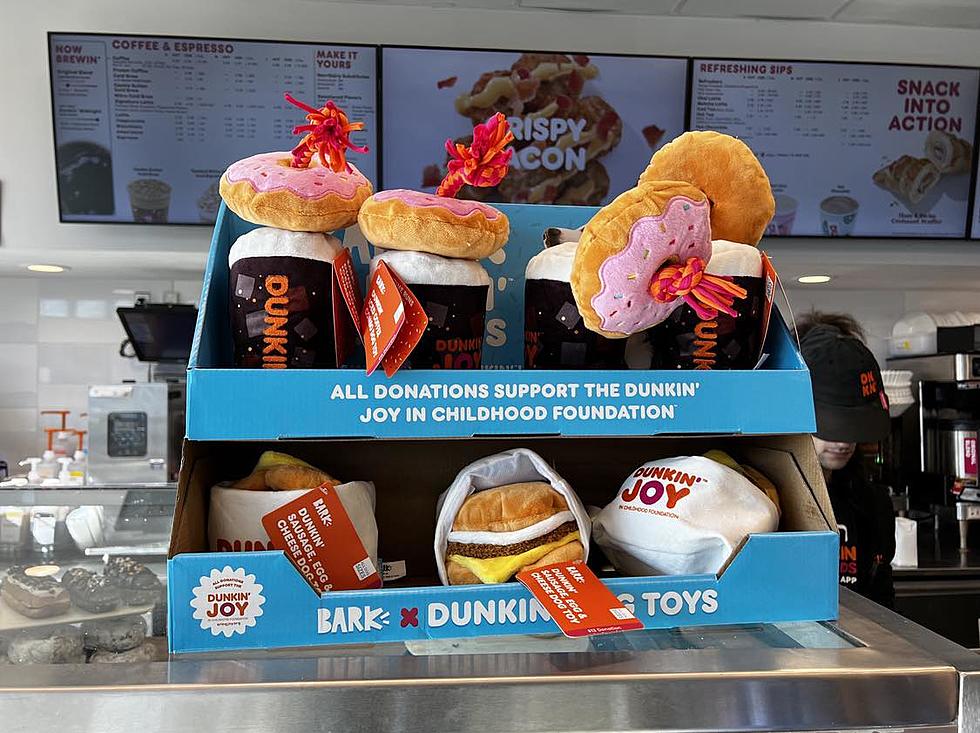 SouthCoast Dunkin' Dog Toy Sales Help Sick And Hungry Kids
Barry Richard/Townsquare Media
Many folks do the daily Dunkin' run by hitting up the drive-thru. Believe it or not, there is a whole world inside your local Dunkin' shop that you might not be familiar with.
Try it. Park the car. Walk inside. Check out what's in there.
I take a walk most days to the Fairhaven Dunkin' at the plaza behind the radio station. I've met some cool people and came to learn that there is more to the Massachusetts-based Dunkin' than just beans.
There, on the counter, competing for space with the K-Cups, mugs, gift cards, and other assorted stuff are these adorable Dunkin' Dog Toys from BARK. The toys, in the shapes of Dunkin' drink cups, donuts and sandwiches, squeak when squished and are made for rugged play.
I bought one for my granddog Astro to play with last year without realizing I was also helping needy kids. Astro still has the toy. It's her favorite.
You see, the sale of dog toys supports the Dunkin' Joy In Childhood Foundation, helping sick and hungry kids.
Foundation Public Relations Director Sydney Ross told me, "All proceeds from the BARK toys go to the Dunkin' Joy in Childhood Foundation, the charitable foundation supported by Dunkin', whose mission is to provide the simple joys of childhood to kids battling hunger or illness."
"The funds support granting programs that allow the Foundation to partner with food banks, children's hospitals, and non-profit organizations to help support kids when they need it most," Ross said.
According to Ross, one such program includes the "Dogs for Joy" program. Ross said the program "helps to place full-time facility dogs in children's hospitals."
The dog toys are available at Dunkin' locations throughout Massachusetts, Rhode Island and Connecticut.
The toys make excellent stocking stuffers for your favorite K-9 pals.
By the way, you can ask for the Dunkin' Dog Toys at the drive-thru as well as at the inside counter.
SouthCoast Towns Rated by Dunkin' Locations
Here's how many Dunkin' locations are in each SouthCoast town.
Gallery Credit: Michael Rock
WBSM's Top SouthCoast Stories 10/23-10/29
Gallery Credit: Ariel Dorsey
More From WFHN-FM/FUN 107