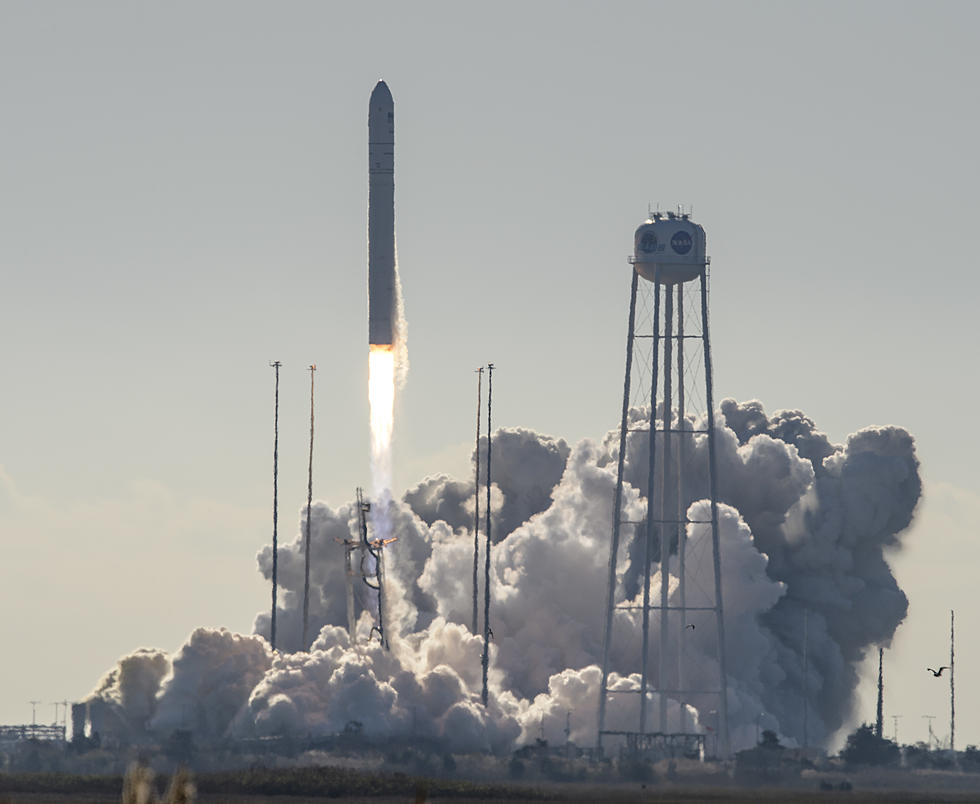 SouthCoast & Rhode Island May Get A View of NASA Rocket Launch
NASA via Getty Images
If you see something surprising in the sky tonight, it's not the aliens coming to say hello. You may have just been one of the lucky ones to see NASA's latest rocket launch taking off from Wallops Island, Virginia.
The Northrop Grumman's Antares rocket will launch at 8:31 pm Tuesday night and be visible from Rhode Island and Massachusetts.
The Northrup Grumman's Antares Rocket
NASA announced its latest launch last week, sharing it would be visible, weather permitting, to residents throughout the mid-Atlantic region and possibly the East Coast of the US.
According to the diagram provided by NASA, Rhode Island and SouthCoast residents will have a chance of visibility at two to two and a half minutes after launch.
"This will be Northrop Grumman's 19th commercial resupply services mission for NASA, delivering science investigations, supplies, and equipment to the International Space Station," shared NASA.
How to See NASA's Rocket Launch
CBS News shared that viewers will need a clear and unobstructed view of the southern horizon, and the farther south you live, the better the view.
"Those on the SouthCoast, Cape and Islands should have a terrific show," said the outlet.
And after the rocket launch, be sure to keep your eyes peeled for the first of two supermoons that will be visible this month.
How to Watch NASA's Rocket Launch
Live launch coverage and countdown commentary will begin at 8 p.m. EDT on Tuesday, Aug. 1, and air on NASA Television and the agency's website, as well as YouTube, Twitter, and NASA's App.
Members of the public outside of the viewing area can register to attend the launch virtually. Virtual guests will have access to curated resources, schedule changes, and mission-specific information straight to your inbox.
LOOK UP: Recent UFO Sightings on the SouthCoast
There are frequently things that can't be explained in the skies above the SouthCoast. The
National UFO Reporting Center
keeps a database of all of the reports of unidentified flying objects that are submitted by those who see them, and you can see just how often they appear right above our own heads.
LOOK UP: 10 Spots on the SouthCoast to Stargaze
The Parade of Planets is headed our way on June 24, but we are fortunate enough to have beautiful night skies all year-round. Seek out these places for an unobstructed view.
12 Sunday Afternoon Drives on the SouthCoast
Sunday drives on the SouthCoast just hit differently. Check out this list of scenic spots from Plymouth to Providence and everywhere in between.
More From WFHN-FM/FUN 107