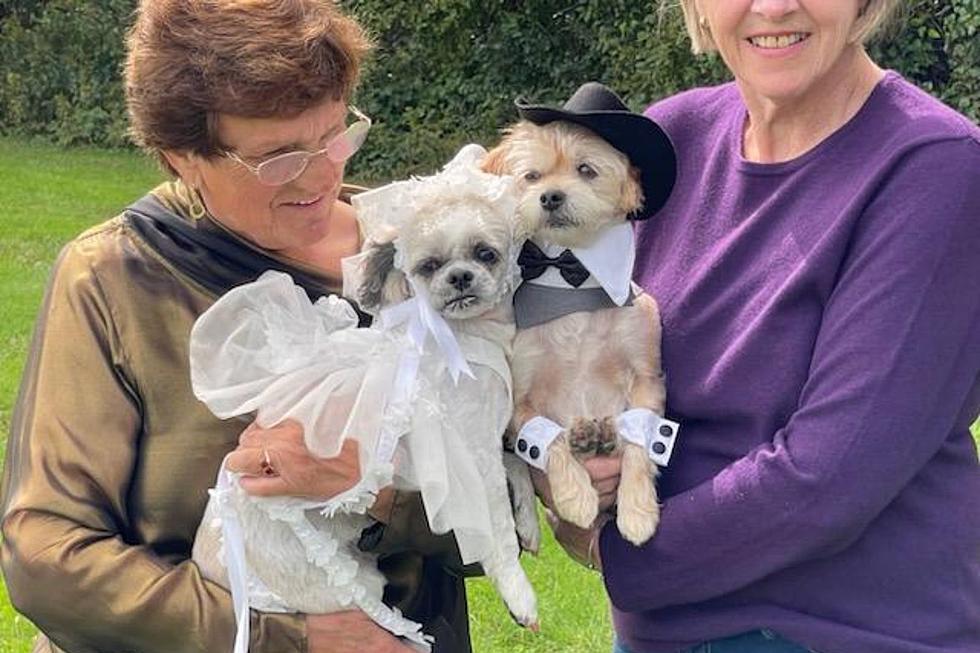 Two Lakeville Dogs Say "I Do" During the Cutest Wedding Ceremony Ever
Nancy Richmond
Wedding bells were ringing and dogs were howling on Sunday in Lakeville during the Pet Costume Parade and Blessing of the Pets at Ted Williams Park.
Vendors and pets dressed to impress took over the park to raise funds for the Lakeville Animal Shelter, the Friends of Lakeville Council on Aging, and the Church of Our Saviour.
And everyone in attendance was an honored guest at the grand wedding of Freckles and Benji, two dogs madly in love that tied the knot and said "I do" with big, sloppy kisses.
What Is the Blessing of the Pets?
Before Freckles and Benji made their trot down the aisle, dozens of Lakeville dogs were blessed by Father Dave.
Nancy Richmond, the "mother of the groom" shared how this blessing goes back centuries.
"This tradition goes back to the 13th century to bless the pets at the Feast of St. Francis," she said. "This year, the Feast takes place on October 4th. Father Dave gave a very moving talk before, and blessed each pet personally."
The Story Behind the Newlyweds, Freckles and Benji
Richmond is a member of the Lakeville Council on Aging alongside her friends Paula Houle and Mary Gauthier. It's been a running joke for years that Richmond's and Houle's dogs should get hitched.
"We would see each other often and the dogs would often be with us, and we would throw out funny jokes, but it blossomed into the real thing," said Richmond.
After playing together time and time again, Freckles and Benji fell in love. As a way to gather sponsors for the event, the women of the Lakeville Council on Aging came together to plan the perfect puppy wedding, and the town loved it.
"We approached sponsors and told them about the wedding, and their faces lit up," said Richmond.
The Cutest Wedding to Ever Come Out of Lakeville
On Sunday, in front of their closest puppy pals, Freckles and Benji tied the knot. Anointed by the State of "Muttachusetts", Houle officiated the ceremony.
If you'd like to get these two love birds a wedding gift, Richmond told me they are registered at Bed, Bark, and Beyond, and they cannot wait for their honeymoon in a Hound-a-Lulu.
"Freckles is madly in love, but she insisted on a pre-pup, just in case," joked Richmond.
The cute ceremony was for an excellent cause and it took the hard work of many to pull it off.
"We want to thank all of our sponsors, we couldn't have done it without them, and I'd like to personally thank Gail Trinque, the organizer, Joann Bowes, another organizer, and President Lindsay Ewell," said Richmond.
Congratulations, Benji and Freckles!
Fall River's Most Popular Dog Names for 2023
From Rover to Bingo, some names just make you think of dogs. But what names are folks in Fall River naming their new pets? We've got the official list of most popular dog names in all of Spindle City.
Gallery Credit: Nancy Hall
Dighton Police's First Ever Comfort Dog Oakie
The Dighton Police Department has welcomed its first-ever comfort dog named Oakie and he comes with all the cuteness you could expect.
Gallery Credit: Jackson Scott
More From WFHN-FM/FUN 107