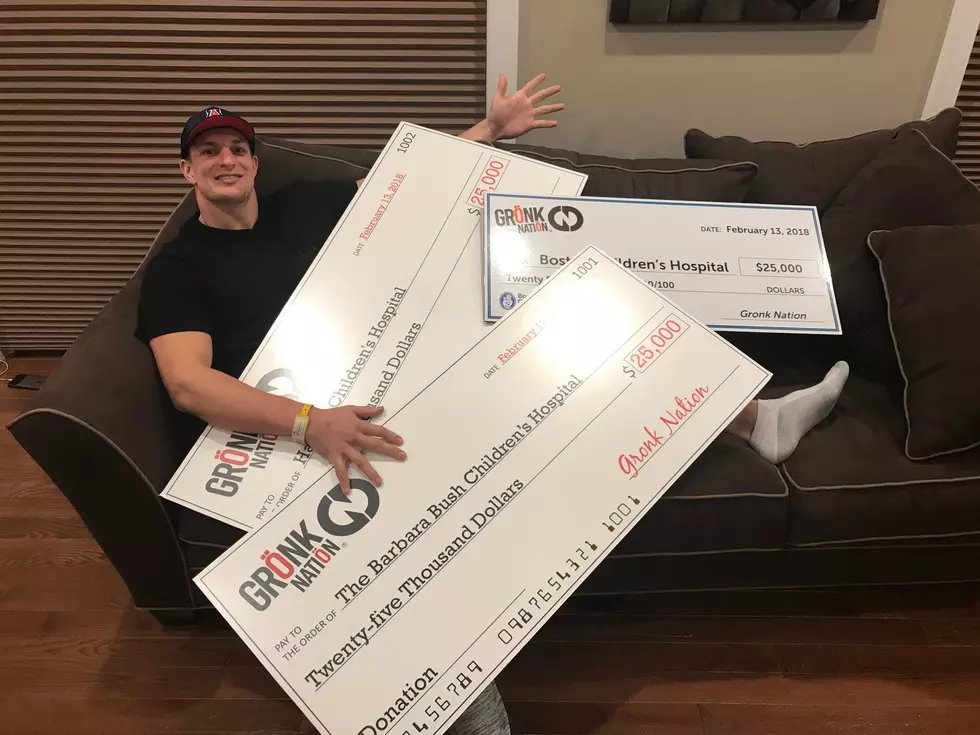 Gronk 'Pays' a Visit to Three Children's Hospitals
https://www.facebook.com/RobGronkowski/
Yesterday New England Patriots' tight end Rob Gronkowski and his family visited three children's hospitals in under 24 hours and donated $25,000 to each hospital.

The $75,000 came from raffling off tickets to attend Super Bowl 52 which was organized through the Gronk Nation Youth Foundation. According to their official site, "The Gronk Nation Youth Foundation is dedicated to inspiring youth to reach their maximum potential through sports, education, community and fitness. Our mission is to help kids stay actively involved in school and sports and provide them with the tools needed to help them follow their dreams and live a happy and more successful life. Gronk Nation provides grants to sports programs and in addition, the Gronkowski brothers, provide appearances at events with selected nonprofit organizations that effectively serve and benefit children with an emphasis on health, education and fitness."
The Gronkowski family started at Boston's Children's Hospital, following with Barbara Bush Children's Hospital in Portland, ME., ending the generous excursion at Hasbro Children's Hospital in Providence. Rob and his family spent time with the children at the hospital, playing games and talking with them.

All of the money from the donations will be put toward purchasing new equipment for the children's treatments as well as programs that help the children strive for better health condition. The Child Life Program is a program where specialists help the children cope with their condition and the uncertainty of their illness and help them live their lives to the fullest! If you wish to donate to the Child Life Program, you can see the guidelines as well as a link to their wishlist.
Additional Reporting by Michael DeSouza
More From WFHN-FM/FUN 107