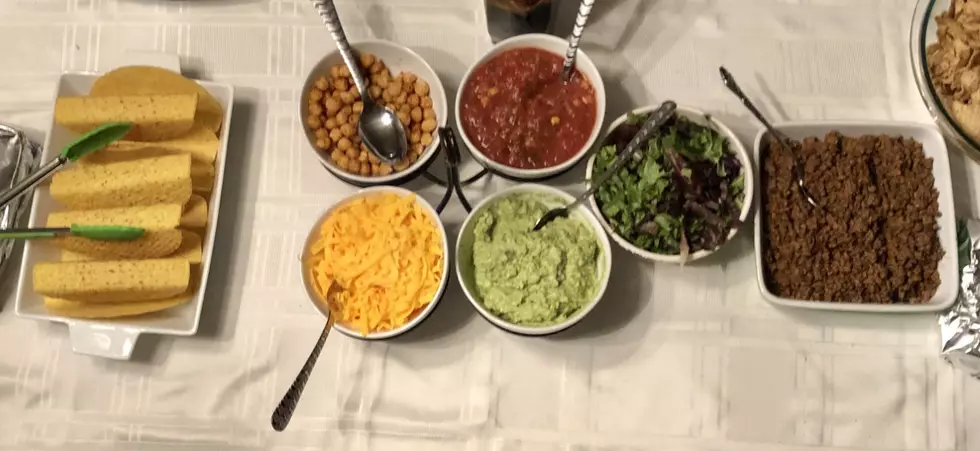 Gazelle's Guide to the Perfect Taco That Won't Leave a Mess
Gazelle/Townsquare Media
It's not just Tuesdays: any meal that involves tacos is always good, but it's usually a messy one.
That is, however, until I created the perfect taco that will change the fiesta.
Just the other night, I was celebrating Taco Tuesday with a group of friends who spoiled me with a cornucopia of toppings and delicious taco fillings.
"Hard or soft shell?" my buddy Matt asked me.
"One of each, please," I said confidently.
Nobody seemed to bat an eye at the request, but as I began to build my masterpiece, the room fell silent with anticipation and awe.
Soft tortillas
Flat-bottomed crunchy taco shells
Taco meat (or the meat of your preference)
Fresh-made guacamole
Salsa
Chopped lettuce
Chickpeas
Shredded cheese
Mexican rice
Taco sauce
Hot sauce
Gazelle's Guide to the Perfect Taco:
Place the soft tortilla flat on your plate and smear fresh whipped guacamole all over, covering the entire surface area of the tortilla.
 Place the flat, hard taco shell in the center of the tortilla.
Layer the inside of the taco shell with a thin base of Mexican rice.
Drizzle hot sauce over the rice.
Lay the meat upon the rice.
Add chickpeas and salsa on top of the meat.
Sprinkle shredded cheese over the salsa layer.
Insert lettuce on top.
Smother the lettuce with taco sauce, keeping it tidied up and concealed within the shell.
Fold the soft tortilla around the hard shell and enjoy.
The step-by-step process of building this taco may seem a little unorthodox and unnecessary, but believe me when I say that you will get to enjoy every bite without the taco falling apart into 20 pieces.
If you happen to have sour cream, then a small dollop can be added – and is encouraged – to the top of the taco to weigh down the internal ingredients.
This, ladies and gentlemen, is how you redefine Taco Night and take taco building to the next level.
Oh, and before you comment under this with "But Gazelle, Taco Bell is already doing the same thing with its Double Stacked Tacos," I will point out that they put cheese between the hard shell and the soft shell, while my recipe calls for guacamole. So my version is healthier. Which means you can eat mine and truly live mas.
Enter your number to get our free mobile app
More From WFHN-FM/FUN 107