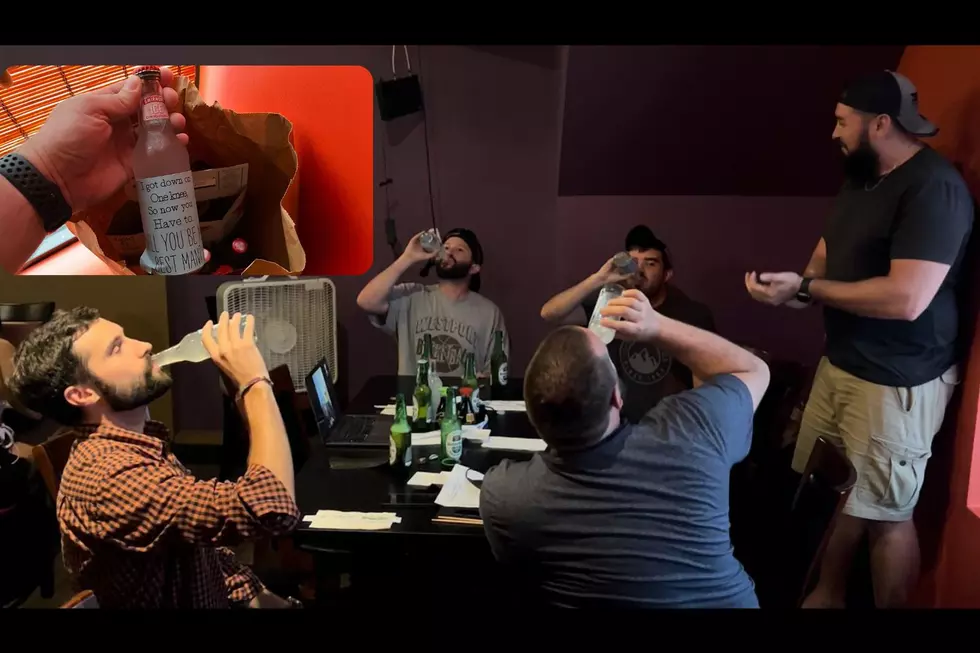 Gazelle's Groomsmen Get Down on One Knee and Get Publicly 'Iced' [VIDEO]
Gazelle/Townsquare Media
It was the icing heard around the SouthCoast.
I called for a "meeting of the minds" on Monday at Ming Sushi on Purchase Street in New Bedford. I arranged for five friends and family members to gather for some sushi, beer and an important message.
It was the day I chose groomsmen for my 2023 wedding.
One by one, my brother Taylor, Ryan Buckley, Matt Knarr and Kevin Lemieux walked through the doors of the downtown establishment, all of them equally confused. My other groomsman John Schroeder, home sick, joined us on FaceTime.
Each seat was ready with a Heineken Light and a pair of chopsticks. At the start of the meeting, I handed out black masks and instructed my men to place them over their eyes like blindfolds. From there, I placed cold bottles of Smirnoff Ice wine coolers in front of them and told them to remove the masks.
"You've got to be kidding me," and "Oh, come on" were the rumblings at the table as they each dropped to one knee and chugged. It's safe to say they understood the assignment.
For those of you unaware of the term "icing", Urban Dictionary has this definition:
"Icing" -- or "getting iced" -- is a frat star drinking game. The rules are simple: If a person sees a Smirnoff Ice, he or she must get down on one knee and chug it, unless they happen to be carrying their own Smirnoff, in which case they can "ice block," or refract the punishment back onto the attacker.
It's no surprise that I had to get extra with the presentation as well as decide on the best man. Therefore, on my wedding day, I'll have a total of three best men and two groomsmen:
Commander In Chief = Me
Vice President/Bestest Man = Brother
Chief of Staff /Best Man = Buck
Secretary of Transportation (most likely to be the designated driver)/Best Man = John
Secretary of Education/Civil Engineering/Groomsman = Kevin
Secretary of Defense/Groomsman = Matt
It takes teamwork to make the dream work and I know that with this solid group of gentlemen, I'm in for one hell of a bachelor party and wedding.
Cheers, boys, now let's get to work.
20 Popular Celebrity Alcohol Brands Available at NH Liquor & Wine Outlet Stores
Celebrities create their favorite alcohol brands to share with all of us. Here are some available at NH Liquor & Wine Outlet Stores.
More From WFHN-FM/FUN 107