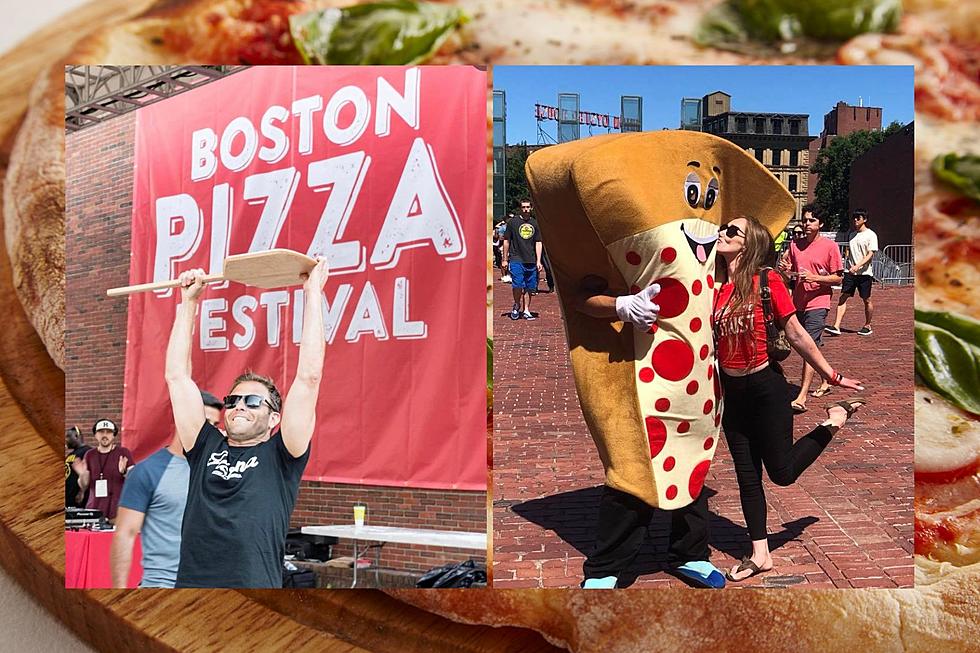 Huge Pizza Festival Returns to Boston This Weekend at City Hall Plaza
Boston Pizza Festival/Facebook
If you're like me, you have never met a slice of pizza you didn't like, and when I found out one of the biggest pizza festivals in New England was coming back to Boston for its fourth year, I cleared my schedule.
Boston Pizza Festival makes its return to City Hall Plaza, Boston on Saturday, June 24th, and Sunday, June 25th, and it promises two days of delicious, cheesy, mouth-watering pizza where going back for seconds (or thirds) is highly encouraged.
What to Expect at Boston Pizza Festival
Boston University shared the details of the highly anticipated return of this fan-favorite festival, with over 30 pizza vendors, live music, and pizza-making demonstrations. Italian chefs will be onsite, and gluten-free and vegan pies will also be available.
There will be something for everyone.
"The event is returning after a three-year hiatus, and organizers hope it will be the biggest and best Boston Pizza Festival to date," said Boston University.
How to Get In to Boston Pizza Festival
This year, the Boston Pizza Festival will have free entry, but if you want to have your fill of the pies, pizza slice tickets will be available on-site.
Online sales for pizza slice tickets are available until June 24th at 10 am. Pizza lovers can choose from the 3 Pizza Slice ticket package up to a 10 Pizza Slice ticket package, and adult beverages will be on-site to wash it all down.
Participating Pizzerias
Time Out Boston shared some of the delicious lineup, including Massachusetts favorites and pizzerias from Calabria and the Amalfi Coast.
Rina's Pizzeria (Boston, MA)
da LaPosta (Newton, MA)
Florina Pizzeria (Boston, MA)
Montebella's (Gluten-Free)
DaCoopas Pizza (East Boston, MA)
Motor City Detroit Pizza (Detroit, MI)
Il Sarago (Calabria, Italy)
Pizza Taxi (Amalfi Coast, Italy)
Wicked Cheesy (Tewksbury, MA)
Cafe Quattro (Boston, MA)
Eat Cini's (Boston, MA)
Work up an appetite and call your friends. This weekend, pizza is on the menu.
25 of the Best Pizza Spots on the SouthCoast
Not all pizza is created equal, but the SouthCoast has plenty of options for a high-quality slice. Choose from any of these 25 spots to fully take advantage of National Pizza Day.
The Best of South Shore Bar Pizza
There's pizza, and then there's South Shore Bar Pizza. Birthed in Brockton (and to this writer, perfected in Randolph – Lynwood Café is the true G.O.A.T.), it must meet certain qualifications to be considered "SSBP," which include: it's a 10-inch pie; it has a thin, cracker-like crust with minimal "flop;" the cheese is a blend that features more cheddar than mozzarella; and bonus points if you take it home between two carboard-type plates wrapped in flat brown paper bag. They also usually come with "laced" or "burnt" edges (terminology depends on where you are ordering), which is when the sauce and cheese are extended all the way to the edge of the pan, creating a crispy, flavorful coating to the crust. We reached out to the hugely popular
South Shore Bar Pizza Social Club Facebook group
to ask the experts to share the best of the best (in no particular order).
More From WFHN-FM/FUN 107