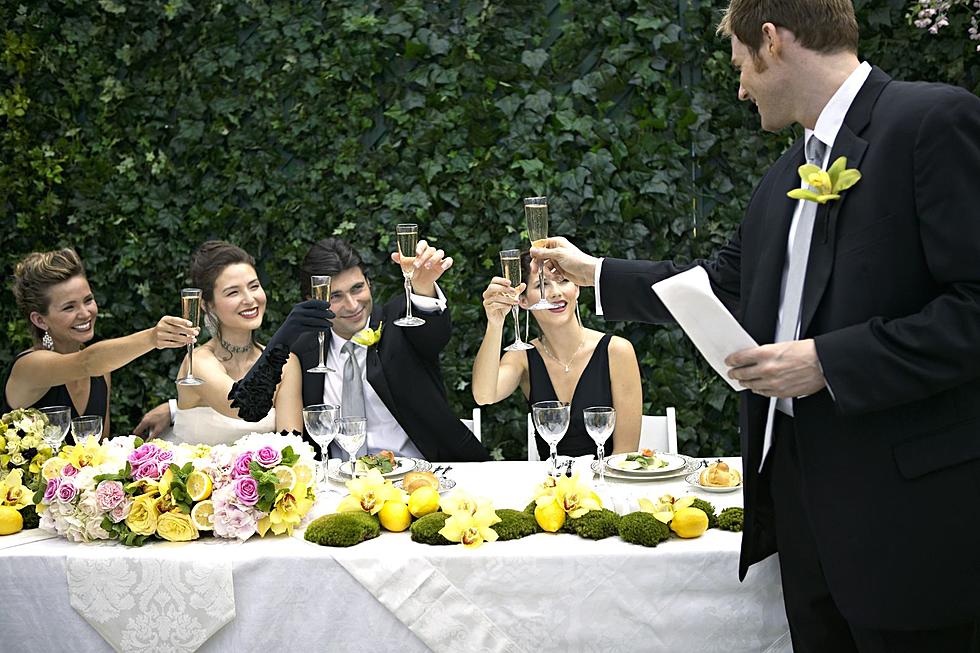 Wedding DJ Dishes Advice for Perfect Best Man and Maid of Honor Toasts
Getty Images
As a wedding DJ of 10-plus years, I've seen and heard it all, especially when it comes to toasts.
After witnessing countless speeches, I'd like to offer some advice this wedding season to the Best Men and Maids of Honor who are working on their speeches.
First, never forget whose day it is. It's OK to mention the good times, the memories, the funny stories, but make sure the focus is on the bride and groom, not you.
Second, time is everything. If your speech is 10 minutes long, it can offset the rest of the plans for the evening. Keep it short and sweet, and be mindful of the clock. The guests are looking forward to eating and until the speeches are done, the food is held back. Plus, the longer your toast, the less time everyone gets on the dance floor. It's a chain reaction, so be respectful.
Next up, you're going to want to read the crowd. There's no need for obscenities or crude humor at most weddings but every crowd is different. Just remember that there might be children present. As cool as you may think you are for dropping an F-bomb or telling a dirty joke, it might offend someone, especially Grandma.
Last but not least, put down the phone and the index cards. Reading a toast word for word can come off as cringe and impersonal. Your best bet is to speak from the heart and directly to the bride and groom.
Finally, always talk directly into the microphone and make sure it's close to your mouth. Keep the speech short and sweet and never, ever "mic-drop" the microphone. It's not yours, it's expensive and, quite frankly, it's not as cool as some think it is.
Follow this advice and the crowd will remember you (in a good way) long after the wedding.
More From WFHN-FM/FUN 107