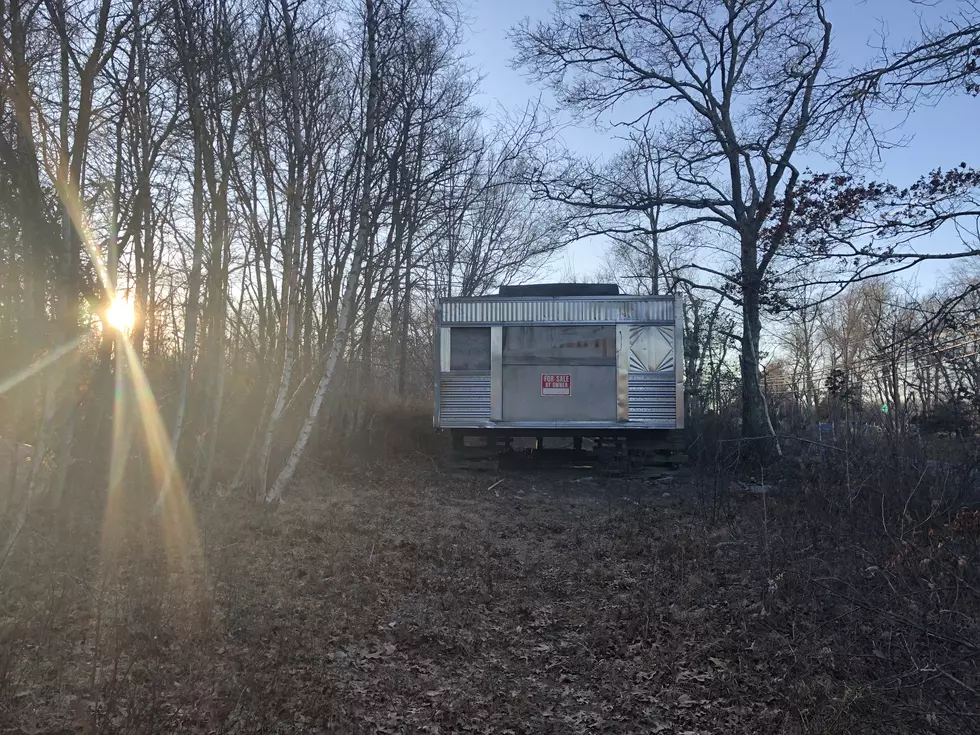 A Timeless Piece of History Discovered Inside the Westport Diners
Gazelle/Townsquare Media
It's been a long time coming, but after years of wonder and anticipation, I finally checked off visiting the two old diners in Westport off my bucket list.
Born and raised in the small town of Westport has taught me one thing: there are hidden gems all around us, you just need to know where to look.
Every Sunday, my family and I would attend St. John the Baptist Church on Main Road and to this day, I remember driving past the abandoned diners next door to the Handy Hill Creamery. They had a ghostly presence to them, all alone, surrounded by overgrown brush and prickers.
For the longest time, I've always wondered what the inside looked like. Finally, after 32 years as a Westport local, I made inside those stainless steel pieces of Americana.
Myself and Digital Managing Editor Tim Weisberg met up with Quentin Sanford and his sister Bethany Smith, owners of Handy Hill and the two diners, where we were offered an all-exclusive look at the inside of Eddie's Diner, which was hoped to be turned into Handy Hill Diner.
Sanford and Smith got their hands on two diners decades ago, the first back in 1998 (Eddie's Diner, formerly in Quincy) and 2003 (Traveler's Diner, from New Jersey) with the intentions of expanding Handy Hill Creamery as a type of overflow restaurant where customers could escape the heat and have a seat indoors, out from the hot sun during their summer season. Unfortunately, there was just not enough time and minor complications that kept them from seeing through on their diner dream.
It's funny the things you learn after years of not knowing. The time had come to check out what was left of the diners, so we made our way over to the boarded-up diner and found our way into the local landmark.
Dust poured out from the diner as we opened up the door, ready for a nostalgic look back into time that had been a long time coming.
Just as I expected, the inside was withered and decayed, but structurally strong and timeless.
"This is absolutely stunning," I said to Tim as I reached out my hand, hoisting him up into the abandoned time capsule.
Before I began filming, I took a moment to absorb the history that was once a flourishing family establishment that served up delicious milkshakes and tasty burgers. Americana at its all-time finest, if I might add. It was the first time the diner had made contact with humans for years and it was beyond fascinating.
Sadly, the town of Westport has requested that Sanford and Smith must remove both diners from the property as it was being deemed as an "eyesore" for anyone traveling on Hixbridge Road by the new police station.
They have 30 days to do so and it's already been close to a week since the countdown began.
Ready for some good news? The diners are FREE to anyone who wants them. Yes, you read that correctly, FREE.
Both diners are structurally sound and ready to be taken away, all plumbing has been uninstalled and the foundation has been detached for speedy delivery service.
"We just want to see the diners go to a good home and be used with a purpose," Sanford told us. "It would be a real shame if we had to scrap them. Even if they were to be used as a shed or a storage facility, anything to good use instead of being demolished."
Anybody who is interested in either or both diners can contact Sanford at (508) 730-7250 but is advised to act quickly, as time is ticking for these local timeless treasures.
#SaveTheDiners #PreserveHistoricWestport
Enter your number to get our free mobile app
More From WFHN-FM/FUN 107