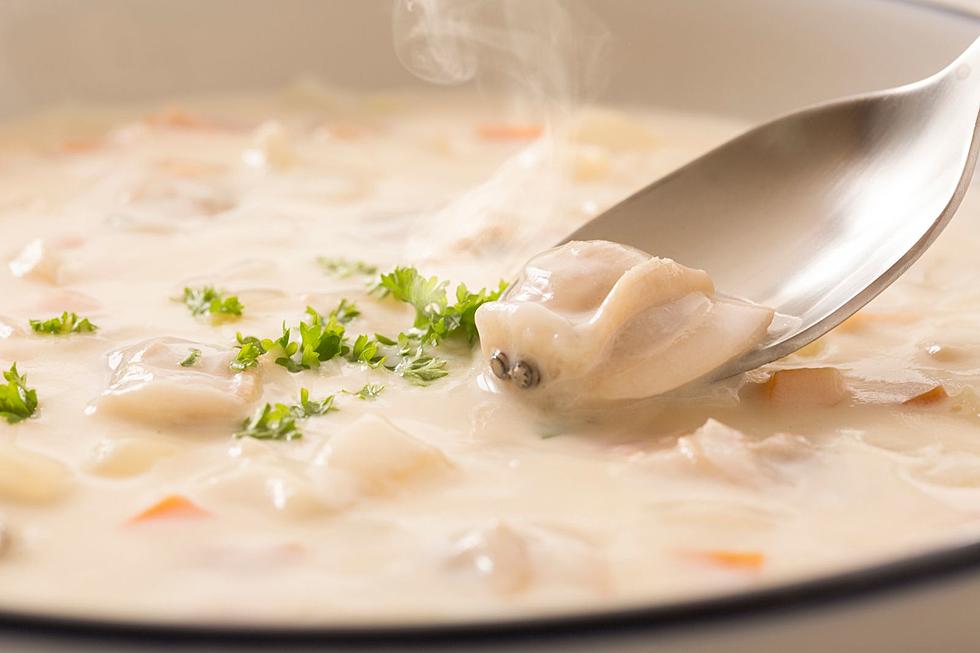 The 18th Annual New Bedford Chowderfest Is Seeking the Best Chowder on the SouthCoast
Canva
Calling all SouthCoast chefs. Think you have what it takes to bring the best bowl of clam chowder to the table? Now is your chance to flex your kitchen skills and go up against some of SouthCoast's tastiest restaurants in the area.
The 18th Annual Blount Fine Foods New Bedford Seaport Chowderfest returns Saturday, September 30th from 11 AM to 5 PM with the One Southcoast Chamber and it's sure to bring seafood connoisseurs from all over. What better way to showcase your recipe than at the biggest chowder competitions in the area?
You'll have 4 hours to bring your "A-Game" (tasting is from 11 AM to 3 PM) on Pier 3 in New Bedford's historic, working waterfront, and the best part: there's no cost aside from the cost of your delicious product.
Here's What The Chamber Will Provide For You:
The chamber will provide electricity, overhead lighting, security, wash sinks with hot and cold running water, detergent, hand sanitizer, trash barrels, trash removal, portable restroom facilities, Board of Health permit of the day, (1) 8-foot-long serving table with table cloth, 2 oz. serving cups, small plates, napkins, forks, and spoons (volunteer runners will keep you supplied with paper products.).
Here's What You'll Need To Bring to the Event and Have Prepared:
Food for approximately 1,700 – 2 oz. servings
Serve Safe Certificate and Food Allergen Certificate
Food establishment permit issued by local Board of Health
Servers for your table
Decorations of your choice
Sterno steaming method – Allowed up to 25 lbs. of propane. A permit must be
obtained from the fire department for tanks larger than 25 lbs.
You must provide your fire extinguisher
Thermometers
Cold Storage
Clean-up and breakdown of your booth begins for restaurants at 3:15 PM.
You must take leftover food with you; it is not to be disposed of on-site in water barrels, dumpsters, or port-a-johns.
Throughout the day, there will be live music, beer, wine, soft drinks, and concessions until 5 PM, and be sure to have a gift certificate or card to your restaurant readily available upon arrival to be raffled off as part of the event promotion. Keep in mind that VIP ticket holders will start walking through at 11 AM and general admission begins at noon.
Current Participating SouthCoast Restaurants:
110 Grill
Black Whale
Krave
Care One at New Bedford
Cottages of Dartmouth Village
Cove Surf and Turf
Mimi's Kitchen
New Bedford Harbor Hotel
Quahog Republic Whaler's Tavern
Scottie's Pub
Origen Bar & Grill
If you have any further information, please reach out and contact Katie Greene at kgreene@onesouthcoast.com and she'll be happy to answer all questions or concerns you may have.
Healthy Seafood Options to Look for on the SouthCoast
If you are trying to eat healthier in the new year, knowing what benefits your favorite SouthCoast seafood has might help.
Best Foods to Eat When You Want to Beat the Heat
They say "you are what you eat" and in the summer time that also means you feel what you eat. So when you want to feel cool on a hot, summer's day, what you feed yourself can actually help.
These are some of the best foods for keeping cool when the temperatures are on the rise.
More From WFHN-FM/FUN 107