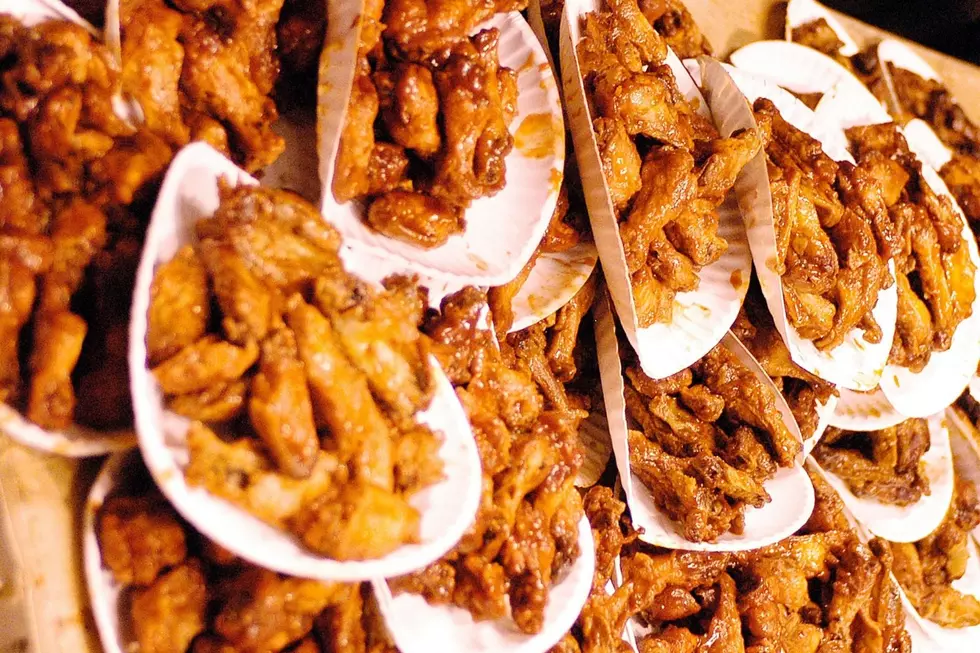 Why Some SouthCoast Restaurants Are Banning Take-Out Wings
Photo by Jeff Fusco/Getty Images
Yesterday on Michael and Maddie, I talked about how puzzled I was when I popped into a chain restaurant earlier this week and found out that customers weren't allowed to order bone-in Buffalo wings for take-out.
The server, who was super nice, explained that it was a corporate policy that they had no control over. We all know what it's like to work at a place with weird corporate rules.
I talked about it in an article on Fun107.com, and I got a few theories about why a restaurant might ban Buffalo wings to go.
Harrison Ingham helped setup Got Chew at many SouthCoast restaurants. He says selling wings to go is not worth it.
"Wings for takeout orders have been a pain for restaurants because people like their wings different styles," he told Fun 107. "Some want them cooked extra, but with extra sauce. So now the cooked extra wing will be cooked right, but due to a sauce being on it or the Styrofoam to-go containers building condensation, the wing gets soggy and doesn't have the same crisp crunch it would if you were dining in."
More restaurants are choosing not to allow them for takeout for fear of a bad online review.
An interesting theory, but couldn't that argument be used for just about anything that is offered on a menu? It doesn't matter whether you're taking out wings, steak, or fish – any dish has the potential to taste a little different when taking it out, especially since the temperature of the food might be cooler.
We got a call from Megan, who has worked as a server in both corporate and locally-owned restaurants. She told us that normally the restaurants that don't allow take-out for the Buffalo wings are ones that don't have the wings as a regular item on their menus. Megan said that normally, they are 50-cent or 70-cent wings that they want you to eat at the bar while ordering drinks. She admits that the policy can be confusing to customers.
My one final thought on the topic is that restaurants might want to relax the no take-out policy while the pandemic is still limiting our ability to dine in.
The SouthCoast's Most Underrated Restaurants
Enter your number to get our free mobile app
More From WFHN-FM/FUN 107