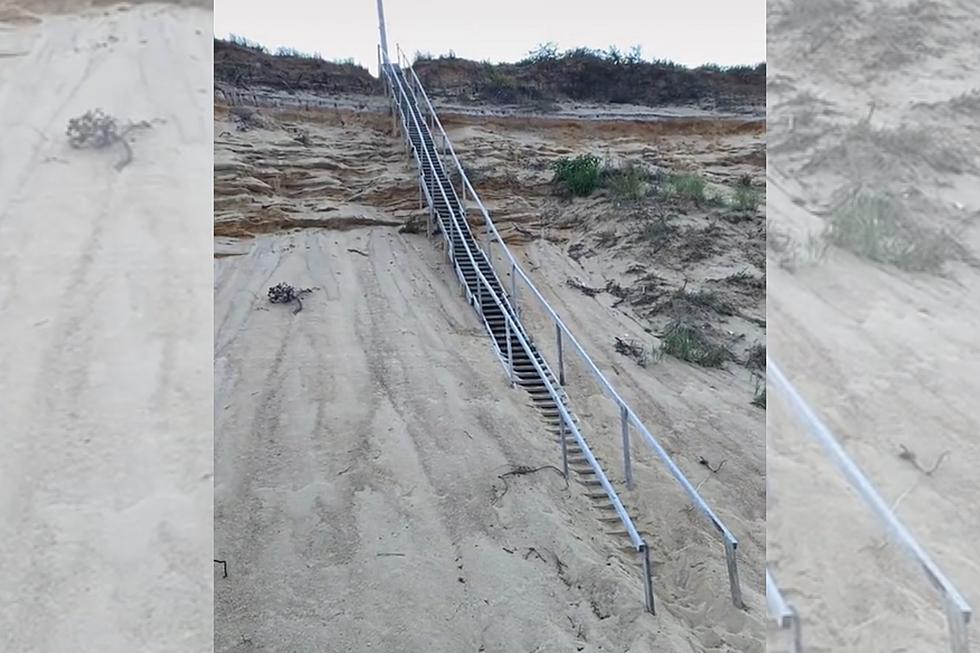 Try Not to Fall Down This Ridiculous Set of Stairs in Wellfleet
@joegill88 via TikTok
You've probably heard of the steep inclines at the Great Wall of China or Machu Picchu, but have you heard of the craziest set of stairs on Cape Cod?
Located in Wellfleet, these stairs were built right into the cliff that separates Cahoon Hollow Beach and the popular summer bar The Beachcomber. But if you're coming from a day at the beach and want to hit the bar for a drink or two, or just need to use the restroom, you'll have to work for it.
From a TikTok video shared from Cahoon Hollow Beach over the weekend, there appears to be over 100 stairs, and while the grade starts out pretty steep at the bottom of the staircase, it only seems to get steeper as you near the top.
Many beachgoers, both from Wellfleet and beyond, shared their experiences with the staircase, and it's safe to say that some have had quite the rough going.
"That's Cahoon Hollow," @capecodbeachvlog wrote. "I wiped it down these stairs once with a beach full of people watching..."
Others, including the original poster of the video, thought of all the beach furniture that's probably seen its last legs over the years because of this steep trek.
"This is where beach furniture goes to die," @joegill88 said in his video.
But just when you start thinking about how ridiculous of a climb this is, remember that it could be worse. TikTok user @dunksdecafgirl recalled the days back in the 90s where there weren't any stairs, and instead, beachgoers "had to walk zig zag up 'sand' paths." Yea, I think I'll stick with the stairs and hand railings, although a giant slide like the "Big Red Slide" in Somerset would certainly make the trip down a lot more fun.
WARNING: Following video contains explicit language and is NSFW
LOOK: Westport Man Creates Massive Sand Sculptures on Cherry and Webb Beach
Richard Huggins has been creating sand sculptures for the past 45 years and uses SouthCoast beaches as his canvas.
Post Up at This Breathtaking Beachfront Property For Sale in Westport
Live your best life – on the beach! If you've ever wanted to purchase your own beachfront property, don't sleep on this opportunity. A small but valuable plot of beachfront land is on the market in Westport and to say that the views are stunning is a massive understatement.
Sudbury Mansion With Private Hockey Rink Is Every Fans' Dream
Talk about a beauty! From stunning interiors and sprawling outdoor greenery to a heated pool and, yes, a hockey rink, this home for sale in Sudbury doesn't miss a single beat.
More From WFHN-FM/FUN 107