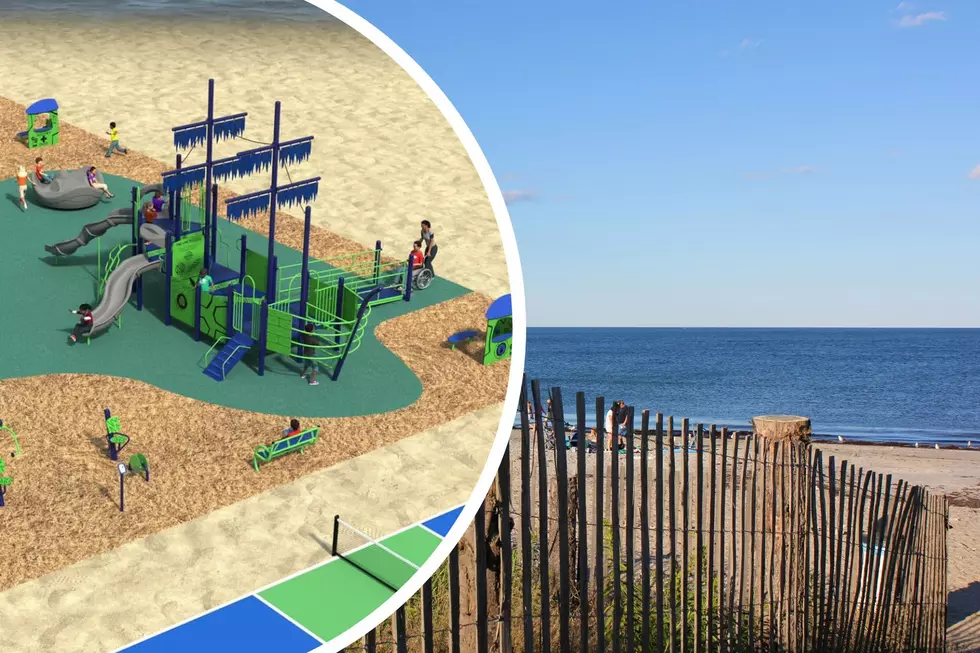 Wareham One Step Closer to Brand New Playground at Swifts Beach
Courtesy of Childscapes
The Swifts Beach Improvement Association in Wareham announced Saturday that a playground project three years in the making is finally coming to fruition.
Christy Tarantino Patalano had the vision to transform the overgrown and unsafe Swifts Beach Park, and she was excited to share that the playground and outdoor fitness equipment have officially been ordered for the Swifts Beach Park Project.
A Mother With a Big Idea
Patalano is the project manager and liaison for the Swifts Beach Improvement Association. When she was a mother of one with one on the way, she had a big idea.
"The Swifts Beach Park was a wooden park that was beautiful 30 years ago, but it became dangerous and rundown," she said. "I wanted to get it done over, so in the fall of 2019, I went to town hall and asked what the process was."
It was an overwhelming process from the beginning, between the committee meetings and the leg work of paperwork and proposals.
Then, in 2019, Patalano got the motivation she needed.
"In 2019, a little girl wrote an article about how she and her cousin would always get splinters at the park. I saw the article and that's all I needed," she said.
Since the fall of 2019, Patalano and her team have been actively fundraising to provide the town with a state-of-the-art, inclusive and fun playground for the children of Wareham.
What to Expect
"It was important to make the playground multi-generational so it could be a space for everybody," said Patalano. After several proposals, the design was chosen, and Childscapes in Marshfield was hired to provide Burke Playground equipment.
While the equipment is en route to Wareham, fundraising is still ongoing for the picket fence that will encompass the park.
"With help from our friends, neighbors, and local businesses in the community, we have sold 270 pickets to build a picket fence around the perimeter of the playground to keep our children safe," the association said on Facebook. "(We) will continue to fundraise for pickets, and donations are always appreciated."
One woman had an idea, and with the help of the community, Wareham will soon have a fun new place to congregate for the entire family.
Want to see what the playground will look like? Keep scrolling. And check out our guide to playgrounds throughout SouthCoast below.
The New Playground Coming to Swifts Beach Wareham
The playground equipment and outdoor fitness equipment have officially been ordered for the Swifts Beach Park Project. Here's the first look at the future destination.
Ultimate SouthCoast Playground Guide 2021
The Ultimate SouthCoast Playground Guide features 48 public playgrounds throughout Southeastern Massachusetts and Rhode Island.
More From WFHN-FM/FUN 107