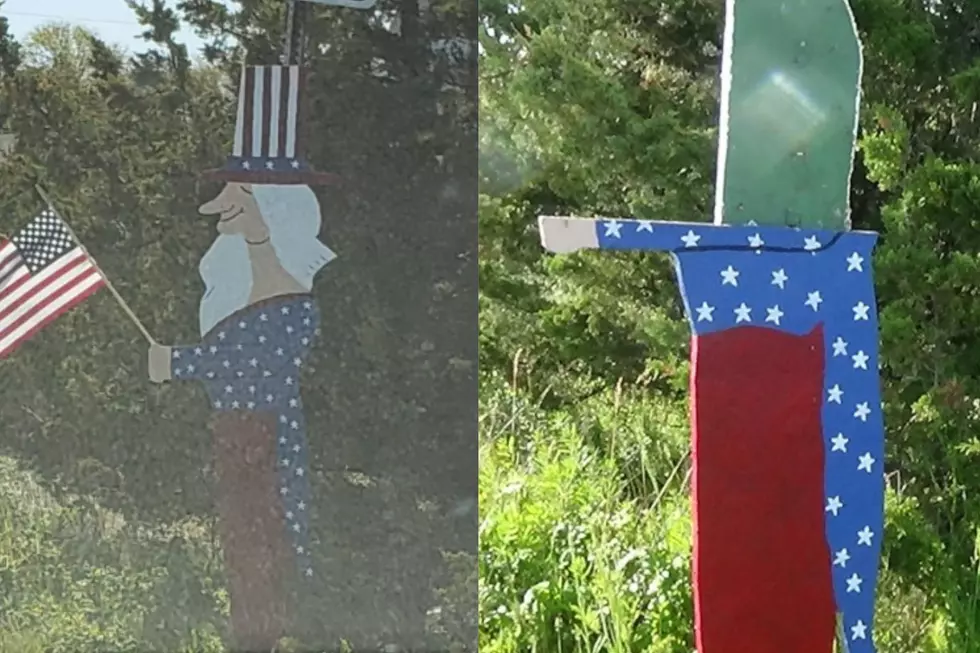 Vandal Strikes Fairhaven's Uncle Sam
Brian Fitzgerald Facebook
A Fairhaven man's hobby has allowed locals to enjoy some really neat wooden characters on roadside display, but it appears someone vandalized his latest creation.
If you have driven down Causeway Road on the way to or from West Island, you may have seen these neat wooden creations. Brian Fitzgerald recently crafted Uncle Sam holding an American flag to recognize the upcoming Fourth of July holiday.
On Tuesday, Fitzgerald drove by his wooden sign to find that someone had taken the flag and damaged the head area of the once-smiling Sam. While he didn't contact police, Fitzgerald vows that he will repair the patriot and get him back up before the holiday.
"I will have it up in a couple of days and I hope it doesn't get messed with," he said.
It took Fitzgerald a couple of weeks to finish the piece, which he put up at the start of May.
As far as the process to make one of these, Fitzgerald starts with a picture of something he likes, then draws it on plywood at a much larger scale. He then cuts out his drawings and pieces them together. Once he's satisfied, he puts the characters up for all to see.
Incidentally, the vandalism took place right under a "neighborhood crime watch" sign.
Check out some of the other creations that Fitzgerald has made, below, and keep your eyes out for what comes next.
Fairhaven Man's Woodworking Hobby Spreads Smiles
Fairhaven resident Brian Fitzgerald loves sharing his woodwork creations with the community. Check out some of them here.
More From WFHN-FM/FUN 107