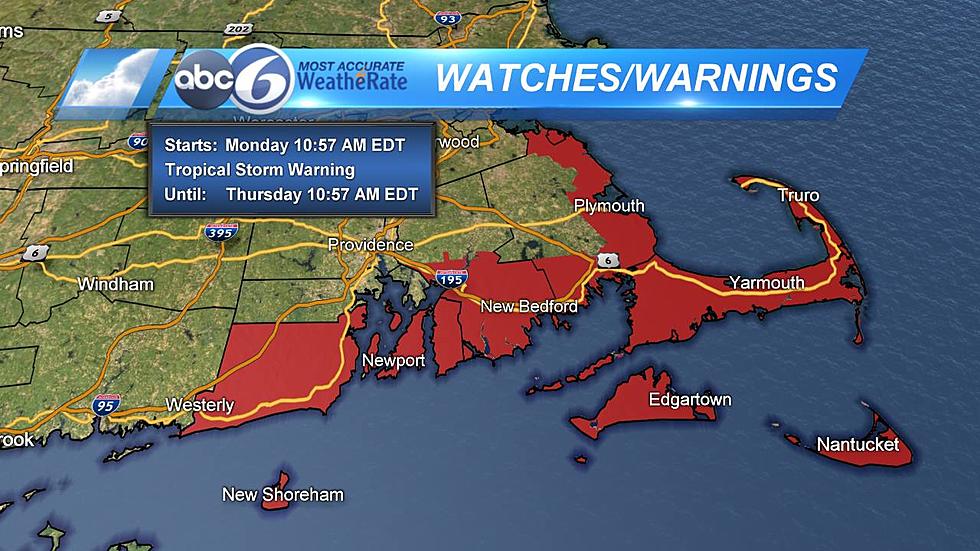 Tropical Storm Warning Issued For MA & RI
ABC6
As of 11 AM this morning the National Weather Service has just upgraded our area to a Tropical Storm Warning.  This means tropical storm force winds of 45 miles per hour or greater are expected in the next 36 hours.
Jose's currently a weak Category 1 hurricane with sustained winds of 75 miles per hour with gusts as high as 90 miles per hour.  Although we are not expected to take a direct hit, it is important to be prepared just in case.  This area can expect up to 3-5 inches of rain as well as higher than normal tides.
It is a good idea to take in your outdoor patio furniture, and secure any items around your home so they don't blow away.
Heavy wind and rain is expected during the day Tuesday lasting through Wednesday.
Make sure you have a cell phone charger for your car, so if you lose power you can still download the FUN 107 app and listen to updates on the storm from the ABC 6 Weather Center.
Other items it is a good idea to have on hand, just in case include: Bottled Water, Non-perishable foods, flashlights with extra batteries, cash (if banks or ATMS are unavailable), first aid supplies, blankets, pillows, toiletries, medication, and any important documents.
More From WFHN-FM/FUN 107