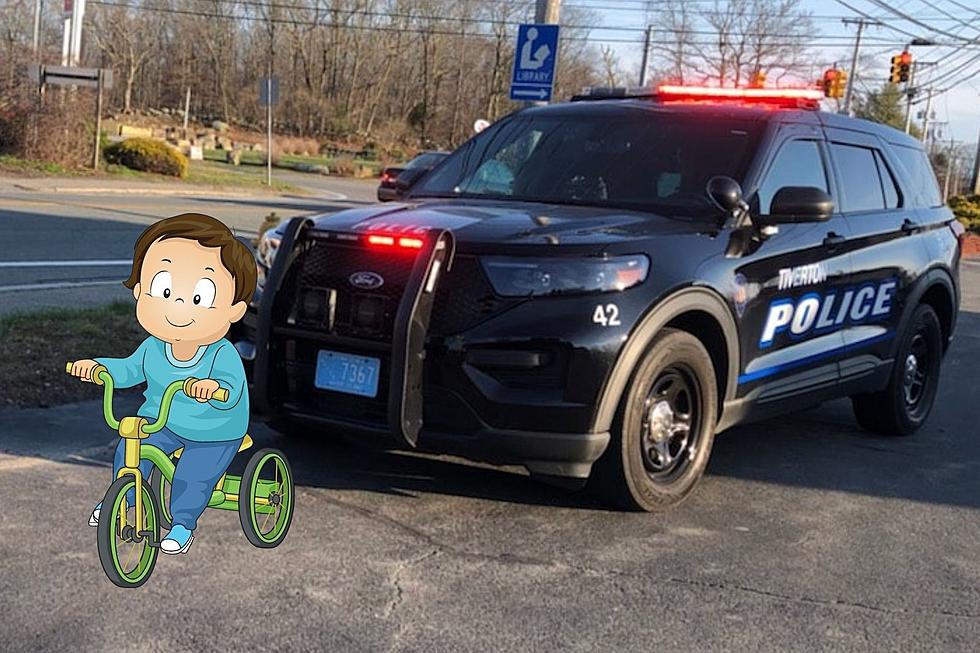 Adorable Traffic Stop in Tiverton Raises Awareness About Distracted Driving
Courtesy of Tiverton PD
A Tiverton toddler had a hard lesson in driving on Tuesday when he was pulled over by Tiverton PD. Luckily, they let him go with a stern warning.
It was all in good fun to remind drivers that April is National Distracted Driving Awareness Month, and Sergeant John Leduc is proud of his fellow policemen for getting involved with the community in a lighthearted way.
While Officer Huber was on patrol, he noticed a father and son playing in a parking lot off Stafford Road. The little boy was trying out his very own set of wheels, and Officer Huber saw an opportunity.
He pulled into the lot, "pulled over" the toddler, and was met with giggles from the excited driver.
"The little boy loved it," said Sgt. Leduc. "And Dad got a kick out of it."
Leduc is grateful to have officers that are willing to think outside of the box on how to be more involved with the community.
"I'm loving it. I'm very excited to have guys out there engaging and interacting," he said. "It breaks down stereotypes, and it helps the public realize that we are human beings. We're not just robots in uniform looking to make people miserable."
Tiverton PD is making community outreach a priority by rolling out a new division on May 1. Leduc will be heading the new community policing division, as a way to be even more involved with the people they serve.
Leduc explained the importance of Distracted Driving Awareness Month, and how Tiverton PD is actively trying to decrease the number of drivers who choose to pick up their phones while behind the wheel.
"It is very underreported how distracted driving plays a part in death-related accidents," he said. "There have been many times I have pulled someone over for driving under the influence, and it turns out they are not under the influence at all, they were just on their phones."
It's very telling as far as how dangerous it is to be on your phone while driving.
This traffic stop on Tuesday may go down as the cutest traffic stop in Tiverton history.
The next time you go to reach for your phone while driving, think of this little guy, and put it away.
7 Rules You Should Follow if You Plan On Grilling in Massachusetts
Firing up the grill is a welcome sign of warm weather. But if you live in Massachusetts, you should read these rules before you get cooking.
See Everything to Explore at the Children's Museum of Greater Fall River
The former Bristol County Superior Courthouse on North Main Street in Fall River has transformed over the last decade into the home of the Children's Museum of Greater Fall River. From exhibits that local families know and love to those totally new features that have debuted in recent months, one thing is for sure: This museum is a must-see SouthCoast attraction and we have the pictures to prove it.
More From WFHN-FM/FUN 107