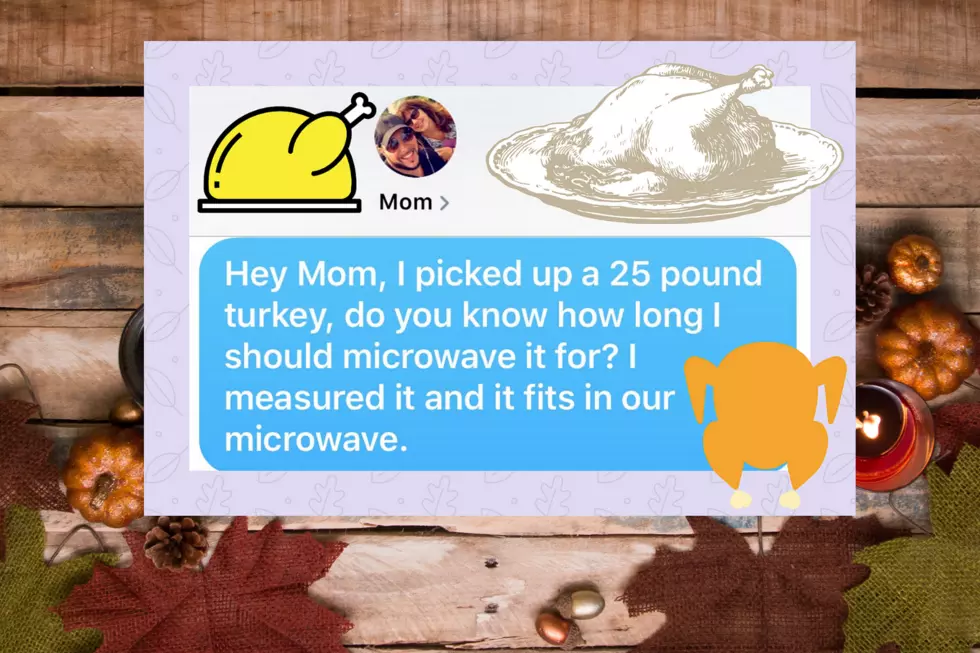 The 'Text Your Mom About Microwaving A Turkey' Game is a Must-Try [PHOTOS]
Gazelle/Townsquare Media
Anytime The Michael Rock Show gets to pranks our moms, it's usually pure gold.
All across Facebook, I started seeing screenshots from my friends who were playing a viral game with their mothers. It's called the "Turkey Text" prank, and it's quite entertaining. Here's how it works:
1. Text your mother the following message: "Hey Mom, I picked up a 25-pound turkey, how long should I microwave it for? I measured it and it fits in the microwave."
2. Sit back and wait for a hilarious response (should work on most conversations with moms).
3. Screenshot your mom's response and post to social media for all to read and laugh at.
Of course, The Michael Rock Show had to get involved in the action, so we each sent our mothers the text that's sweeping the nation. What you're about to see are the actual responses from Michael's, Abby's and my own Mom. Sit back and enjoy:
Some responses were subtle, others were outlandishly amazing, and we all agree that Abby's mom takes the cake on this prank.
All have to say is that if you haven't tried this yet on your mom, it's a must-try, trust us. Simply follow the above instructions, sit back and watch the pandemonium unfold right before your eyes.
The "Turkey Text" game to moms can even be played with other family members or friends, but be sure to choose wisely. Someone who knows what they are doing in the kitchen will most likely have a better response as opposed to someone who is completely clueless when it comes to cooking Thanksgiving dinner.
Best of luck and remember, this is ONLY for entertainment purposes, and no turkey should be cooked in any microwave ovens, regardless of your cooking skill or situation. Just don't do it, you'll be glad you didn't.
More From WFHN-FM/FUN 107