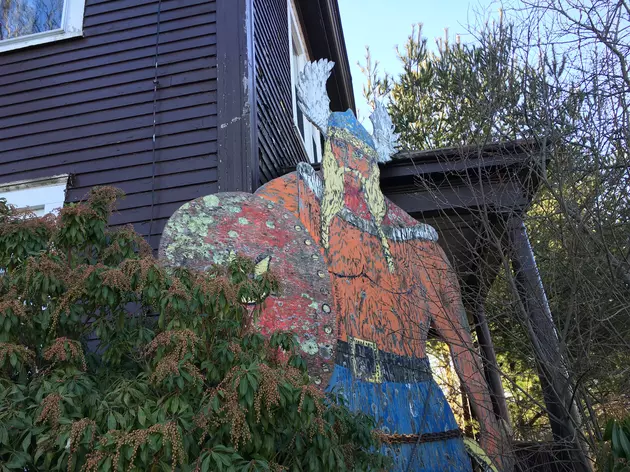 The Story Behind The Mysterious Dartmouth "Viking"
TSM/Gazelle
You've seen it more often than you realize... the 15-16 foot Wooden Viking near Gumbos in North Dartmouth, but does anyone really know where it came from? Fun 107 investigated and found the answers.
As I approached the house on the corner of Rt. 6 and Summit Avenue, my curiosity was at  an all time high. For years I've pondered about the randomness of an oversized Norwegian Viking was "chilling" in someone's yard... overlooking the Dartmouth Mall. I proceeded to walk past the old Scandinavian gift shop that was once a popular little store to find hidden gems of the culture that you couldn't find anywhere such as sweaters and knick-knacks and headed towards the steps of the faded burgundy painted colonial and rang the doorbell.
From the corner of my eye, I could see an older woman peek out her window with a look of confusion. I could tell she wasn't expecting any guests.
A door opened and I was greeted with a smile; Her name was Mary-Ann.
"Are you the owner of the Giant Viking on the front lawn?" I asked.
She then proceeded to tell me it's background s as well as his life-story. This is what she said:
"A student from U-MASS Dartmouth who was renting out a room on the top floor made it for me. He was an artist and as a token of thanks, made it for my husband and I. We took in students and rented the room to those who needed a place to live while attending U-MASS."
When asked his name, she told me she couldn't remember, because it was so long ago.
"I come from a big family so I enjoy the company of others (who are renting/staying with her)."
Mary-Ann is a simple woman who enjoys making custom copper work and overall being around good people. At 81 years of age, she could no longer run her Norwegian store, but has hopes that her son will someday re-open it.
"Does the Viking have a name?" I asked politely.
"No, he was never given one." she replied.
The intimidating no-named Norwegian has been through a lot over the years.
"Kids would always try to steal him, but I would catch them!"
Early one morning around 2 A.M. one day, May-Ann heard noise and laughter outside her window so she proceeded to turn all the lights on in her house as quickly as she could and the delinquents fled. This is only one of many theft attempts, but no one has succeeded.
Jokingly, I had asked what it would take to be the new owner of the goliath looking artistry.
"Many people have tried to buy and make offers to purchase the Viking, but I couldn't sell him. He's been apart of my life and will be until I die."
As I said my Goodbyes, I could see in Mary-Ann's eyes that she truly did enjoy company, even if it was an unexpected visit for a quick chat about the Viking's History. Nostalgic memories had filled her heart once more, bringing yet again another sincere smile that I will never forget.
The Viking is considered to some a historical Dartmouth landmark that has stood tall and proud over many years and continues to grab the attention of locals who pass by on the daily.
If you have not had the chance to see this magnificent art-work, the Viking is located at the corner of Summit Ave and State Road (RT. 6).
The origin of the Viking may have been revealed, but the background behind it's name (or lack there of), will forever remain a mystery.
More From WFHN-FM/FUN 107