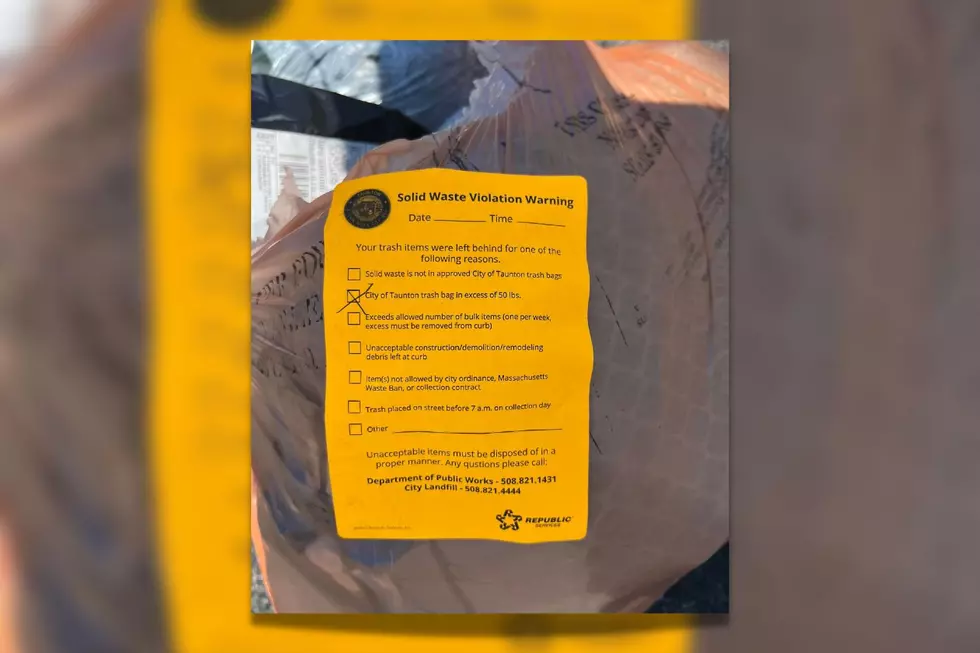 Taunton Family Frustrated After Being Hit with Waste Violation Warning
Courtesy of Carla Bazalar
A Taunton woman was left fuming after she says the city refused to take her trash and instead left her with a citation that claimed her trash weighed over 50 pounds, more than the acceptable amount.
Carla Bazalar, however, says the city was mistaken and Fun 107's Michael Rock predicts this is just the beginning of trash wars on the SouthCoast.
Carla's Story
On Thursday, Carla Bazalar says her 12-year-old son brought the trash to the curb like he does every week. When her husband got home, he informed her that the trash was still there, now with giant rips in the bag and an orange note stuck to the front.
It was a violation warning, claiming her trash bag exceeded 50 pounds.
"That bag can't even handle 50 pounds," Bazalar said after commenting on how cheaply made the bags seem to be.
"They left my bag super-ripped. It was ridiculous."
Bazalar recalled another time when the city did not take her trash, she says, due to a stick protruding out of the bag.
"I know there are bigger things happening in the world, but c'mon, people," she said.
Solid Waste, Recycling, and Composting Regulations
According to the Department of Public Works in Taunton, solid waste, recycling and composting regulations "are enacted in order to protect public health and the environment by reducing the amount of solid waste sent to landfills and incinerators and to comply with Massachusetts Department of Environmental Protection Waste Ban Regulations."
If Bazalar's trash bag was truly more than 50 pounds, then she violated that allotted weight for residential solid waste.
"I didn't know they had scales on the trash truck," said Bazalar.
Fun 107 reached out to the city for additional comment on its procedures but hadn't heard back by end of day Friday.
This is Just the Beginning
"These trash problems are going to be more and more widespread," Fun 107 morning cohost Michael Rock said after we spoke with Bazalar. "It's not going to get better; this is only going to go one way."
Rock said he doesn't think anyone wants to take our trash away anymore, leading cities and towns with a smelly problem.
"China used to take our trash and our recyclables, but now New Bedford is going to become a hub for trash. Trash is going to be a hot topic over the next two to five years," he said.
If this trash problem continues to build or more restrictions are placed on residents, what are we supposed to do with our waste?
The weight of trash bags is just the tip of the iceberg for a growing problem in waste removal.
Taunton's Silver City Galleria Demolition
Taunton's Silver City Galleria is being demolished, but through this drone video and these photos, we get to have one last look before we say goodbye.