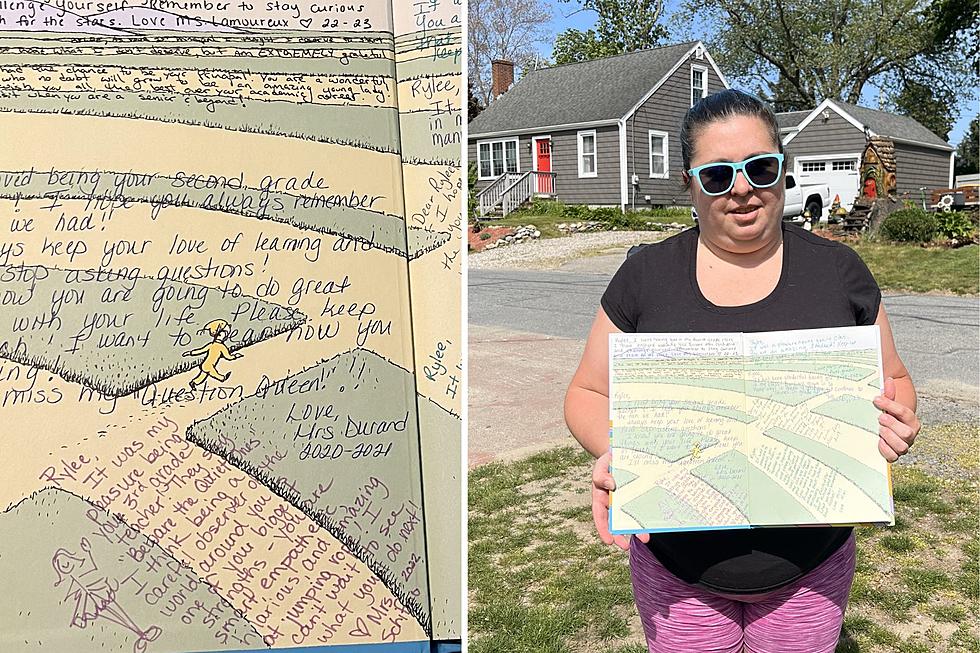 Missing Swansea Dr. Seuss Book With Sentimental Notes Inside Has Been Found
Courtesy of Jessica Steinkamp
We first told you about a Swansea mother who was in a desperate search for a missing Dr. Seuss book on Friday afternoon. Jessica Steinkamp has spent the past week looking in libraries across the SouthCoast for a Dr. Seuss book that was thought to have been mistakenly donated.
Somehow, the missing "Oh, the Places You'll Go" book had been accidentally sorted with a number of other books that were set to leave Brown Elementary School in Swansea.
Normally, this would not be a big deal, but Jessica had spent years collecting sentimental notes from her daughter's teachers inside. The book was a work in progress to be gifted to her daughter on graduation day. It was irreplaceable.
"I was getting a little discouraged," Steinkamp said. "The Fun 107 story had been all over Facebook. It was shared so many times, but I still wasn't getting anything. I was like, 'Maybe it really is gone forever.'  One would think if you had it, you'd give it back."
She was losing hope with each day that passed by.
Until today.
Jessica got a call from the school to let her know that the book had been found. It had been sorted to ship out, but it miraculously didn't make it out the doors ... yet.
Incredibly, throughout this whole ordeal, the project has remained a secret for her daughter.
Will Jessica have next year's teacher sign the book?
"Yes, but I'm never, ever, ever letting the book out of my sight again," Steinkamp said.
Check Out Swansea's Future Family Entertainment Venue, Silver Stone Castle
Owner and Swansea native Joe Estrela hopes to open the gates of his massive entertainment complex this year. In the meantime, here's a sneak peek of the proposed design for his medieval-inspired adventure castle.
Go Inside Fall River's Lizzie Borden Bed & Breakfast
This infamous Fall River home is open for tours and overnight stays through U.S. Ghost Adventures. Here are all the rooms you can stay in and the haunted happenings that have taken place in them.
More From WFHN-FM/FUN 107