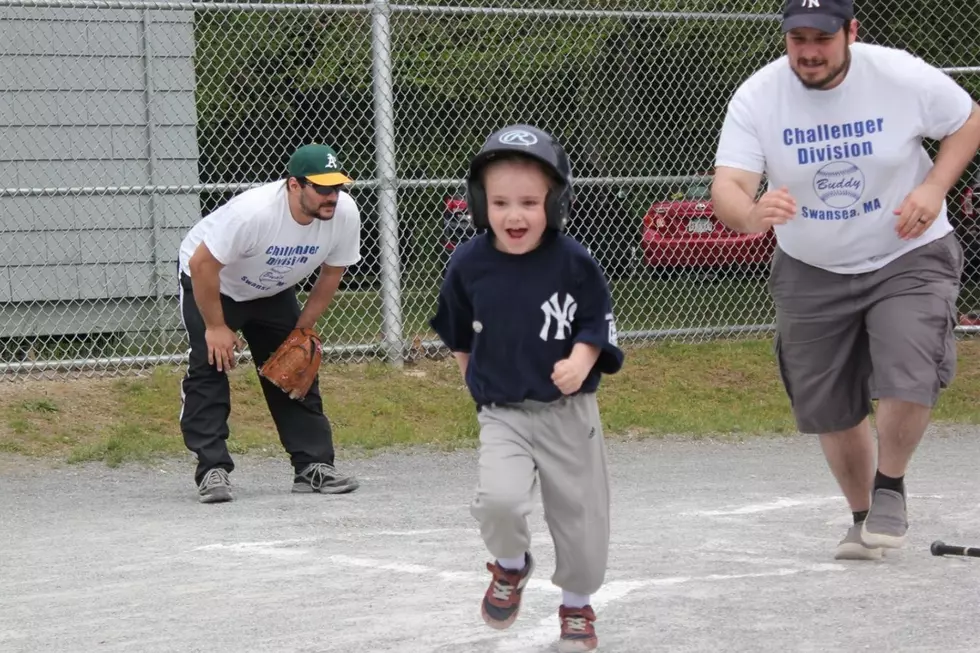 Swansea Adaptive Baseball League Is a Home Run
Swansea Little League via Facebook
It's officially baseball season, and lots of children are getting ready to join their town rec leagues for a new season of fun memories. Every child deserves the chance to swing a bat and field a grounder, and that's why one Dighton woman has decided to take over a very special league in Swansea that creates a safe space for an adaptive baseball experience, allowing individuals with special needs to enjoy America's favorite pastime.
Over 16 years ago, one couple formed the Swansea Challenger Little League through the Swansea Little League program. It's an adaptive baseball team for any individual with a physical or intellectual disability ages four and up.
Three years ago, the couple retired, and with no sign of the program being continued by anyone, Nicole Santos stepped up to the plate and became the program director. Her son, an 11-year-old boy with autism, is a participant, and she didn't want to see this program fall apart.
The Challenger Division encourages players to participate in as much of the game as they are able, but there is also an option to be teamed up with a buddy who will help them bat, run, field, and experience the overall game.
"It's all about team sportsmanship and getting the kids out there," Santos said. "There's not a lot of options for them out there, and COVID has made it even harder. It's so nice to see them happy and do something they love."
It's clear how passionate Santos is about the program.
"It's so inspiring," she said. "It's not every day these kids get to do this. They teach me more than I could learn from anyone else. Just seeing them accomplish it is very rewarding."
The best part is that you do not have to be a Swansea resident to participate in the league.
"If you're willing to drive, you are welcome to play," Santos said.
If you are living on the SouthCoast and have someone in your life with a physical or intellectual disability, get them on the Challenger Little League roster by visiting swansealittleleagues.com or emailing Nicole Santos at n.santos8@yahoo.com.
Volunteers are always welcomed.
Every kid deserves to have the baseball experience, and this Swansea program is a home run.
CHECK IT OUT: 100 sports records and the stories behind them
More From WFHN-FM/FUN 107