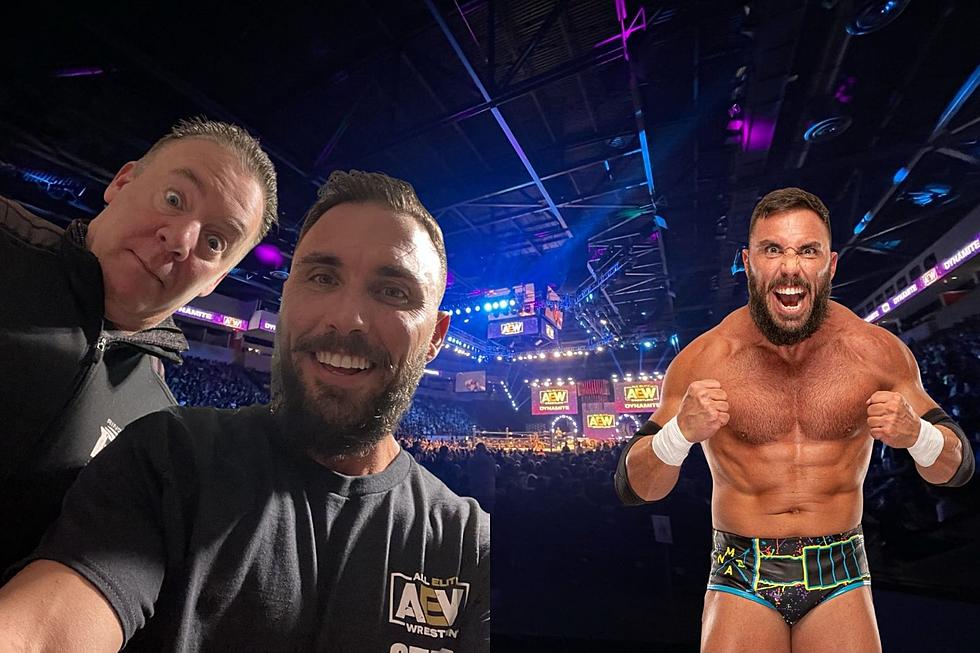 Southcoast Wrestling Personalities Humbled by AEW Appearances
Courtesy Ted Bolduc
Once again, the SouthCoast has been given the limelight as two local wrestling personalities leave it all in the ring.
Teddy "Goodz" Bolduc of Westport, a wrestling veteran, will appear on AEW Dark on YouTube Monday, April 11, at 7 p.m. Bobby Cruise of Fairhaven, another longtime wrestling fixture, is also leaving his mark on AEW, having announced the main event in a live broadcast last week.
Westport's Ted Bolduc Delivers The "Goodz"
Bolduc, who filmed his event with wrestler Frankie Kazarian for All Elite Wrestling several days ago, has the second match of the night.
Bolduc was the only one chosen out of around 15 "extras" to actually wrestle (as opposed to portraying a security guard, etc.), and even though he was the "bad guy" for the night, the crowd showed nothing but love for him.
Normally, Bolduc's walk-up song is "You Make My Dreams Come True" by Hall & Oates, but the AEW had different plans for him.
"Of all the events I've done, Wednesday night was the craziest," Bolduc said of the April 6 performance. "I didn't walk down to a fancy entrance. I was only introduced as Teddy Goodz while I was already in the ring. That's when I started hearing the crowd chanting my name, thousands of people shouting, 'Let's go Teddy.'
"It was an unbelievable experience, but more important, it was humbling to see the reaction from my friends, family and the community."
Given the opportunity and the years of hard work, 40-year-old Bolduc has put into his work, there is no doubt that the response he received was well-deserved.
"Especially to have strangers chant your name and be complemented by the other wrestlers," Bolduc said.
Cruise at Home Behind the Mic
Cruise has been with Ring of Honor Wrestling Entertainment, recently purchased by AEW, for about 18 years, working his way up to lead announcer. He tossed out the idea of announcing a match in the AEW event and the response was in his favor.
"People liked it," Cruise said. "Some of them went to Tony Khan (owner of AEW) and he said, 'Yeah, let's do it.' He is the most down-to-earth billionaire I've ever met. He's a huge wrestling fan, always has been growing up, and he knows wrestling history and Ring Of Honor history. He's been a big fan of ROH and with his recent purchase, he intends to keep it as authentic as possible."
Khan launched AEW three years ago and it has been growing ever since.
"With the money he has and his passion and respect, I expect the ROH to only get bigger," Cruise said of Kahn. "The preliminary numbers alone for his first ROH is one of the highest pay-per-view showings in the history of ROH."
A Great Reception
"I never search my name on Twitter," Cruise said the day after his broadcast. "I'm only a ring announcer, and I did it last night to see the social media reaction. To read the fan comments, I was completely blown away and humbled. I have high hopes under the leadership and ownership of Tony Khan."
According to Cruise, AEW Dynamite on TBS and TNT finished second overall, between the first and second games of the NBA doubleheader on ESPN.
Praise for Bolduc
"I've known him (Bolduc) for so long and was watching him from the side, not backstage fully, but also out of sight," Cruise said. "It was really cool to see and hear the reaction of the crowd chant his name.
"It started off with a small section of the crowd and then got louder and louder around the arena. He truly deserves a break and I hope he gets one. Tony (Khan) pays attention and perhaps Teddy gets another shot down the road again. It would be great. He deserves a break, especially since I've been trying to pitch him to ROH for years."
A job well done to both Bolduc and Cruise, once again making the SouthCoast proud.
My Exclusive interview With All Elite Wrestling's (AEW's) Mark Henry
I had the chance to speak with "The World's Strongest Man" professional wrestling legend, and Hall of Famer Mark Henry about his involvement with AEW (All Elite Wrestling), and the likelihood of ever seeing him back in the ring.
More From WFHN-FM/FUN 107