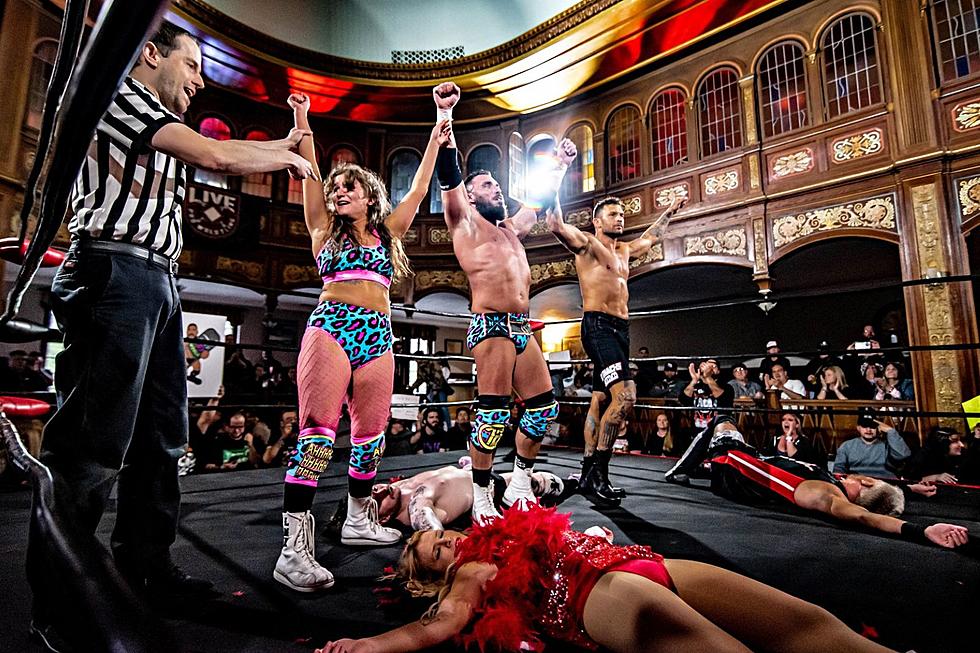 Westport High Will Be Transformed Into a Pro Wrestling Arena to Support Westport Athletes
Courtesy ZekeDane
Ladies and Gentlemen, Boys and Girls of all ages. Are you ready to rumble?
On October 15th, the new Westport Middle-High School will be transformed into a pro wrestling arena hosting some of the greatest wrestlers across the SouthCoast including WWE Superstar Fandango. Whether you're a fan of wrestling or not, this event is shaping up to be one for the books.
Did we mention John Cena Senior will be in the house? Pro Live Wrestling isn't messing around with this one.
This will be the first event of its kind inside the new school at 400 Old County Road, but rest assured that there will be plenty of room in the gymnasium for both wrestling and attendees. What's unique about this action-packed night is that all funds raised will go straight to the Westport Athletic Boosters to support local athletes of Westport High and Middle School.
Westport Almun Ted "Teddy Goodz" Bolduc is the mastermind behind this action-packed family night and is waiting patiently with great anticipation for an overall fun time for all ages.
"There's nothing more thrilling than for me to be able to give back to the community I grew up in," Bolduc said, "I graduated from Westport High School in the year 2000 with dreams of being a professional wrestler. Now, over 20 years later the Westport Athletic Boosters have put their trust in me to bring them back his huge fundraising opportunity. I can't wait to bring some of the top wrestlers in the country to Westport Middle/High School & provide them with a night of entertainment & athleticism that the whole family can enjoy"
Doors will open at 4:00 PM as the adrenaline-fueled event will kick off at 5:00 PM with a solid lineup of 7 All-Star Matches in a full-size pro wrestling ring.
Featuring:
WWE Superstar Fandango (Courtesy of Cojo's Toy Store)
Westport Alumn: Teddy Goodz
"LMK"  AKA Little Mean Kathleen
LIVE Pro Champion: Bobby Orlando
"World Class" Channing Thomas w/ Sidney Bakabella
Waves & Curls
John Cena Senior (Courtesy of 508 Sneaker Store)
Love Doug & TJ Crawford w/ Craig Costa
Let's Wrestle Champion: "Victorious" BRG
The 6' 8" "Heavy Metal Monster" Rex Lawless
As some of the best wrestlers enter the ring, get ready to witness jaw-dropping moves, electrifying performances, and intense rivalries. Cheer for your favorite wrestlers, boo the villains and experience the thrill of LIVE Pro Wrestling right here in Westport.
Gazelle from Fun 107's Morning Show will be in attendance as well as a guest ring announcer as he too returns to his alma mater he graduated from back in 2005. As a former athlete at Westport Community Schools, he's more than happy to help give back to the current athletes and the Boosters Club.
This event promises non-stop excitement and entertainment for wrestling fans of all ages. So, mark your calendars and bring your friends and family for a night you won't want to miss. Grab your tickets here to support local Westport athletes.
WWE Superstars From New England
Some of the biggest local talents who went on to have success in the squared circle.
REVEALED: Real Names of Current and Former WWE Superstars
Step between the ropes to test your knowledge of current and former WWE superstars. Can you guess the real names of these superstars of the squared circle?
More From WFHN-FM/FUN 107