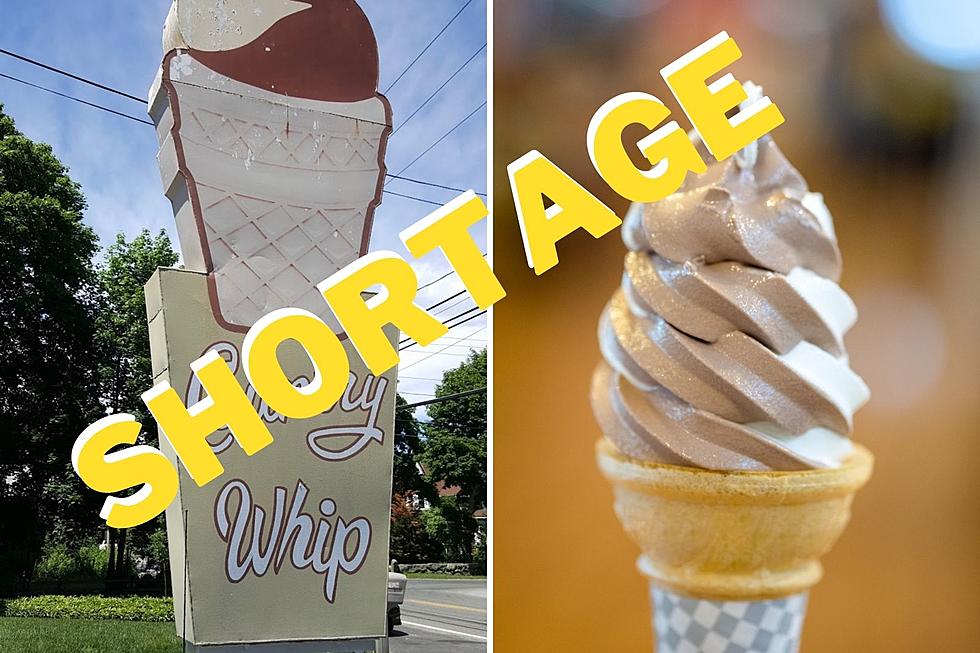 SouthCoast Soft Serve Shortage Worries Ice Cream Shops
Courtesy of Country Whip and dontree_m
The SouthCoast is teetering on the brink of a soft-serve ice cream shortage.
Specifically, the shortage was for one of the region's most popular soft serve brands, HP Hood. Multiple ice cream locations on the SouthCoast have confirmed that their Hood reps have broken the news to them over the past two weeks.
Evan White from White's Dairy in Acushnet said Wednesday that the Lynnfield-based dairy giant "recently experienced a cyber attack" that knocked out production. His comments came after the company told The Boston Globe last week that it had been targeted in a "cyber security event."
Local vendors tell Fun 107 that the attack has drawn the attention of Homeland Security and the FBI. Since the attack, Hood has gone dark, not answering the phone at its corporate headquarters Wednesday.
This has caused some sleepless nights for people such as Amanda McQuillan. She is the owner at Country Whip in Acushnet.
"What am I supposed to do?  The Hood plants have shut down, but their soft serve is my biggest seller here for ice cream," she said.
McQuillan says that Country Whip has always used the Hood base to create its different soft-serve flavors. With opening day Thursday, she admits that she has officially started to panic a bit, but has found a temporary non-Hood substitute.
"It tastes delicious, it is richer with more buttermilk than Hood, but may be slightly softer," she said.
Her supplies are limited, however. She hopes she'll have enough to get through the weekend.
At Kool Kone in Wareham, owner Tom Strom shared McQuillan's frustration.
"It's terrible because Hood is the best soft serve, I think," Strom said. "I tried to buy as much of a supply as I could, but they'd only sell me half of what I wanted."
Strom also heard from his rep that someone had hacked Hood so that it was forced to stop production.
Strom says he has enough Hood supply to last him two to three weeks before he'll be forced to temporarily switch over to Oak Ridge. He is preparing to be without Hood soft serve for at least a month to a month-and-a-half. Strom thinks even if production starts soon, it will take Hood a while to catch up.
At Star Drive-In in East Taunton, they are also preparing for a long-term issue.
The Myricks Street business posted on Facebook: "I anticipate shortages of the soft serve ice cream will go on longer than the next 2 months. Supply and demand will play a part for some time."
The drive-in's ice cream manager, Emma Friar, says the business found out about the stop in production earlier this week.
"They just basically said they stopped production for a couple of months," she said.  "That's all we know."
Star plans on using Dole Whip for the time being.
Country Whip's McQuillan also shared concern for Hood's ability to provide an uninterrupted supply of single-serve milk cartons to places such as schools, nursing homes and prisons.
On a positive note, White from White's Dairy told us he received an email from Hood Wednesday afternoon indicating that Hood's customer service should be up and running Thursday, that they'll be reaching out to their clients (such as Kool Kone and Country Whip), and their plants should be back up and running by Saturday.
How long it will take for the soft serve mix to reach local shops is anyone's guess. Let's hope it gets here quickly.
All of the SouthCoast Creameries Opening in Early Spring 2022
We put together a list of all the local creameries that are celebrating the opening days in February, March, and April of 2022. It's only a matter of time before all of our favorite spots are ready to welcome us again for delicious frozen treats.
15 One-Hit Wonders From The '90s That Would Rock The Madeira Feast
Over the years, the Feast of the Blessed Sacrament has been visited by one-hit wonders. Here are some from the 1990s who could follow suit.
More From WFHN-FM/FUN 107