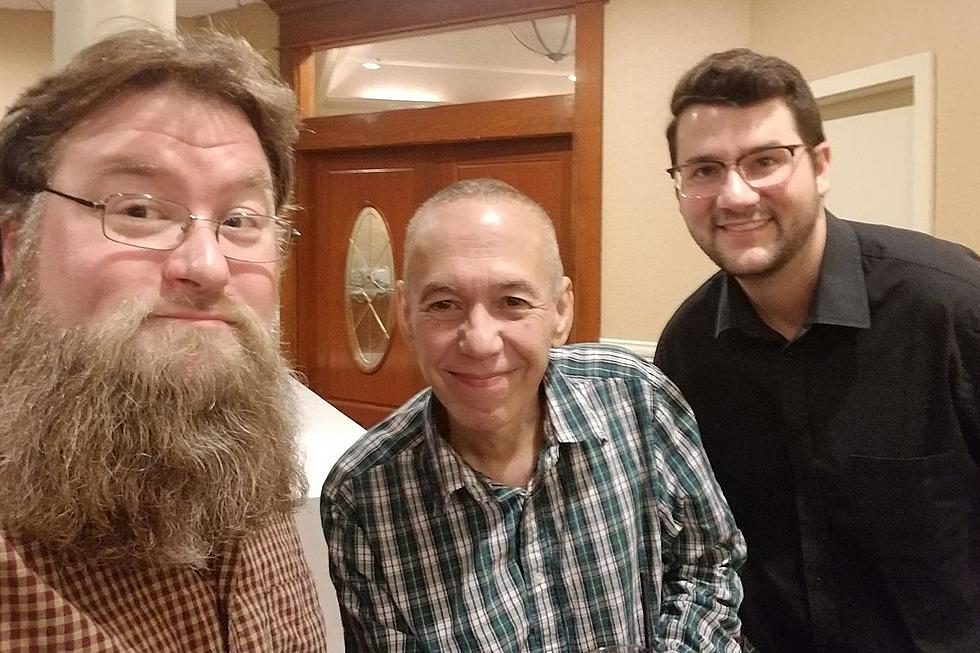 Remembering Gilbert Gottfried and His SouthCoast Connections
Tim Weisberg/Townsquare Media
The world lost a comedy legend today, when Gilbert Gottfried passed away at the age of 67.
For those who knew him solely as "that guy who talks funny," Gottfried still had a memorable career. He was the voice of Iago in Disney's animated Aladdin, and also spent a number of years as the voice of the Aflac duck.
He made numerous guest appearances in television, movies, radio shows, and since he first hit the big time with a one-season stint on Saturday Night Live in 1980 and then later achieving success in films like Beverly Hills Cop II and Problem Child.
Yet for those who truly appreciated comedy, Gottfried was the epitome of funny, often described as "a comedian's comedian." He is credited with bringing the long-standing tradition of telling "The Aristocrats" joke into the mainstream, when he started telling suicide bomber jokes at a roast of Hugh Heffner shortly after 9/11 and he pulled out "The Aristocrats" to win back an audience that had loudly turned against him. The incident eventually led to The Aristocrats documentary in 2005.
Gottfried was also a talented impressionist, with notable imitations of "Old" Groucho Marx and Jerry Seinfeld, but also of lesser-known Hollywood character actors like John McGiver, Peter Lorre and Kevin McCarthy.
Since June of 2014, he hosted Gilbert Gottfried's Amazing Colossal Podcast alongside co-host Frank Santopadre, keeping Old Hollywood alive with interviews with some of the biggest (and lesser-known) names in entertainment. He also became one of Cameo's most-requested celebrity talents in recent years.
He also was featured in the 2017 documentary Gilbert, which showed the real man behind the comedian, and only made the world love him more.
Although I'd always loved Gottfried as a comedian, his podcast gave me an entirely new appreciation for the man, for his wit, and for Hollywood history. My good friend John E.L. Tenney introduced me to the podcast in 2016, and I in turn introduced it to Taylor Cormier, now the Executive Producer of The Howie Carr Show, but back then he was the WBSM News Director while I was working as the afternoon news anchor.
When covering the hard news of the SouthCoast got to be too much, we could always dive into Gilbert's work, the podcast, or some of the tangents brought about by the stories covered in the podcast for a brief respite and some hearty laughs.
"I really came to appreciate Gilbert's stylings over the past few years after Tim Weisberg introduced me to his podcast. I became obsessed right away," Taylor said. "The entertainment world not only lost a terrific comedian, but also an unsung archivist of Old Hollywood."
Taylor and I were fortunate enough to get to spend some time with Gottfried when he came to White's of Westport in May of 2019. The plan was for me to interview him for my Spooky Southcoast program on WBSM, and we were going to focus on Gilbert growing up as a "Monster Kid" and obsessing over the Universal movie monsters.
We were brought into the area that would serve as the "green room" for the evening, and we set up our audio recording equipment and waited for him to arrive.
Gottfried was brought into the room by staff and he was the antithesis of what you'd expect him to be, based on his stage persona; he was quiet, he was gracious, and he was game for whatever we asked him to do.
When we told him what big fans we were of his work and his podcast, he gave us a trademark "Ohhhhh, thank you!" but truly appeared to be touched by our admiration.
He also was surprised by our SouthCoast connection to his family – his wife, Dara, was a former record rep who used to visit Fun 107 frequently, meeting with the legendary J.R. Reitz to share with him the latest music.
What was only supposed to be a five minute interview went for about 12 minutes, as Gilbert just got on a roll – and Taylor and I were too busy laughing to worry about the time.
Once the interview was over, Gottfried sat on the couch and enjoyed some of the food laid out for him before taking the stage and delivering a performance for the ages.
After the show, he sat at a table and signed every piece of merchandise purchased and posed for every photo requested, until everyone went home happy.
It's been a rough time for comedy lately, as we've lost some truly great and funny people. Gottfried's dear personal friends Norm Macdonald and Bob Saget recently passed, and the stars he so admired and often interviewed are also slowly dying off.
Somewhere up in comedy heaven, I'd like to think Norm, Bob and Gilbert are all reunited, hanging out with Groucho and Johnny Carson and finally getting answers to all those questions they always had about Cesar Romero, Paul Lynde, Danny Thomas and Marlon Brando (you podcast listeners will get those references).
Gilbert, for all the laughs you gave us over the years, all we can say is, "Ohhhh, thank you!"
Stars We Lost in 2022
See the famous icons we have had to say goodbye to in 2022, below.
The Best Comedy Movie Posters Ever
More From WFHN-FM/FUN 107