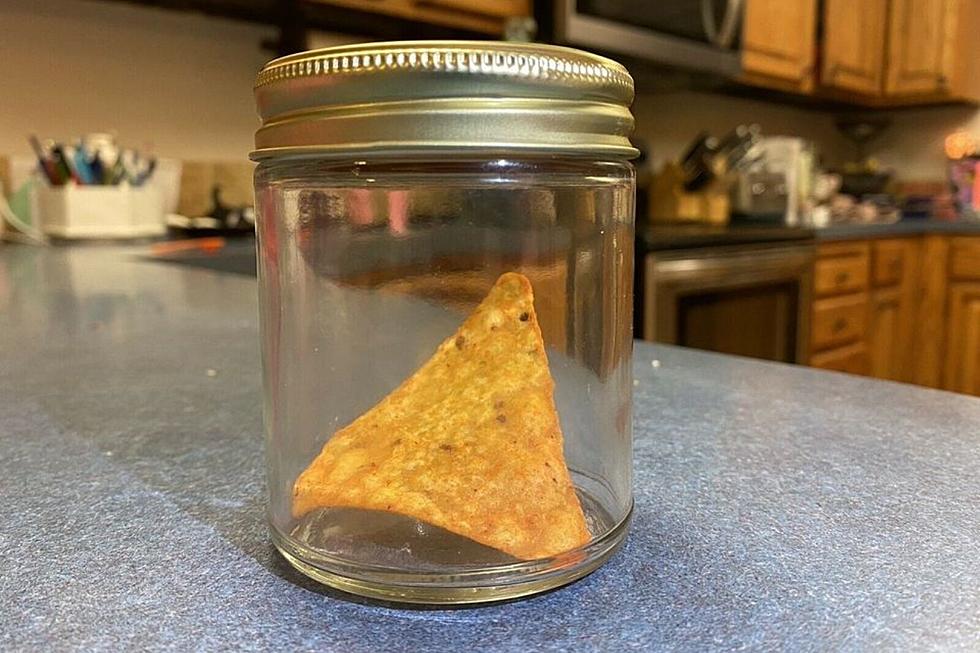 Have You Seen This Facebook Marketplace 'Premium' Dorito?
Alex Vega via Facebook Marketplace
The internet is a vast and interesting place, to say the least. Have you ever been on Facebook Marketplace? I ventured onto it for the very first time and found myself falling quickly down a rabbit hole of the most random items for sale.
While I was scrolling, I stopped abruptly when I came across a photo of a single Dorito chip inside of a Bell mason jar.
It was being sold for $10 and had a flat-rate shipping fee of $5. The seller's name is Alex Vega and he resides in the Bronx, New York – a good three hours and 15 minutes from the SouthCoast.
You don't need this, Gazelle, I told myself, but couldn't look away from the aesthetically-pleasing chip that was encased inside of the glass jar. There was something so gripping that I couldn't get past the fact that someone might be dumb enough to actually pay $15 for a single Dorito.
Hi, my name is Gazelle, and I'm that "dumb person" who purchased the "Premium" Dorito in a jar.
Don't ask me why I did it or what the final straw was that broke out my Apple Pay, but the deed is done and I'm patiently waiting for my jarred-up tortilla chip to arrive here at Fun 107.
In all honesty, it was the description for me:
"CONDITION: New

 

DESCRIPTION: This premium nacho cheese Dorito will offer more than you can imagine. It is a great centerpiece to your home and it will immediately add accent in the most peculiar way. It solves the need for laughs, real easy and is a cool convo starter.

 

 

Consider it for you or a friend.

 

If you want a tasty treat on the run, this jar will provide protection for the Dorito.

 

So, whether you are in need of a Doritos carrying case when the urge arises, or in need of a smile, laugh, or an Icebreaker for your next Zoom meeting, grab a premium Dorito in a jar today." — Alex Vega, Seller of the "Premium" Dorito in a jar
After the final purchase was made, I decided to spark a friendly conversation with the person who convinced me to spend some of my stimmy money on a freaking Dorito and it went a little something like this:
Me: Just purchased this "Premium" Dorito and I honestly can not wait for it to arrive. The anticipation is high and since I've never really bought anything off of Marketplace, it's an honor and a privilege to make this item my very first purchase. Fingers crossed it doesn't break while being shipped.... looking forward to this!
Alex Vega: Thanks so much!! I appreciate your passion and can't wait to send it to you.
Me: I have to know what inspired you to do this? It's quite genius if you ask me... and lastly, what is the significance of this particular Dorito? Acquiring minds would love to know.
Alex Vega: It's a way to love on people and connect with them, put smiles on faces, a few laughs, understand Facebook Marketplace system, and earn a few dollars along the way.
Well, Mr. Vega, the world needs more of this positivity and more brilliant minds such as yours. Listen, I get it, it's a dog-eat-dog world out there and a little bit of humor can make a big difference in someone's life. You've not only accomplished that task, but you also got $15 from a schmuck like myself. Kudos to you, kind sir.
I'll be looking forward to sharing with the world my newly purchased "Premium" Dorito in a jar once it arrives here on the SouthCoast. Until then, enjoy the many ways I have found this single Dorito can play a major impact on someone's social life through Vega's photos:
How This Dorito Purchased on Facebook Marketplace Will Change Gazelle's Life
More From WFHN-FM/FUN 107