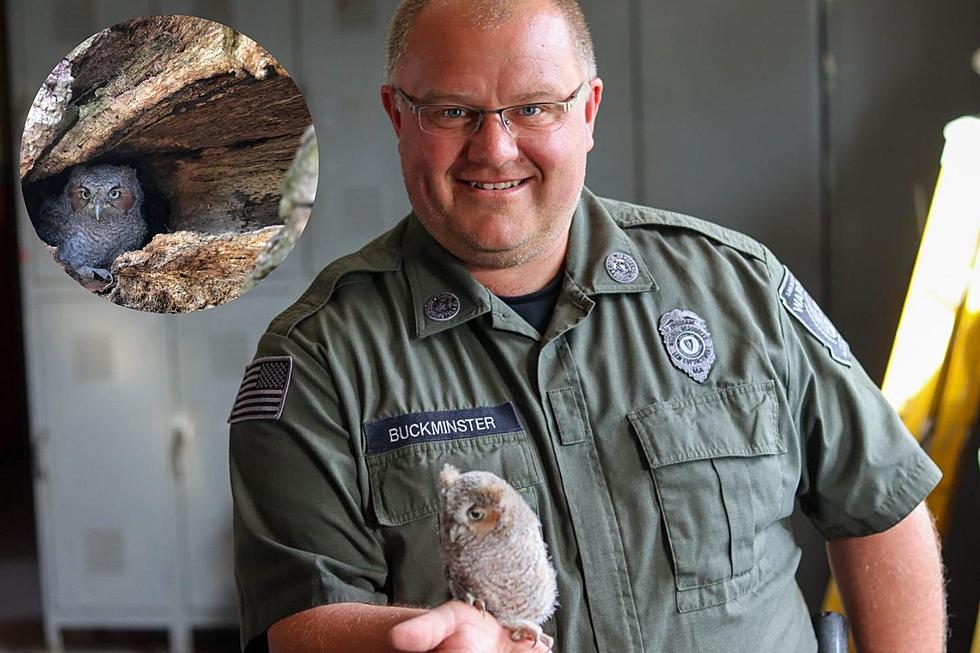 Onset Owl Reunited With Mother Thanks to Good Samaritan
Wareham Department of Natural Resources/Facebook
I am convinced that animals bring out the best in people, and wholesome goodness was on full display when a Good Samaritan in Onset started a chain of events that reunited a young owlet with its mother.
The Wareham Department of Natural Resources was happy to share this heartwarming story on Facebook about a young screech owl that was found Wednesday evening.
The Good Samaritan's dog found the tiny owl, unable to fly, on the side of the road in Onset. The Good Samaritan sought out a Wareham Police officer to help with the situation.
"Officer Gomes was able to remove the owlet from the road and notified WDNR," wrote the Wareham Department of Natural Resources. The WDNR officer was unable to locate the nesting area, but instead of giving up, the officer took the owl home for the evening.
The officer returned Thursday morning, thoroughly searching the area for any sign of a nest. He managed to narrow down a potential area and called upon the Onset Fire Rescue to assist in this wholesome reunion.
The WDNR officer was hauled up on the OFD bucket truck, controlled by Chief Jeffrey Osswald, and amongst the tree branches, came face to face with the mother in her nest.
"The officer attempted to get the name of the owlet from the mother," wrote the WDNR, "But she kept replying 'who?'"
The smile on the officer's face and the effort put in by everyone involved just proves even further that animals bring out the best versions of ourselves.
Massachusetts Wildlife You Can Legally Take Home as Pets
Massachusetts has such diverse wildlife, but also strict limitations on what you can bring home and cuddle. In fact, there are only certain reptiles and amphibians you can keep as pets (so no raccoons, squirrels, bunnies, etc.) and you are only allowed two of each. The state also
says
"you cannot sell, barter, or exchange them." Also, keep in mind, these are wildlife, so it's probably best to just leave them be and maybe visit a reptile shop instead to get your next pet.
Kingston Turkeys Adopt Plymouth White Peacock As One of Their Own
What's brown and white and feathered all over? A Kingston turkey family, after adopting a white peacock from Plymouth and accepting him as one of their own.
Hummingbirds Are Returning to the SouthCoast So Here's What You Need to Know
As hummingbirds make their highly-anticipated return to the SouthCoast, there are things you need to know to keep them happy and healthy. Mass Audubon released
the perfect guide
on how to care for and feed your visiting birds.
More From WFHN-FM/FUN 107