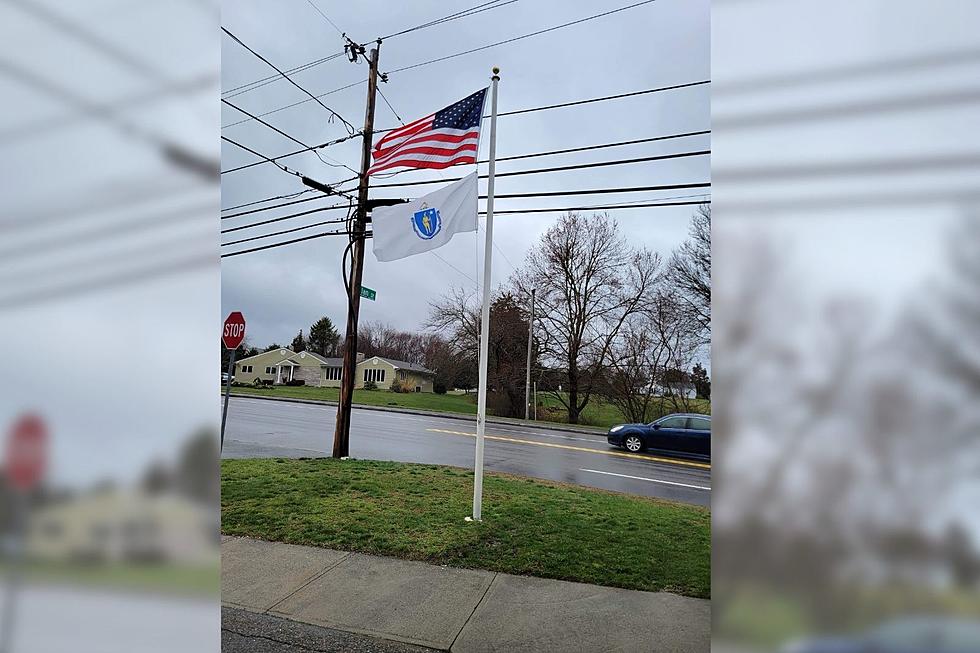 Mysterious Massachusetts Flag Gets Hung Outside Swansea Water District
Courtesy Katelyn Marchand
I've heard of filling your friends' lawns with random plastic flamingos, but this is a first for me.
Over at the Swansea Water District, someone inconspicuously raised a Commonwealth of Massachusetts flag outside the facility. Before the state flag, Old Glory waved solo, and according to the staff at the Swansea Water Department, no one has any idea who hung it up.
"We came into work last Monday (March 28) and our flag pole magically had a new flag on it," Katelyn Marchand, a worker at the Water Department, said.
It's not breaking news or anything, but it does raise a couple of questions and I'm guilty of cracking a cold case wide open.
The Swansea Water District reached out to Town Hall looking for answers. Perhaps a town official was behind the flag, but unfortunately, no one had any idea either. That right there is just strange. Whoever hung this flag even added their own clips.
Secondly, I'm no genius, but I'm almost certain that permission must be granted to add anything to government property. Unless, of course, the flag installer was a government worker. Just a little strange that Town Hall didn't receive the flag of the Commonwealth, but the Water District did.
Something just isn't adding up in Swansea.
If anyone has any leads or ideas as to who might be behind this mystery, please reach out to me at Gazelle@Fun107.com and help put this story to bed.
Swansea's One Horse Pizzeria Serves Up Scrumptious Slices
Lots of pizza places offer your typical cheese and pepperoni pies, but what about when you're craving something a little different? One Horse Pizzeria in Swansea seems to thrive on something different and their menu looks even better than it sounds.
More From WFHN-FM/FUN 107