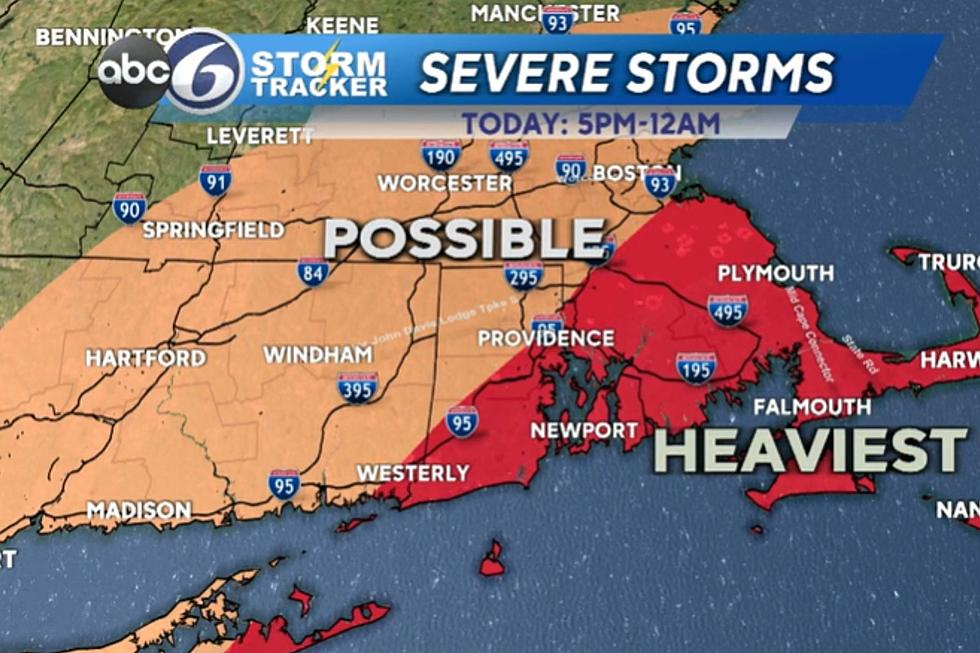 More SouthCoast Tornadoes Possible After Mattapoisett Landfall
ABC 6
I've been working here at Fun 107 for a couple of years. Never in my time here have I ever remembered the word "tornado" appearing in a forecast until today.
ABC6 meteorologist Skyler Spinler mentioned the chance of a tornado here on the SouthCoast Thursday afternoon/evening when some potentially severe weather is expected to roll through Rhode Island, the SouthCoast and eventually Cape Cod.
While the likelihood of another tornado touchdown remains relatively low (we had one earlier this week in Mattapoisett), Spinler said she needs to include it in her forecast.
"I'm not into hyping something up, but I'd rather people stay safe just in case," she said.
Spinler said she hopes the intense weather system tracks further south, softening the brunt of the weather Thursday night.
"However, I'm seeing a lot of the same characteristics that we saw the other day. It looks like it's going to come in almost exactly how it came in on Tuesday."
She expects the system to move through our area after dark, which makes it harder for residents to spot a potential tornado.
"We're looking for this to hit sometime after 6 o'clock and before midnight. The concern with this is that the low-pressure system is a rotation. The conditions are lining up to be favorable for the formation of a tornado."
Tornado Warning vs. Tornado Watch
We don't get a lot of tornadoes here on the SouthCoast, but we've already seen four tornados in Massachusetts over the past three weeks.
"We're so above average this summer that anything can happen," Spinler said. "When they are issuing watches and warning through the National Weather Service it's really important to pay attention to those and understand the difference between the two of those."
What, exactly, is the difference between a tornado warning and a tornado watch?  A tornado watch means that all of the ingredients in the atmosphere are there for the potentially severe weather. If a warning is issued, that means you need to take shelter immediately away from windows and doors, preferably in a basement.
"You'll only have minutes to take cover," Spinler said. "That's why it's important for your family to have a plan."
"If your family is out tonight going to dinner or kid's games, if something happens, make sure you know the closest place to seek shelter.  Don't be out driving on the roads if you don't know where it's going because debris could be flying around. We've seen tornado winds here on the SouthCoast gusting up to 105 mph over the past couple of weeks.  It's not safe to be near a window during a weather event like that."
Err on the Side of Caution
"Here's the thing," Spinler said. "If it doesn't happen, that's great. But, it's important to have that plan and be prepared. Err on the side of caution," Spinler said.
"If it doesn't happen, no big deal.  Now you know what to do the next time."
A tornado's rapidly approaching - what should you do?
LOOK: The most expensive weather and climate disasters in recent decades
Stacker
ranked the most expensive climate disasters by the billions since 1980 by the total cost of all damages, adjusted for inflation, based on
2021 data from the National Oceanic and Atmospheric Administration (NOAA)
. The list starts with Hurricane Sally, which caused $7.3 billion in damages in 2020, and ends with a devastating 2005 hurricane that caused $170 billion in damage and killed at least 1,833 people. Keep reading to discover the 50 of the most expensive climate disasters in recent decades in the U.S.
KEEP READING: Get answers to 51 of the most frequently asked weather questions...
More From WFHN-FM/FUN 107