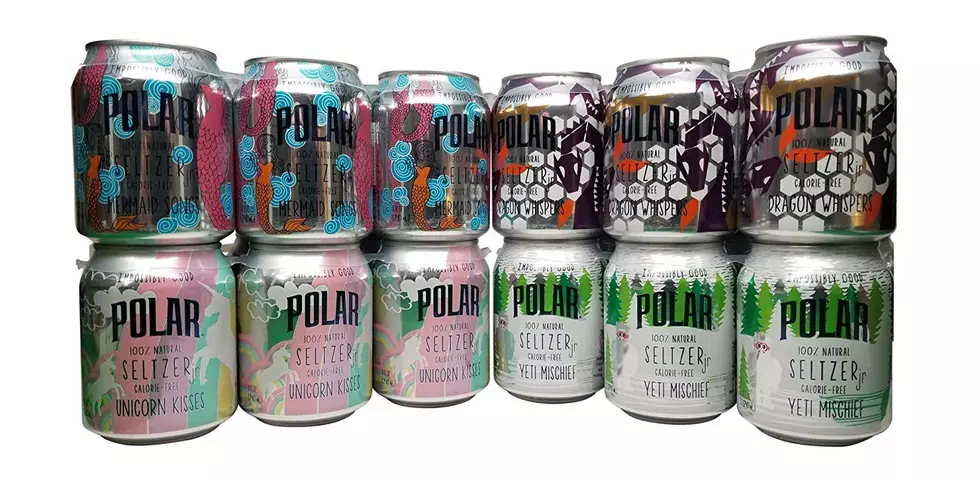 More Mythical Flavors Coming from Polar Seltzer
amazon.com
It took me months and a trip to New Hampshire to finally find last season's mythical flavors from Polar Seltzer. But the Unicorn Kisses, Yeti Mischief, Dragons Whispers and Mermaid Song were totally worth it! (my fav was the Yeti Mischief)
People were clamoring for these new Polar flavors last year, making them very hard to find. And now the seltzer company says two more of the mythological-inspired flavors are coming.
This time you can taste Mighty Minotaur and Pixie Lights in the fun, 8-oz cans.
Polar describes Mighty Minotaur as
Fearing only his own thirst, the mighty Minotaur hides deep within his labyrinth maze built solely from Polar Seltzer cans. His love of bubbles is matched only by his savage determination to steal yours. Drink quickly!
Those that have tasted it say it contains citrus flavors, like tangerine.
As for Pixie Lights, Polar tells you
Where there is sparkle there is twinkle, thanks to the endless work of the Pixie Army. With effervescence and speed, the Polar Pixies deliver light and tingle to every seltzer. Shhh… listen. You can hear them working.
Taste testers say expect berry flavoring.
The new mythical flavors are headed to stores as I type and Polar says to expect to see them in the next few weeks.
How long they last this summer is anyone's guess.
More From WFHN-FM/FUN 107