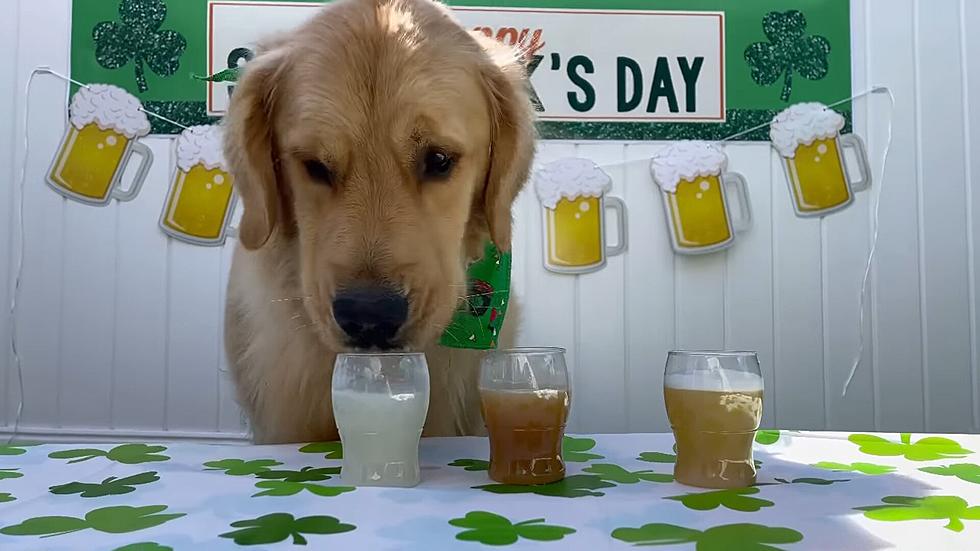 Lucky Mattapoisett Dogs Do a St. Paddy's Day 'Pup Crawl' [VIDEO]
Emma Marie's Grooming & Dog Daycare via Facebook
Bay Staters don't mess around when it comes to St. Patrick's Day. March 17 is all about the green beer, Guinness, and corned beef and cabbage. But what about the pups? Who says man's best friend can't partake in the St. Paddy's Day festivities too?
A group of lucky SouthCoast dogs got the ultimate holiday treatment earlier this week when they visited doggie daycare.
Emma Marie's Grooming & Dog Daycare in Mattapoisett treated its four-legged friends on Wednesday for its first annual St. Patrick's Day Pup Crawl, serving each pup with an imitation beer made from broth and coconut whipped cream.
Much to our delight, Emma Marie's documented each dog enjoying its St. Patrick's day treat while sporting a festive, green bandana. Some pups even loved their doggie beers so much they were left with whipped cream mustaches – to save for later, of course!
ICYMI: A group of four women got shoppers in the St. Patrick's Day spirit on Wednesday when they broke out their Irish dancing attire and performed to a Dropkick Murphys song inside the Market Basket in Bourne.
Shopper Vinny Lovegrove posted a clip from the women's performance on Facebook, showing just how mesmerized Market Basket employees and fellow shoppers were as the four women danced.
KEEP LOOKING: See What 50 of America's Most 'Pupular' Dog Breeds Look Like as Puppies
LOOK: The least obedient dog breeds
Check out these 50 fascinating facts about dogs:
More From WFHN-FM/FUN 107