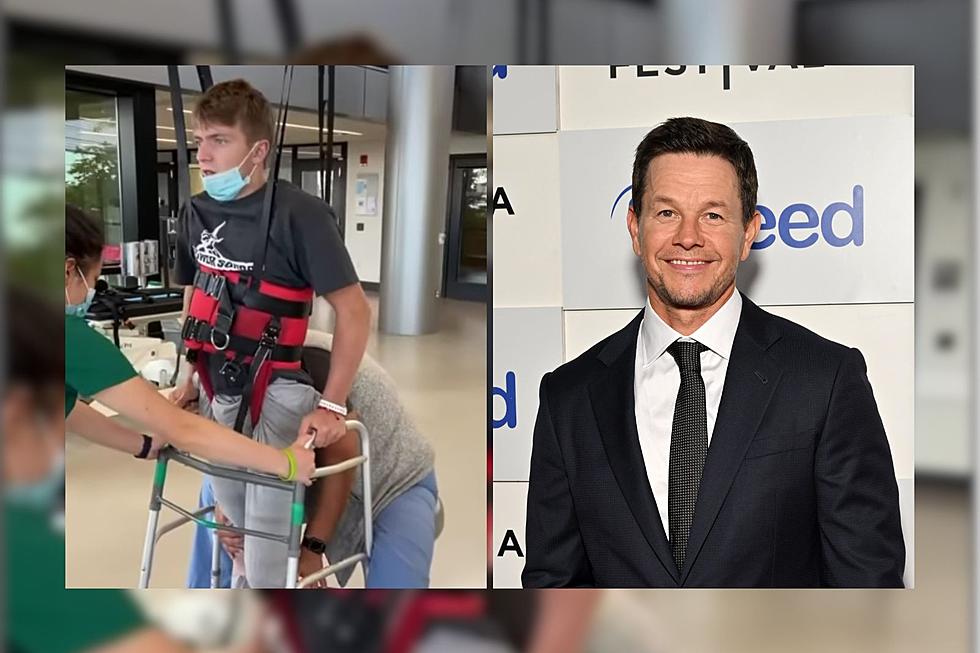 Mark Wahlberg Gives Supportive Shout-Out to Fitchburg's Jake Thibeault
Jake Thibeault/Instagram and Getty Images
Two years ago, Milton Academy alum and Fitchburg native Jake Thibeault suffered a horrific hockey accident that left him paralyzed from the waist down.
Since that day in 2021, people from across the country have been following Thibeault's recovering journey as he continues to be a pinnacle of grit and determination, coining the phrase "No Quit!" as his life motto.
On Monday, the 2-year anniversary of Thibeault's accident, actor Mark Wahlberg showed support for the 19-year-old athlete, allowing even more onlookers to follow Thibeault's inspiring journey.
Jake's Story
During Labor Day Weekend of 2021, Jake Thibeault was gearing up for the two hockey games he had that day. He was a senior at Milton Acadamy and feeling excited about his final year with the Boston Bulldogs.
That's when something went horribly wrong.
"I have been told that I passed the puck to my teammate rushing the net but I honestly don't remember," said Thibeault. "After I passed the puck, I was checked into the boards as my body twisted, causing the back of my head to make first contact followed by my back."
He was rushed to Umass Medical Center where he underwent a six hour surgery. It was discovered he fractured two vertebrae and suffered a small brain bleed.
"I would spend the next 6 days in the ICU, paralyzed from the chest down, no feeling and no movement," he said.
To this day, Thibeault continues to inspire people with his steadfast determination during his rigorous rehabilitation, and that attitude has attracted the attention of actor and Boston native Mark Wahlberg.
Mark Wahlberg Shows Love to Thibeault
Arguably one of the most famous people to come out of the Bay State, Mark Wahlberg shared a video of Thibeault hard at work, saying, "Words can't express how proud I am of this guy. The true definition of a fighter."
"We all battle to be better (than) the day before!! You're the best Mark!" responded Thibeault. Even when Marky-Mark shows him love, Thibeault still finds a way to spread positivity for others to follow. The Babson College student shared a message of his own to mark two years since that fateful night.
View this post on Instagram
"To think it's been two years is insane, but I mean it when I say I'm pushing harder than ever each day in life and therapy to be better than I was the day before and it's all slowly paying off," he said. "Of course I wish things would go at the rate I want but it's on Gods time!"
Wahlberg said it best. Jake Thibeault is nothing short of inspirational.
Best SouthCoast School Districts For Athletes
There are lots of different ways to rank SouthCoast schools, student-to-teacher ratio, test score results and more. Though for hundreds of student-athletes, one way may mean more than others.
New school data from across the state has ranked schools by their sports programs and here is how school districts on the SouthCoast stack up.
21 Famous People You Didn't Know Were From the SouthCoast
Move over Hollywood, you're not the only town that breeds stars. We've compiled a list of some famous people that either are native to the SouthCoast, or eventually called it home.
More From WFHN-FM/FUN 107