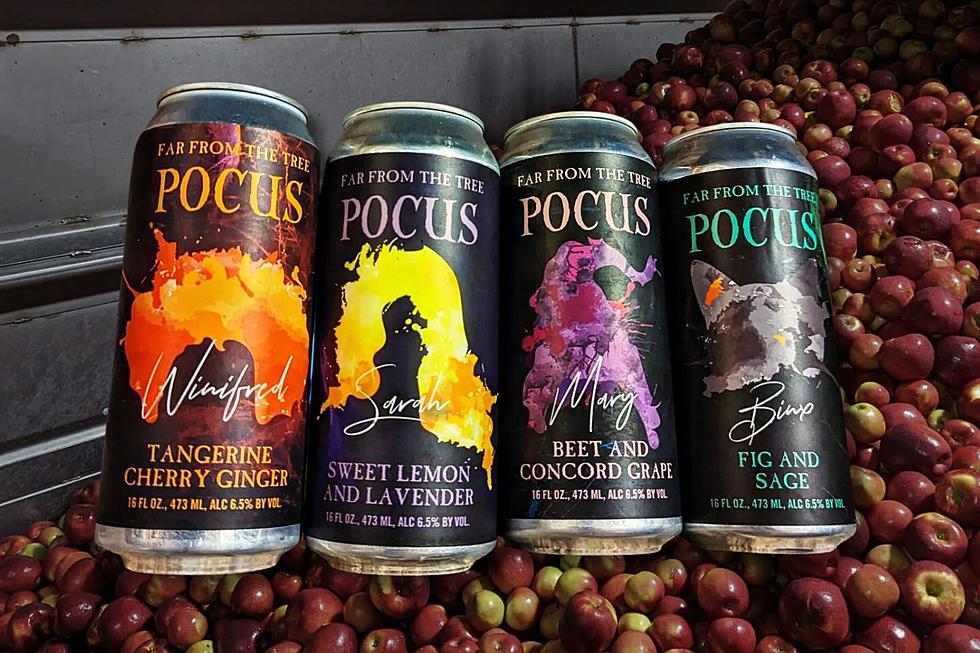 People Can't Get Enough of New Cider from Salem Brewery Inspired by 'Hocus Pocus'
Far From The Tree Cider
It's officially Hocus Pocus season.
A taphouse in Salem decided to create a seasonal selection of brews inspired by the characters of the cult classic Hocus Pocus, and just like the film, it was a smash hit.
Far From the Tree Cider debuted its Pocus cider, and while the brewery thought its supply would last for a few weeks, it sold out in two hours.
Is this the newest hot spot in Salem?
Far From the Tree Cider's History
What started as an intricate way to impress a woman, turned into a full-fledged operation.
"I got into cider making to impress my girlfriend at the time (because) she loves cider," said Al Snape, the owner and creator of Far From the Tree Cider. "She is now my wife and we have two kids."
When the Snapes met in 2007, they began experimenting with home winemaking kits. Quickly, their passion for wine pushed them to quit their day jobs and move to Europe where their love of cider blossomed.
The two returned to New England, and in 2013, they opened Far From the Tree Cider taproom on Jackson Street.
They have seen success over the years, but nothing could have prepared them for the explosion of orders that would happen thanks to one simple idea.
Far From the Tree Cider Launches 'Pocus' Cider
Sara O'Brien is the head of finance and human resources for the brewery and has been with the business for the past 7 years.
Back in June, the taproom debuted a Pride flight during Pride month, made up of 8 different ciders that looked like a rainbow. It went so well that O'Brien wanted to keep striking while the iron was hot.
"I thought about a Hocus Pocus flight where each cider would be named after the characters," said O'Brien. "Al had never seen the movie, but he gave me the green light, and we started designing the cans."
With cans designed by artists Elissa Vonletkmann and Jennifer Adler, Far From the Tree Cider teased its Winifred brew first, and the response was incredible.
"We were getting calls every few minutes," said O'Brien.
With "Winifred", "Mary", "Sarah", and "Binx" ready to roll out, the brewery released it to taproom visitors, and its six-week supply was sold out in two hours.
"We hadn't even shipped any at that point, that was just people stopping in," said O'Brien. "Someone even flew in just to come and get a 4-pack."
After the most successful weekend the taproom has ever seen, it set up a pre-order for online shipping. 500 4-packs were sold out in 3 hours.
After six hours and one more pre-sale, the brewery sold 3,524 cans of Pocus.
It was a smash hit.
"It was exciting," said O'Brien. "I never thought it would be this big, and for "Al" to buy into my idea was really cool."
How to Get Your Hands on Pocus
The pre-orders disappeared like magic, but here's the good news. Visitors to the taproom can enjoy Pocus on tap.
"We have Pocus flights, which is a taster flight of the four ciders, and we also have growlers and crowlers available for purchase," said O'Brien.
The brewery will release more 4-packs for sale at the taproom on Friday the 13th, with a special visit from the Sanderson Sisters of Salem.
If you plan on making that trip, however, come early and expect a crowd.
New England can't get enough of this new fall classic.
Spend an Enchanting Night at The Hocus Pocus Cottage in Salem
On October 12th, the booking will open on Airbnb for one lucky group of guests that will spend a magical evening in the Sanderson sister's cottage. Grab your broomstick and fly through this virtual tour of the iconic house from Hocus Pocus.
Brew Up a Unique Salem Experience This Fall at These Spooky Cool Spots
Everyone's heard of the usual Salem attractions, from the Witch Trials Memorial to the House of the Seven Gables. But if you're looking to visit some spots that many Salem visitors walk or drive right past without a second thought, you'll want to check out this list.
More From WFHN-FM/FUN 107