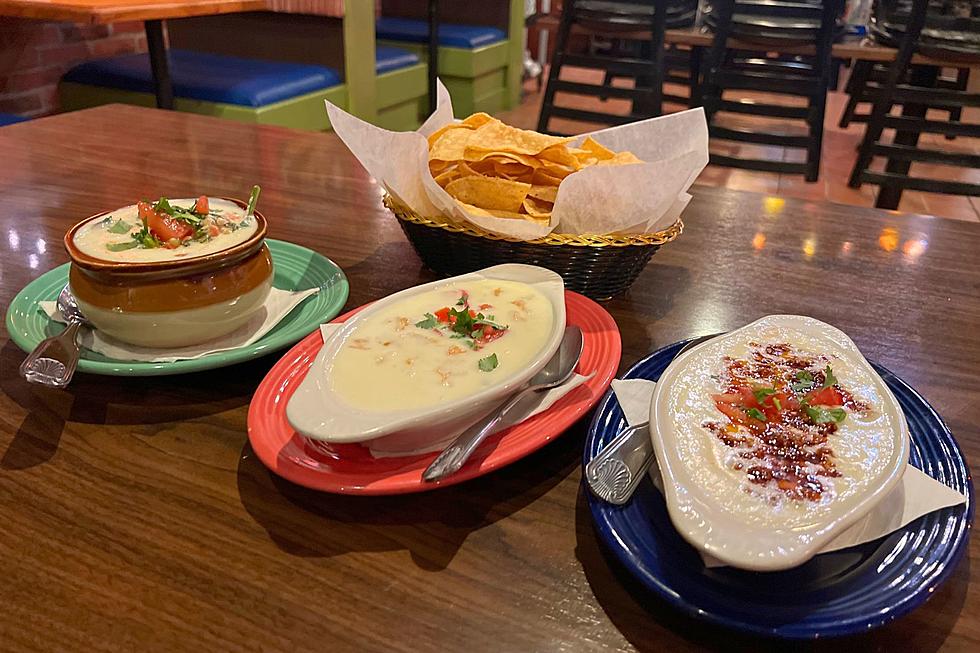 Fairhaven Frontera Grill Makes Wildest Queso Dreams Come True
Gazelle/Townsquare Media
If someone were to ask me what my favorite out-to-eat food is, I'm all in on Mexican cuisine, especially when it comes to queso.
As we wrapped up another Fun 107 restaurant week at Frontera Grill Mexican Restaurant in Fairhaven, I became aware of a new menu drop. The best part? We on the morning show were the taste testers and it was all about queso. This job has its perks.
In case you missed it on the show, Frontera Grill has rolled out a build-your-own-queso seasonal menu that knocked my socks off.
We sampled three queso dips: chorizo, spinach, and sautéed shrimp. My favorites, in order, are the chorizo dip, the shrimp dip and the spinach dip. When asked what other flavors could be added to queso, Frontera staffer Tiffanie said, "The sky's the limit."
You can add chicken or ground beef or even beans to the queso for a flavor explosion in your mouth. It's called Queso Derretido and it's a twist on Frontera's classic jalapeño queso dip. Topped with fresh cilantro, onions, and tomatoes for more flavor, there's a queso for everybody.
Want to add more cheese to your life? Order up a side of Queso Fundido, which is queso oaxaca served on a hot skillet topped with fresh cilantro and tomatoes and served with three flour tortillas.
These dishes are $10-$15, depending on the choice of meat or added flavor to the queso.
20 SouthCoast Massachusetts and Rhode Island Dishes That Deserve to Be Featured on the Food Network
Take a dive into the freshest seafood dishes, Italian specialties, Portuguese favorites and much more for these signature SouthCoast dishes that are so good, they deserve to be featured on the Food Network.
Gallery Credit: Gazelle
Tour the SouthCoast's Best Attractions, Food and More From A to Z
From decadent donuts to fields of u-pick flowers, there is so much to delight in here on the SouthCoast. Take a tour of some of the area's top spots, and don't forget to sample some signature foods along the way!
Gallery Credit: Kari Jakobsen
How Many of These Iconic Mall Food Court Restaurants Do You Remember?
From retro favorites to the icons that are still serving customers today, take a walk down memory lane with our roundup of the most iconic mall food court restaurants of the '80s and '90s.
Gallery Credit: Meg Dowdy
More From WFHN-FM/FUN 107