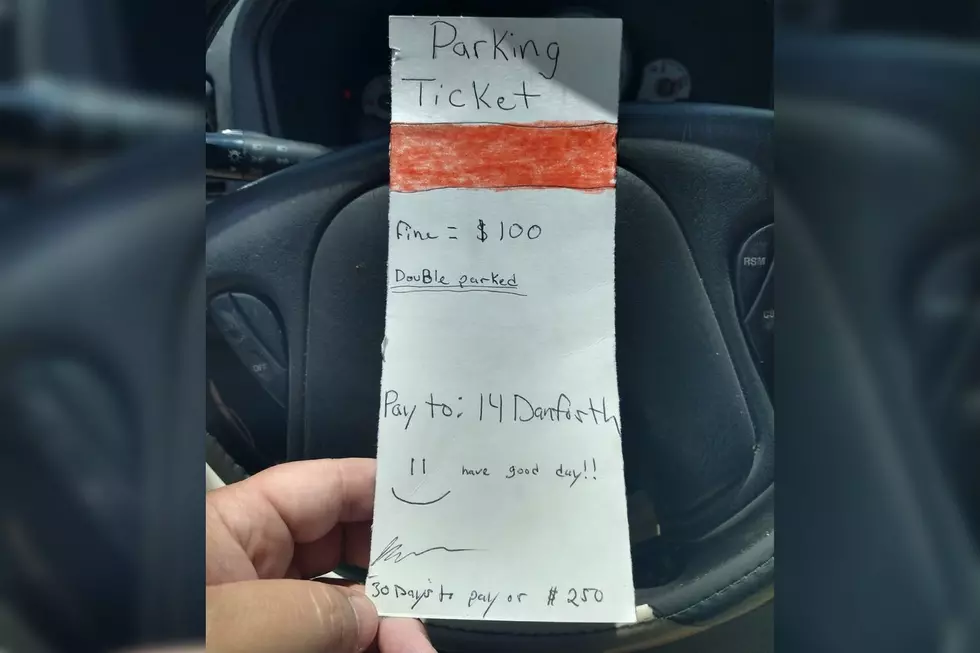 Fall River Resident Issues Their Own Handwritten Parking Ticket
Courtesy of Timothy Murdock
A parking ticket is one the quickest and easiest ways to ruin a day, but one Fall River man got a good chuckle when he noticed a ticket on his windshield that was definitely not issued by the authorities.
Timothy Murdock of Fall River knows firsthand how difficult parking situations can be in the city. On Saturday, while heading to his fiancée's house, he got lucky and found a spot on Danforth Street, right by her house. There were no signs around, so he knew he was in the clear; he put it in park and went about his day.
The next morning, he came outside, and as he walked up to his car, he spotted something underneath his windshield wiper.
"At first, I thought it was another ticket. Where (my fiancée) lives there is never any parking, so I have received a few tickets over the past month," he explained. He panicked because he and his family have been struggling financially, but his anger was quickly replaced by amusement when he realized the "ticket" was handwritten.
On a cut out piece of paper, the handmade ticket read, "Parking Ticket. Fine, $100. Double parked. Pay to 14 Danforth. Have a good day!! 30 days to pay or $250."
They even took the time to color code it for Murdock, to make it look a little more official.
"I wasn't taking up two spots," Murdock said. "I laughed my (butt) off when I saw it."
If this happened to me, I would like to think I would laugh about it. The pettiness and effort of 14 Danforth is comical to say the least.
How would you react if you found this on your car?
Top 10 SouthCoast Public High Schools
U.S. News and World Report
has released its
high school rankings
. Here are the Top 10 on the SouthCoast.
The SouthCoast's Best Bathrooms
There are some SouthCoast bathrooms that have something to brag out. Whether you're in the market for a new home or just looking for ideas to upgrade your own, check out these luxurious lavatories.
More From WFHN-FM/FUN 107