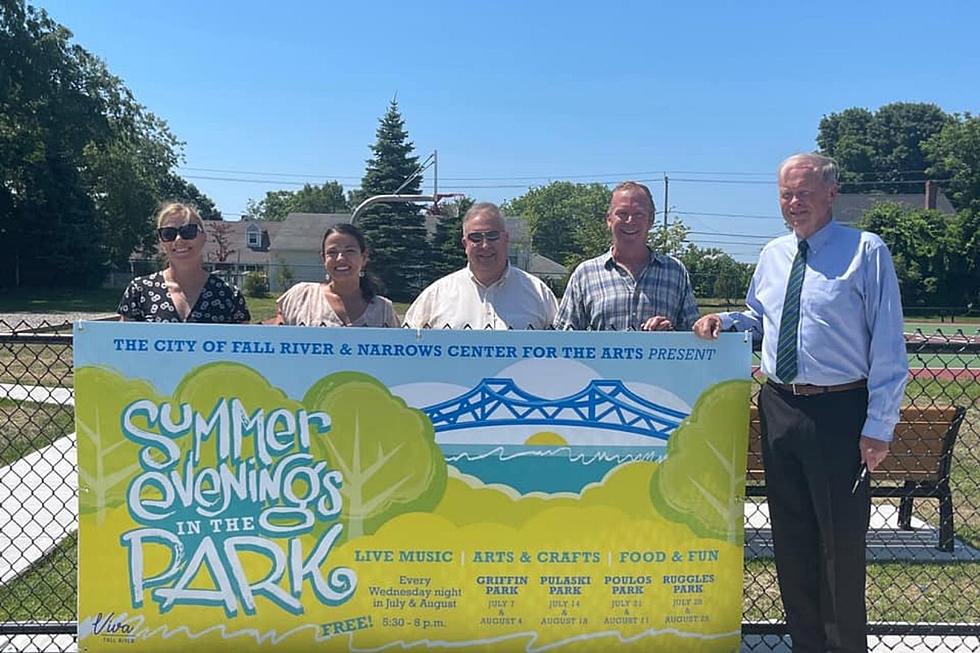 Fall River Launches New Free Summer Concert Series Tonight
Viva Fall River via Facebook
The City of Fall River and the Narrows Center for the Arts present "Summer Evenings in the Park," a series of free, family-centric events that will feature live music, arts and crafts, food, and fun.
The City and the Narrows have partnered together to bring the arts right into the neighborhoods of the residents of Fall River. Patrick Norton is the Executive Director of the Narrows Center.
"One of the missions of the Narrows is to make the arts accessible to all in our community," Norton said. "This is an opportunity for the Narrows to bring what we do into the neighborhoods of Fall River. The arts are a great way to enliven neighborhoods, bring people together, and create a sense of community. We are excited to partner with the City of Fall River on this important project."
Featured musical acts include Southcoast Brass Band, a New Orleans-inspired brass band, Marcus Monteiro Trio, a contemporary jazz group, and Miki Sawada, a classical pianist from Boston. Visit the park, bring a lawn chair or a blanket, and enjoy some different sounds of live music. There will be fun and interesting arts and crafts projects for the whole family and Narrows' studio artist Kevin Lamoureux will be creating an original spray paint mural every Wednesday. These will be collaborative pieces, so release your inner artist and participate.
Everyone in attendance is invited to join the fun. "Summer Evenings in the Park" are an opportunity for family fun and participation for all ages. The event is free and Greater Fall River Re-Creation will be on hand serving hot dogs and hamburgers at no charge.
"After a very challenging year, residents are looking for new ways to get out and connect with their neighbors," Mayor Paul Coogan said. "I thank the Narrows for stepping up to provide some free fun to keep our families engaged over the summer. The 'Summer Evenings in the Park' series is a great example of how the city and the arts community can work together to make a difference in Fall River."
Summer Evenings in the Park Schedule:
July 7 and August 4 - Griffin Park
July 14 and August 18 - Pulaski Park
July 21 and August 11 - Paul Poulos Park
July 28 and August 25 - Ruggles Park
These SouthCoast Dogs Really Know How to Beat the Heat
Temperatures soared across the SouthCoast but these dogs found plenty of ways to stay cool.
More From WFHN-FM/FUN 107