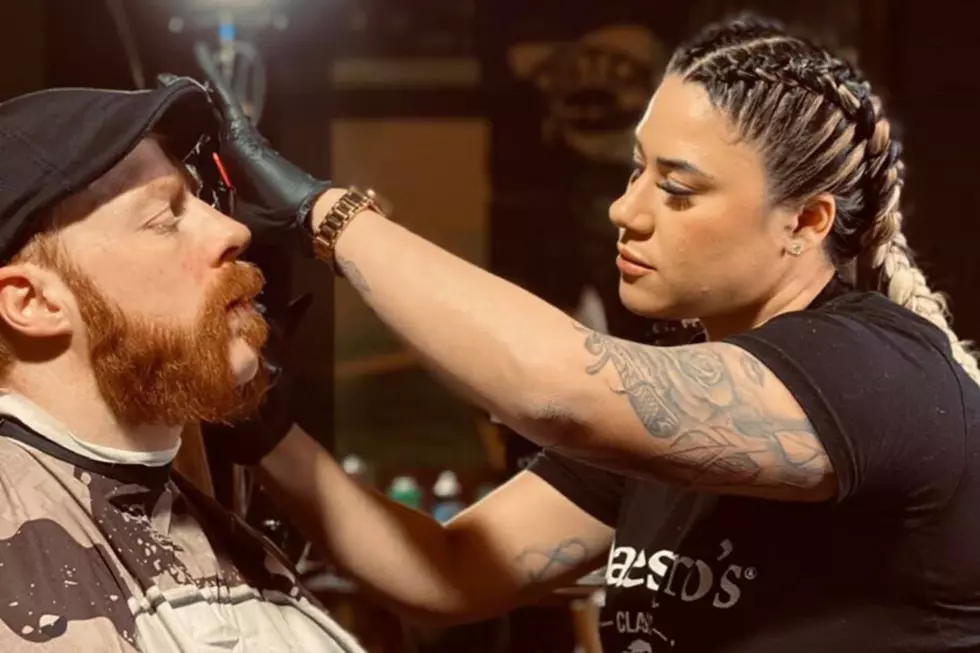 Fall River Barber Cuts Hair for WWE Superstars [PHOTOS]
Photo Courtesy of Maestro's Beard Classics
It's not every day you get to meet someone who gives haircuts to celebrities, let alone World Wrestling Entertainment superstars.
Michele Antunes, a 29-year-old barber from Fall River, spends her days working behind one of the chairs at Shear Genius over at 1475 Plymouth Avenue.
She's been my barber for years and quite honestly, one of the only barbers around I trust with my hair. I'm talking about a fade like you've never seen before; she's a beast with the clippers.
For years, Antunes's main career-driven focus was getting the attention of a company that works with the WWE, NASCAR and NBA's Philadelphia 76ers.
"I was trying to work with a company called Maestro's," Antunes explained. "It's a company I've looked up to. I love their product. I use it on all my beard grooming with my personal clients."
Maestro's owner Anthony Spadafora has been following Antunes for the past couple of years on Instagram.
"He (Spadafora) saw my progress and messaged me last month to see if I might be interested in working with them (Maestro's)," Antunes said.
Antunes's hard work landed her an invite to the WWE at the TD Garden in Boston last Friday, February 28 alongside her barber co-worker Ricky Scimeca. It was an offer she could not turn down.
"It was an awesome experience," Antunes said with a smile. "They brought us backstage and we (her and the other barbers) got to see people walk around that you would normally see on TV."
The Maestro crew were directed over to Legends restaurant inside of the arena where they were instructed to cut/style the wrestlers' hair and groom their beards. Irish wrestler Sheamus, Boston local Kofi Kingston and Cruiserweight Champion Drew Gulak were just a few among the wrestlers and WWE personnel Antunes catered to.
"I started cutting hair at 11:30 a.m., and didn't finish until 9 p.m.," Antunes said. "We had a lunch break with the wrestlers at 6 p.m. and then continued to cut the remainder of the WWE staff."
Afterward, Antunes was invited to stay and watch the event from the main floor.
"The place was packed, from the ring to the ceiling," she said.
Throughout the day, Antunes was surrounded by celebrities and big-name WWE superstars.
"As I'm cutting my clients' hair, I looked around and WWE legends such as Roman Reigns, The Miz, and even John Cena were in the same room. It was an incredible day altogether," Antunes told Fun 107.
Antunes plans on staying local at the barbershop, but in the event that a job comes through the Greater Boston area that Maestro's has a contract with, there's an opportunity for her to further pursue her passion for barbering.
It's safe to say that this opportunity was a stepping stone in the right direction for Antunes.
"There's more opportunity to get involved with international travel and events that Maestro's has, but it's a ladder I'll need to climb to get there," Antunes concludes, "It took me about 2 years to even get the chance to work with (Maestro's). My goal is to be more than just a barbershop barber."
Enter your number to get our free mobile app
More From WFHN-FM/FUN 107