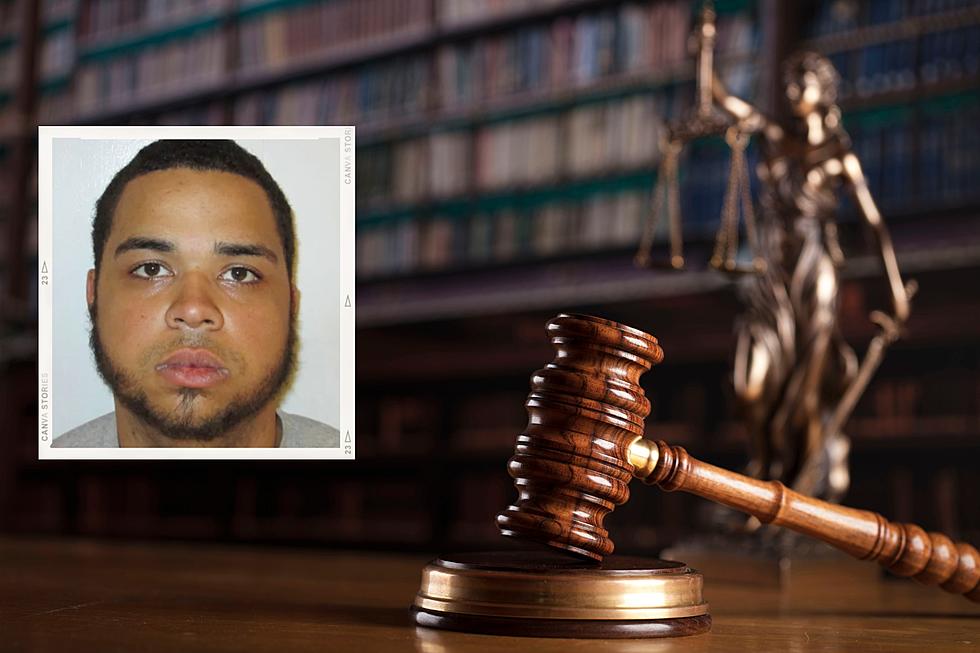 Dighton Man Sentenced for Reckless Chase While High on Drugs
Courtesy Rehoboth Police; Getty Images via Canva
FALL RIVER (WBSM) — A Dighton man who led Rehoboth Police on a chase through multiple towns and into Rhode Island before causing a serious collision, all while high on drugs, was sentenced to state prison recently.
According to Bristol County District Attorney Thomas Quinn, Cary Guy, 31, pleaded guilty in Fall River Superior Court last week to indictments charging him with two counts of assault with a dangerous weapon, OUI drugs-second offense, negligent operation of a motor vehicle, and operating a motor vehicle without a license.
Guy was sentenced to serve three years in state prison for the crimes committed in Massachusetts. He has also been indicted in Rhode Island and faces a significant sentence for the charges he picked up relating to the crash and injuries to other drivers after he fled Rehoboth.
The charges date back to May 24, 2022, when Rehoboth Police Detective Arthur Beaudoin was using radar to check the speeds of passing vehicles on Moulton Street. A Ford F150 passed him at a high rate of speed, going 53 miles per hour in a 40 MPH zone and still accelerating.
Detective Beaudoin pulled the vehicle over, but as he approached the truck, it fled at a high rate of speed. Detective Beaudion gave chase as the truck kept speeding, shifting over to the opposite lane and passing other cars in the wrong lane.
"The operation of the F150 was so erratic that other officers could not position themselves to deploy stop sticks," D.A. Quinn's Office said. "On two separate occasions, Detective Beaudoin pulled his cruiser next to the F150 and the truck swerved aggressively at him, causing him to swerve to avoid being hit."
The truck ran multiple stop signs and then got onto Interstate 195 westbound, continuing to operate erratically and even pulling into the grassy median to perform a U-turn and then driving on I-195 eastbound.
Based on the danger of the ongoing pursuit, authorities decided to call it off. However, Det. Beaudoin continued to monitor the F150 without chasing it.
The truck crossed into East Providence, where it struck five vehicles and it continued to drive in the wrong direction. Six people suffered serious injuries as a result.
Det. Beaudoin approached the crash scene and saw the operator of the F150, identified as Guy, injured and lying in the roadway. Several hypodermic needles were found in the truck.
Guy was arrested by the Rhode Island State Police, and while at the hospital, blood was taken from him and tested positive for marijuana, cocaine, morphine and fentanyl.
Guy had a previous OUI-drugs conviction out of Attleboro District Court in 2017. In addition, at the time of this offense, Guy's license was suspended for being a habitual traffic offender.
Guy also previously led police on a high-speed chase from Cape Cod to Middleboro, through Sandwich, Plymouth, Carver and Lakeville back in 2017.
"The defendant is a habitual traffic offender, who shouldn't have even been driving. He engaged in outrageous operation of a motor vehicle and had utter disregard for the safety of other motorists," District Attorney Quinn said.
"Unfortunately his intentional and reckless conduct resulted in a serious injury of a person in Rhode Island," Quinn said. "The defendant has demonstrated he is a menace on the road and needs to be kept off the street to protect innocent civilians."
WBSM's Top SouthCoast Stories 9/11-9/18
WBSM's Top SouthCoast Stories 8/28-9/10
These are the top stories of the past two weeks on WBSM.com and on the WBSM app. Click on the title or photo to read the entire story.
More From WFHN-FM/FUN 107