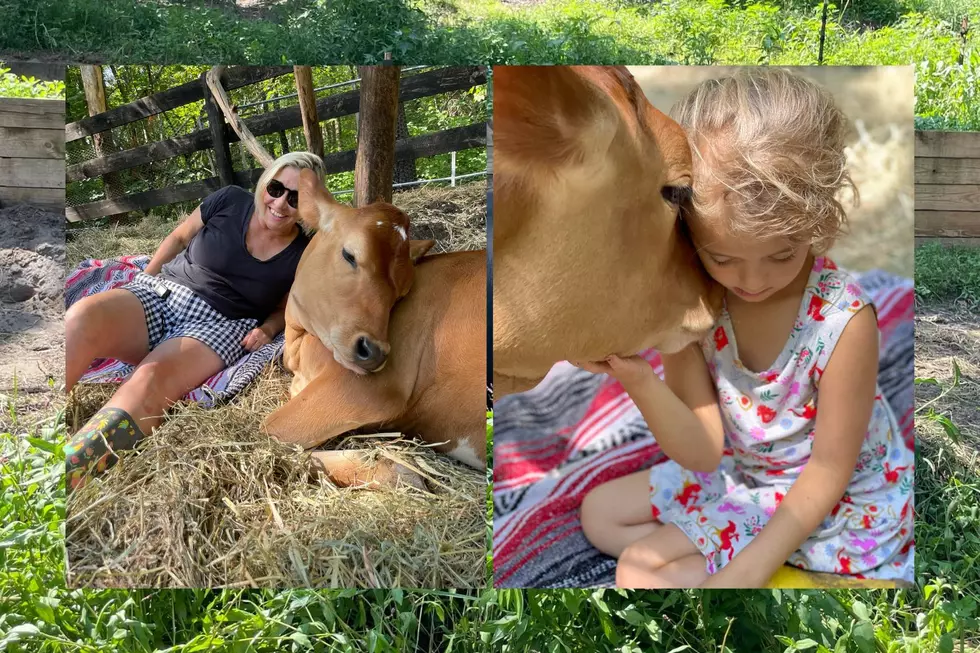 Feeling Stressed? Hug a Cow in Carver at Phippen Farm
Courtesy of Phippen Farm
When in doubt, hug a cow.
That's what Carver native Lara Phippen believes in, and so do hundreds of visitors who stop by her family farm. They come to hang out with Tootsie the cow, a natural healer of anxiety and stress.
Lara Phippen and her family have been at Phippen Farm for 32 years. During the pandemic, money became tight, and they brought in two cows to help feed the family. Soon after, they rescued two more cows, and shortly after that, Tootsie was born.
"She changed our world," Phippen said.
Thanks to Tootsie, "Cow Cuddling" Was Born
Thanks to an article she came across online, Phippen saw an opportunity for income by opening up her farm to guests who wanted to cuddle with Tootsie.
"Money was tight, and I saw this article of a farm doing this in New York, so I decided to advertise on Facebook and within five minutes, I had people ready to book," she said.
Since she started her farm visits in May, Phippen has hosted a few-hundred groups that are looking to decompress.
Benefits of Cow Cuddling
"Cows have so much to offer," she said. "They release endorphins that humans benefit from and their heart rates are slow. They naturally slow ours down when you cuddle them."
All walks of life head to her farm to unwind, slow down and connect with nature.
What to Expect
Up to five friends can book a 45-minute reservation for $50, getting you uninterrupted time with Tootsie.
"It's totally one on one, so it's your group only," Phippen said. And Tootsie really enjoys the company.
What better way to combat anxiety and stress than by hugging animals?
Phippen Farm looks forward to continuing its experience for even more groups to enjoy the serenity and peace that Tootsie and the farm have to offer.
Meet the Animals of Dartmouth's Don't Forget Us, Pet Us Sanctuary
Just off Faunce Corner Road in Dartmouth is an animal sanctuary for livestock that has become home to over 50 animals is just five short years. Whether they arrived because their owners could no longer care for them or they were removed from an abusive situation, Deborah Devlin and Jill Tagino, who run Don't Forget Us, Pet Us sanctuary, take in animals with no where else to go. Clearly, the livestock they care for are very happy to have found a home for the rest of their natural lives.
More From WFHN-FM/FUN 107