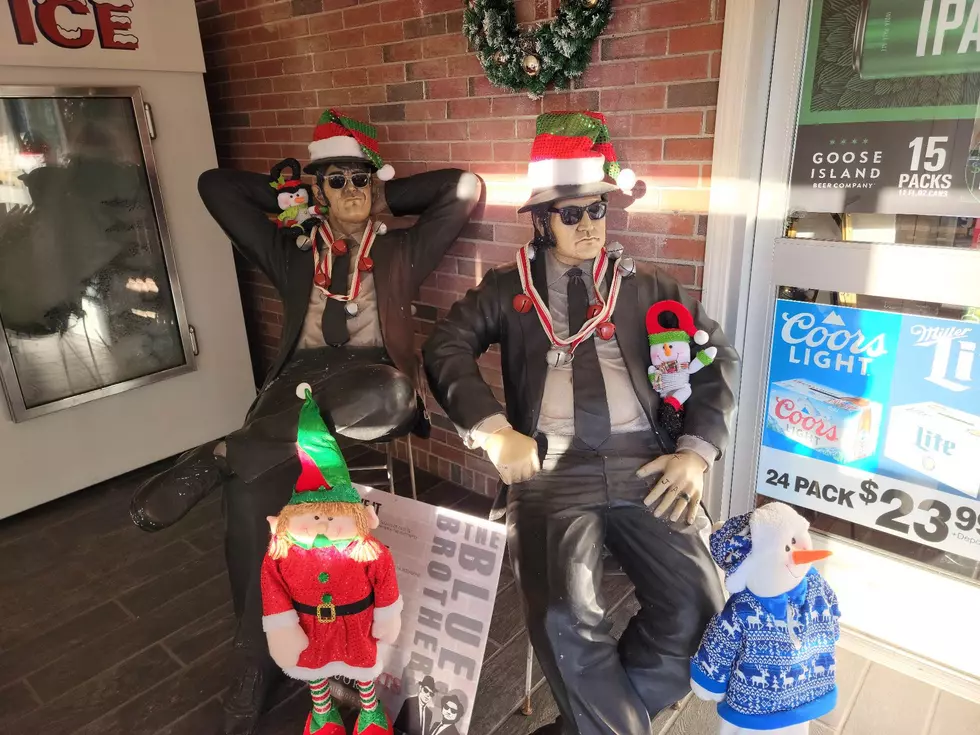 The Blues Brothers Live On in This Attleboro Liquor Store
Tim Weisberg/Townsquare Media
Recently, we told you about how a car painted up to look like the Bluesmobile from the movie The Blues Brothers was hidden among the leaves on the side of Route 44 in Rehoboth.
As it turns out, though, just 10 miles up the road you'll find Jake and Elwood themselves, as the Blues Brothers keep watch over an Attleboro liquor store.
City Spirits 2, located at 524 Pleasant Street in Attleboro, has been able to do what the members of Illinois' law enforcement community and Sister Mary Stigmata all failed to do – keep the Blues Brothers contained and content.
When you walk into City Spirits 2, there's a foyer area graced with life-size, highly detailed statues of the Blues Brothers.
"We use it as kind of a social media thing, just to kind of make us a little different than other stores, to get people talking, laughing, that kind of thing," said Josh DeFronzo, manager of City Spirits 2.
There's a sign below the brothers with instructions on how to properly take a photo with the statues and share it to social media to be entered to win a prize package. There's just one rule – don't sit on or move the brothers.
How the Blues Brothers Ended Up in an Attleboro Liquor Store
"The owner has a second house in New Hampshire, and when he goes by there, he goes by a bunch of those country stores where they're selling antiques and knick knacks and stuff like that," DeFronzo said. "He passed by it for years, and eventually went in and made them an offer, and threw them on the back of his truck."
DeFronzo said the owner already had a home in mind for them, as they were building City Spirits 2 at the time.
"He wanted to put some personal touch on it, some conversation pieces for people, and now they're basically our security guards on the way out," DeFronzo said.
Dressing Up Jake and Elwood for the Occasion
City Spirits 2 staff will dress up the Blues Brothers for different holidays. Currently, they're decorated with Santa hats and jingle bells and other yuletide adornments.
"We dress them up for the holidays, so April Fool's, Christmas, stuff like that," DeFronzo said. "We usually put some decorations on them, just to keep them festive."
Do People Still Recognize the Blues Brothers?
The statues have now been at the store for about "six or seven years," DeFronzo said. So does the younger generation coming into the store know who Jake and Elwood are?
After all, the original movie came out in 1980 and the less-than-stellar sequel Blues Brothers 2000 was released in 1998. You could be born three years after that film came out and still be of legal drinking age today.
"Most people know who they are, but some people just get scared by them every time they walk in," DeFronzo said. "We tell them they're just there to make sure people are awake."
'Saturday Night Live' Copycats
Many have imitated the late-night staple's formula but none has come close to matching its success.
'Saturday Night Live' Movies That Were Never Made
Every Saturday Night Live Movie, Ranked From Worst to Best
More From WFHN-FM/FUN 107