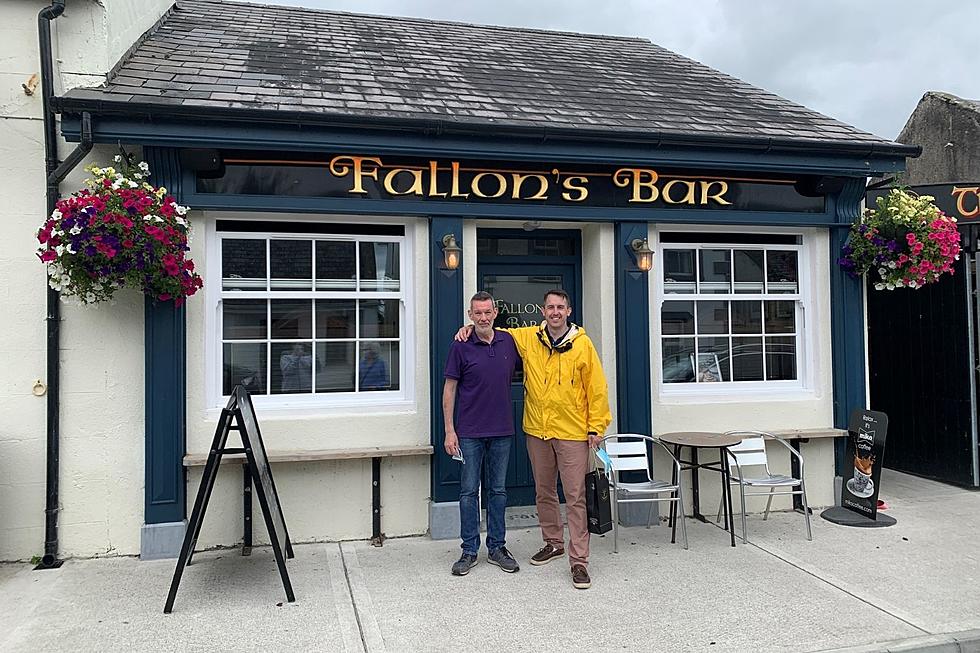 Are Americans as Nice as We Think We Are?
Michael Rock/Townsquare Media
I love the United States of America. It was important to my parents to instill a sense of patriotism into me. I love what America is, I love what it represents, and the opportunities it affords people. In my opinion, this is the best nation that has ever existed in the history of the planet. It's not even close.
That being said, I have a question: are Americans nice? And if so, are we as nice as we think we are?
Up until last week, I would have given Americans the highest of grades in the category of nice. History has shown time and time again that we are certainly a generous, giving people. But the niceness I experienced from total strangers in Ireland last week makes me wonder what I would have done if placed in a similar position.
Would This Make You Suspicious?
Last year, when my daughter and I were scheduled to go to Ireland to research my genealogy, I joined a Facebook group about Irish ancestry. I posted what I knew about my family line in the hopes that someone could point me in the right direction. I could never have predicted what would happen next.
I received a Facebook message from someone named Moira. She and her mom, Maureen, told me that they were part of a historical society in County Roscommon, where my family resided for hundreds of years.
They were thrilled that we were coming over and offered to show us around the small village where my ancestors homestead is located. Our plans were postponed over a year due to COVID, but when I messaged them a few months ago to let them know we would finally be visiting, they were excited.
A week or two before our trip they started to reach out, unsolicited, to make plans to show me around. Moira wrote in one email, "We will probably meet at one place and get ye to go with us in our cars. That way, ye can have a good look around and not have to worry about driving on the wrong side of the roads!"
My antennae went up. I started to think about how I don't even know this person. Who is to say this was even a woman? Am I setting myself and my family up to be robbed? Or murdered? Funny, but not funny. What did I really know about this person? Nothing!
They Were Legit
The morning we were supposed to meet Moira and Maureen in Ireland, we found my family's village on our own. I met the gentleman who owned the land. "I thought you were going to be coming tonight at 6," the man said, confused. The women had called him and had set up a meeting for us to see the property and talk at his home. It turns out they were everything they said they were and more.
They met us at the church my great grandfather attended and introduced us to the pastor. They introduced us to other members of the historical club, who showed us where my great great grandparents built their homes and farmed their land. They brought us to the original homestead and introduced us to the gentleman and his family who lived on the land my family had owned since the 1700s. The women were beyond legit.
At the homestead, the family had built a modern home and invited us in for a traditional Irish dinner (ham, cabbage, potatoes and carrots). They offered us Irish whiskey. They gave us mementos from the property. They even offered us to stay with them for a few nights and were disappointed when we couldn't.
These people never asked for anything in return. They were thrilled to be helping us discover more about our family. It genuinely made them happy to be there alongside us for the journey,
Would You Have Given This Much?
It made me think: how would I react if foreigners showed up in my hometown to see my house and land? Would I invite them in and grill up burgers and hot dogs? Would I offer them trinkets from my home and ask them to stay over?
When it was all said and done, Maureen and Moira spent a good five hours showing us around that night. One of the things Americans value the most is time. I'll be the first to admit that there aren't many people I'd give five hours of my time to. Would I give time to complete strangers from a different continent? I was ashamed because I knew that I probably wouldn't. I feel like our American culture is just a bit more guarded than what I saw in Ireland.
To think that the Irish that I met were so giving and thoughtful that it initially made me suspicious. How sad is that?
Oh, One More Thing
During my search for ancestors and relatives, someone suggested I make a stop at Fallon's Pub in Shannonbridge (pictured above). They knew of some Rocks that had married into the family. I strolled in, introduced myself, and before I knew it, I was taking pictures with the owners and getting offered free drinks. They wouldn't let me leave without a bottle of their house whiskey.
I Want To Do Better
My goal is to adopt more of that Irish openness to others. We started by offering our home up to our Irish counterparts should they ever visit New England. Our family learned a lot about our Irish ancestors during the trip, but the thing we learned most was that sometimes it's OK to let down your guard and trust a stranger. Even though mom always taught us to beware of strangers, the culture of our great grandparents teaches us differently.
RANKED: Here are the most popular national parks
To determine the most popular national parks in the United States, 
Stacker
 compiled data from the 
National Park Service
 on the number of recreational visits each site had in 2020. Keep reading to discover the 50 most popular national parks in the United States, in reverse order from #50 to #1. And be sure to check with individuals parks before you visit to find out about ongoing, pandemic-related safety precautions at 
www.nps.gov/coronavirus
.
More From WFHN-FM/FUN 107