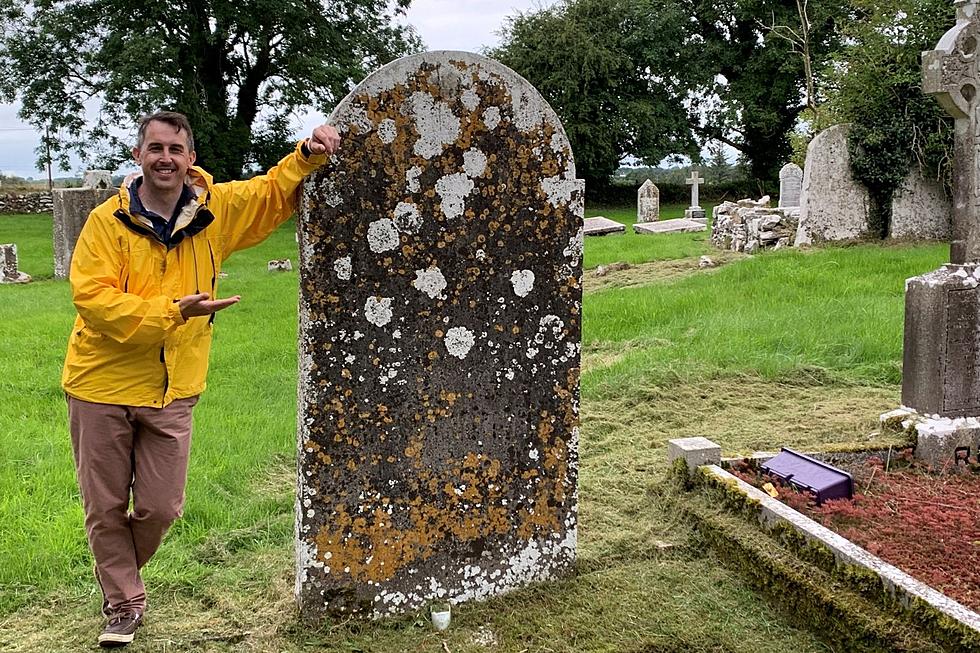 Michael Rock Uncovers Family Farmlands and Ancestors in Ireland
Michael Rock/Townsquare Media
What started off as my daughter's high school genealogy project has turned into a deeper knowledge and understanding of the Rock family than I had ever thought possible.
Using techniques demonstrated by her teacher, she was able to track down generations of the Rock family in County Roscommon, Ireland dating back to the 1700s. This was a remarkable feat considering one of these ancestors was born prior to the United States' Revolutionary War.
After her course was complete, we made plans to visit Ireland to close the circle and see if we could find out more information about the Rock family members that had lived many years before us. The trip was initially planned for March 18, 2020. Needless to say, that didn't happen.
My mom, my daughter and I finally boarded a plane to Europe last week. My expectations were low as I sat in the lobby of our Galway hotel, punching the address of the cemetery into Waze.
The GPS took us to some of the most remote roads I have ever driven. Narrow, paved roads turned into narrower, dirt roads. For miles, I drove white-knuckled, trying to keep the rental car from brushing up against the growth on either side of the roads. The silver lining was that there was no need to worry about driving on the left side of the road, as there was only room for one car at a time. If a car was coming in the opposite direction, drivers would have to reverse and back up to a spot wide enough to let them get by.
Waze led us to the Clonburren cemetery where we laid eyes on the historical gravesite we had seen online. This is where my great, great, great, great grandfather Antony Rock was buried. Carved into the tall stone were these words:
O LORD HAVE MERCY ON THE

SOUL OF ANTONY ROCK WHO

DEPd THIS LIFE JULY 4th 1848

AGED 78 YEARS ALSO HIS WIFE

MARGARET ROCK DEPd JUNE

9 1848 AGED 60 YEARS ALSO

THEIR SON JOHN ROCK DEPd

APRIL 10th 1848 AGED 29 YEARS

ERECd BY HIS SON ANTON ROCK

ANTHONY ROCK DIED JAN 1904

CATHERINE ROCK DIED 24 DEC 1919

GLORIA IN EXCELSIS DEO
I was amazed, and I have to admit I was pretty moved. The idea that my direct ancestors were buried right there under my feet, in a plot overlooking countless acres of beautiful Irish farmland, was surreal.
We knocked on the door of the home next door to the cemetery and met a woman named Mary Whyte. Mrs. Whyte told us that I could find the Rock family homestead a few miles up the road in a tiny village called Cappaleitra.
We traveled down the deserted dirt road until we came upon the entrance to what was the Rock family homestead for hundreds of years.
When we had finally arrived at Cappaleitra, at the risk of sounding syrupy, it truly felt like home to me. I felt a strange, inexplicable bond with this foreign land, 3,000 miles away from New Bedford.
In the days that followed, we were able to meet some living relatives that we didn't know existed. Mrs. Whyte was right. The owner of Fallon's Pub in Shannonbridge (the next town over) was, in fact, a relative. His grandmother's maiden name was Sarah Rock. His name? Jimmy Fallon. He had never heard of the Tonight Show host, nor of Tom Brady, for that matter.
We were also introduced to a group of distant Rock cousins, our ancestral links each resting in that peaceful long plain in the Ireland. This was a trip I will never forget.
Breathtaking Sunrises and Sunsets of the SouthCoast
Fairhaven resident Jamal Quraiishi has honed his craft of scenic photography to offer stunning views of New Bedford, Westport and more.
More From WFHN-FM/FUN 107