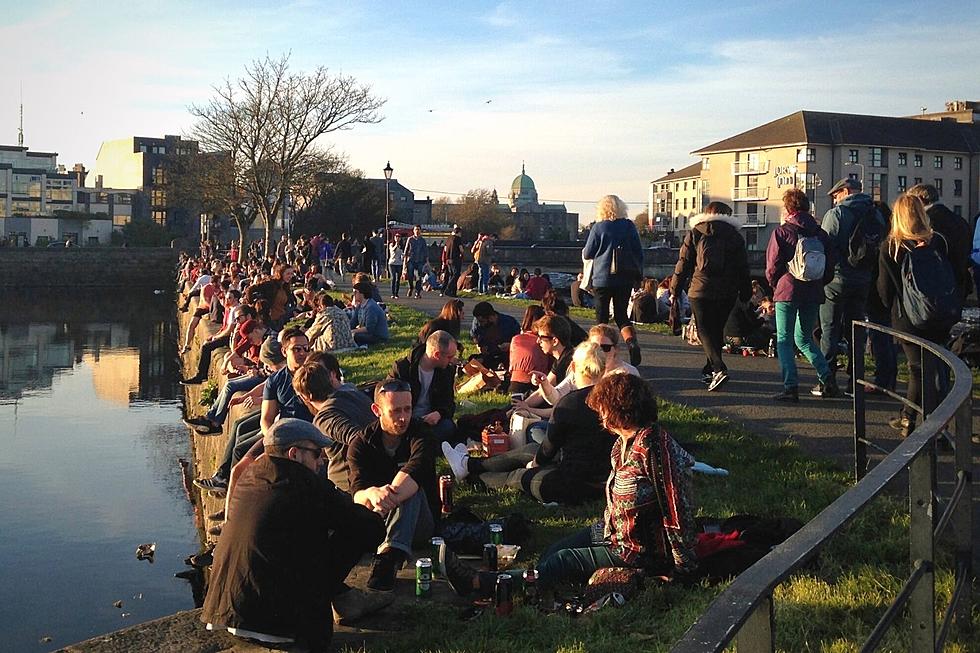 Most Massachusetts Irish-Americans Probably Don't Know These Drinking Terms
Cans down by the Spanish Arch in Galway. Kate Robinson
Have you ever gone for just a quick one, ended up getting a bag of cans and then going out out, before heading back to your gaff completely fluthered?
If that didn't make much sense to you, you're not alone.
A lot of Americans — even the Irish-Americans in Massachusetts, the second-most Irish state in the country — could use a phrasebook when visiting the auld sod.
After spending three years living, working and studying in Galway, a city in the west of Ireland (or the 'wesht,' as it's known), I've managed to become a bit more familiar with the lingo.
So, with one week to go until St. Patrick's Day, some of us might want to brush up on our Irish drinking terminology.
You can't talk about pubs and drinking in Ireland without mentioning music.
Live music is pretty constant, with trad sessions (traditional pipe-and-fiddle music) all over the place, especially crammed into classic country pubs.
Nights out in Galway and elsewhere in Ireland are legendary, with live music everywhere and lock-ins fairly common — at least, they were before the pandemic.
(A lock-in is when pubs lock the doors and shutter the windows but keep serving alcohol past closing time, when they're legally supposed to stop.)
When the pubs do kick you out, you end up on the street with all your mates — almost like a street party — and sometimes music is involved then too.
As in this video, taken in Galway around Christmastime, often 'Wonderwall' is somehow involved:
I asked my Irish friends to contribute to a list of drinking-related slang terms commonly used in Ireland to tell the Americans who want to prepare ahead of St. Patrick's Day.
We had great craic coming up with words like "scuttered", "shcoops," or "sesh" — and those are just the ones beginning with the letter S.
It turns out there are so many Irish slang terms for being drunk, it's impossible to list them all here, so I've just included a few of my favorites alongside the other useful drink-related terms.
Here's the list of slang terms and phrases commonly used in Irish drinking culture. Enjoy and use responsibly.
Most Americans Don't Know These Irish Slang Drinking Words
It's not even Irish Gaelic, but Hiberno-English can also be difficult to understand. Here's a list of drinking-related slang terms commonly used on the Emerald Isle.
More From WFHN-FM/FUN 107